In this guide, we will discover 15 Best Attractions & Things to Do in Seoul (2023).
So, let's begin!
Seoul is the capital and largest metropolis of South Korea According to the 2020 census, Seoul has a population of 9.9 million people, and forms the heart of the Seoul Capital Area with the surrounding Incheon metropolis and Gyeonggi province. Considered to be a global city and rated as an Alpha – City by Globalization and World Cities Research Network (GaWC),Seoul was the world's fourth largest metropolitan economy in 2014, following Tokyo, New York City and Los Angeles.
1. N Seoul Tower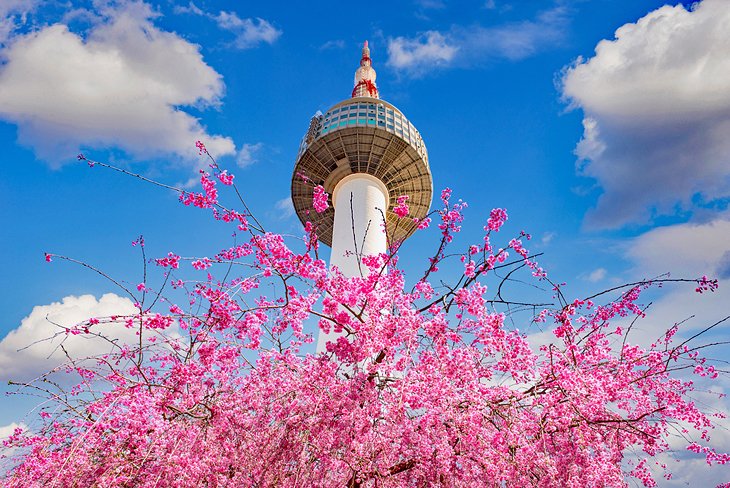 Rising almost 500 meters above the city, this communications and observation tower provides dramatic views of the city from its perch on the side of Mount Namsan. A cable car whisks you up the side of the mountain to the base of the tower. From here, you can go up in the tower and visit any one of four observation decks, one of which is a rotating restaurant.
There are five different dining experiences at the N Seoul Tower and, of course, several gift shops. The n.GRILL, on the top level, is considered one of Seoul's best French fine-dining restaurants. Be sure to visit the new Inside Seoul immersive media art exhibition, where 40 laser projectors create a virtual display of the city via five-dimensional mapping, with the tower at the center.
The views from the tower are great, but so are the views of the tower from most parts of the city. Computer-controlled LED lighting on the exterior of the tower provides a digital, visual cultural experience of Seoul with changing themed lighting presentations.
Address: 105 Namsangongwon-gil, Yongsan 2(i)ga-dong, Yongsan-gu, Seoul
Official site: http://www.nseoultower.co.kr/eng/
2. Explore the Bukchon Hanok Traditional Village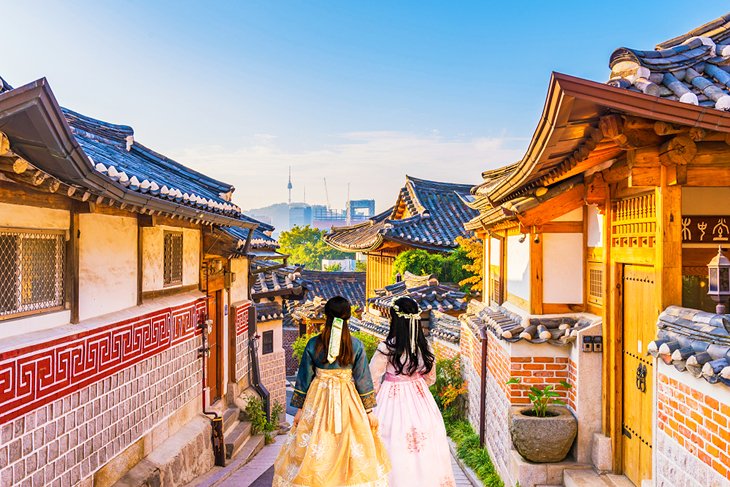 For a taste of Korean traditional culture and architecture, a visit to the Bukchon Hanok Village is a fun and educational way to spend an afternoon. This preserved district of several ancient neighborhoods gives you a feel for what it was like to live in Korea 600 years ago. It's right in central Seoul, in the area between the Gyeongbokgung Palace and the Changdeokgung Palace.
The neighborhoods of narrow streets feature hanoks or traditional Korean houses. It's a unique place, as it's a historic area, very popular with tourists, but it's also a real neighborhood because the houses are all occupied. Some of the hanoks are now guesthouses and bed-and-breakfasts, and a few are museums and can be toured. Others are cultural centers showcasing traditional crafts and other historic aspects of Korean life, but most are private homes.
3. National Museum of Korea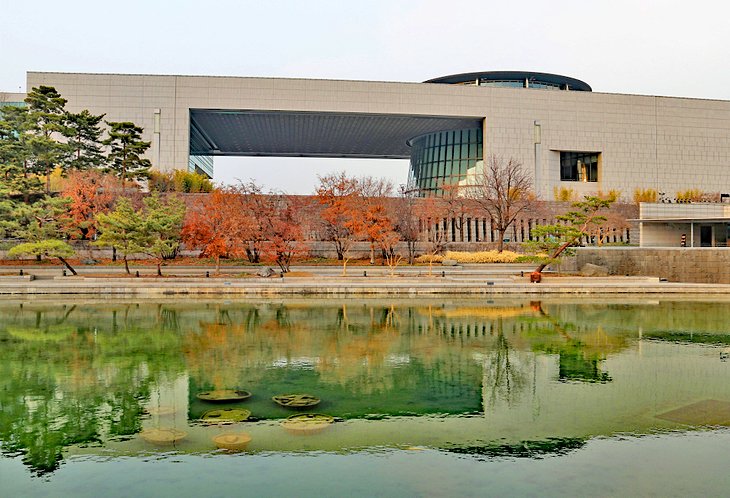 This must-see attraction in Seoul showcases the incredible history and artwork of Korea and the Korean people. The museum, one of the largest in Asia, is in the city's Yongsan District (close to Itaewon). It focuses on archeology, history, and art and includes a vast collection of works and objects going back more than a million years. There are ancient and prehistoric artifacts, sculpture, paintings, and other artwork along with a large collection of objects and antiques.
Before or after your museum visit, head down the street to Yongsan Family Park, a nice outdoor space to relax. Another important museum worth a visit, The War Memorial of Korea is also close by.
Address: 137 Seobinggo-ro, Seobinggo-dong, Yongsan-gu
Official site: https://www.museum.go.kr/site/eng/home
4. Lotte World Tower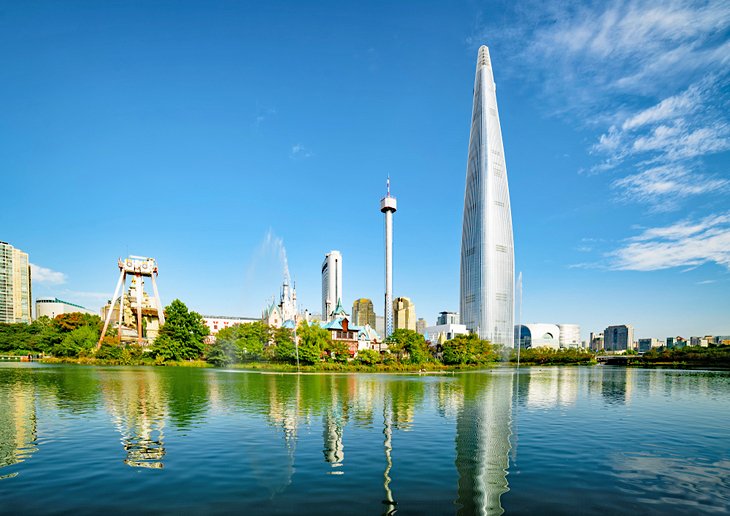 One of the newest attractions in Seoul is the Lotte World Tower skyscraper. The tallest building in South Korea, it's 500 meters above the ground and currently the fifth-tallest building in the world. The vase-like shape, with gentle curves, is designed to mimic traditional Korean ceramic pieces.
There are several indoor and outdoor observation areas (called Seoul Sky) at the top on the 117th-123rd floors. Views are spectacular both during the day and at night, and you can see 360-degrees around the city.
On the 118th floor, there's the Sky Deck with the world's highest glass floor. Like magic, the floor changes from opaque to clear, terrifying unsuspecting visitors. Even getting to the top is fun, and the journey is done via super fast, double-decker elevators, with windows on one side and LED screens on the other three and on the ceiling.
Inside the tower are offices, luxury residences, and the SIGNIEL SEOUL luxury hotel. There's also the Lotte World Aquarium, the Lotte Museum of Art, and an enormous shopping mall. The tower is home to the Lotte Concert Hall and the Lotte Cinema, a state-of-the-art, 21-screen MoviePlex with the world's largest movie screen.
Address: Songpa-gu, Jamsil 6(yuk)-dong, Olympic-ro, 300, Seoul
Official site: https://www.lwt.co.kr/tower/en/main/main.do#sec01
5. Visit the DMZ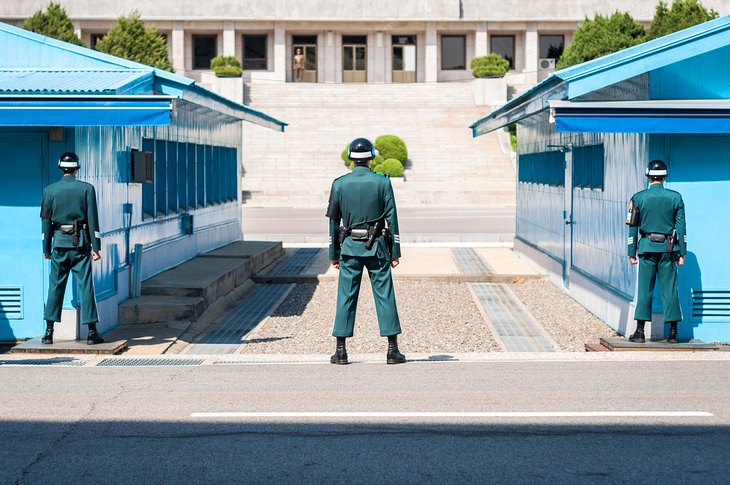 A remnant of the Korean War, the DMZ (DeMilitarized Zone) is the area located along the border between North and South Korea. This highly sensitive and highly fortified area can only be visited during an official tour. Aside from the visit to the DMZ, a tour gives you a chance to get out of urban Seoul and see a bit of the Korean countryside.
The Half-Day Korean DMZ Tour, which includes pickup and drop-off in central Seoul, takes you to the important sites in the DMZ area and gets you back to Seoul right after lunch (if you take the early morning tour). The guided tour includes visits to landmarks like the 3rd Tunnel, dug by the North in anticipation of an invasion, and the Dora Observatory, where you can look over into North Korea.
6. Gyeongbokgung Palace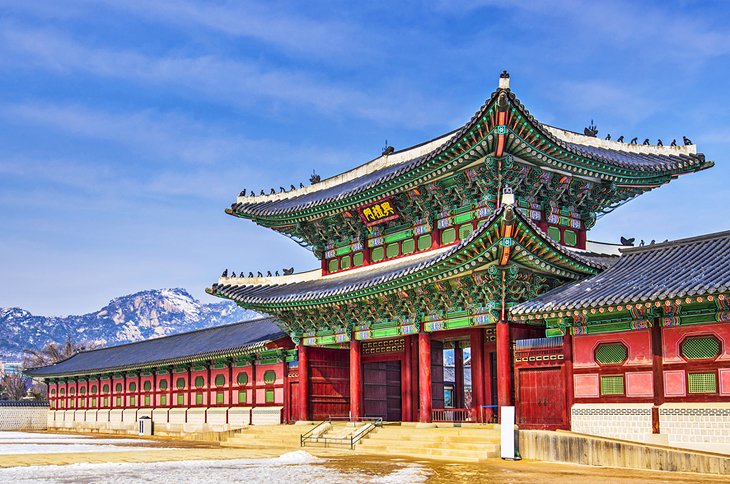 First built in 1395, Gyeongbokgung Palace is the largest of Seoul's five grand palaces built during the powerful Joseon dynasty. Destroyed and rebuilt several times over the centuries, it was restored to its original glory after the Second World War and totally restored in the 1990s.
Within the palace grounds, you can also find the National Palace Museum of Korea and the National Folk Museum of Korea, and both are worth a visit. The palace museum is especially fascinating as it presents items from the palaces of the Joseon Dynasty. This includes priceless antiques and artwork, as well as everyday items for cooking, cleaning, and daily life. The National Folk Museum focuses on items from daily life, as well as clothing and dioramas, to tell the story of the Korean people since prehistoric times.
Address: 161 Sajik-ro, Sejongno, Jongno-gu, Seoul
7. Seoul Museum of Art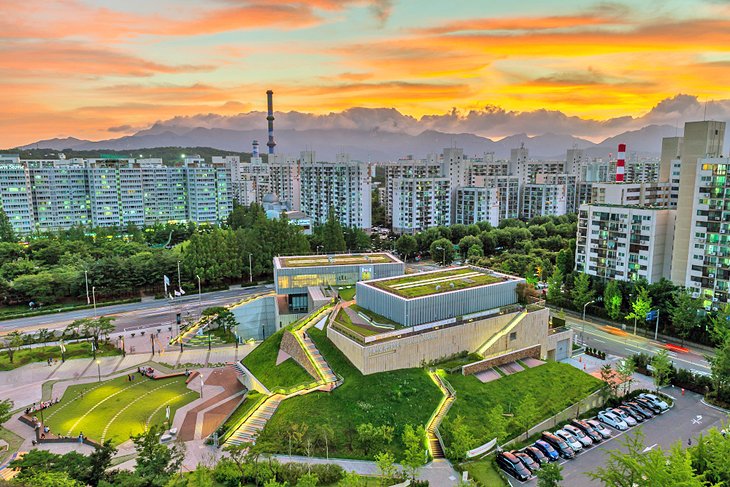 Located behind the Deoksugung Palace, SeMa as it's known to locals, has a large collection of artwork, mainly from the modern era. The art museum focuses on Korean art and Korean artists but has a decent selection of international works and creators. Changing temporary and visiting exhibitions also showcase unique collections and artwork.
The collection is displayed over three floors in a large building that was formerly the home of the Korean Supreme Court. The museum has six additional satellite locations in other parts of Seoul, and these feature rotating exhibits from the museum's main collection, as well as special exhibitions.
Don't miss the museum's Nam June Paik Memorial House, an exhibition and workshop space inside the house of legendary Korean contemporary artist Nam June Paik. The house is located in Seoul's Changsin-Dong neighborhood.
Address: 61, Deoksugung-gil, Jung-gu, Seoul
Official site: https://sema.seoul.go.kr/?language=EN
8. Blue House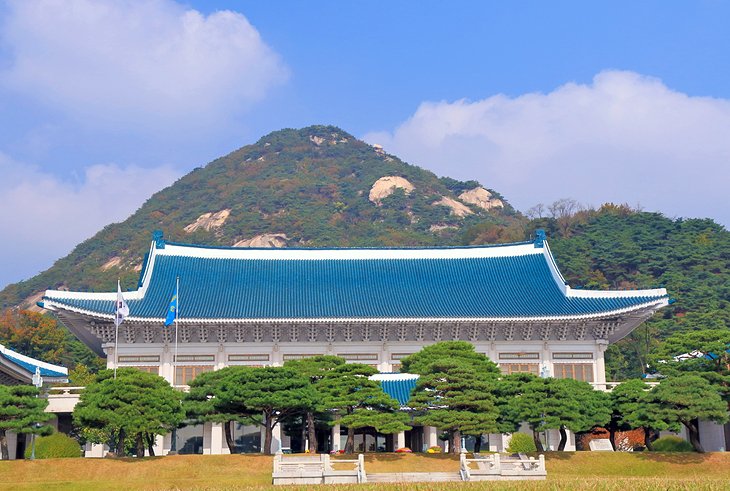 The Blue House is Korea's version of the White House. It's the official residence of the Korean president, as well as the location of his and related executive offices of state. The Blue House isn't really a single building, it's an entire campus of buildings, all built in the traditional Korean style and all featuring the distinctive blue tile roofs where it gets its name.
Hour-long tours are given, but participants must apply and schedule their tour in advance, online. The tour takes you to many parts of the palace complex including meeting rooms, reception rooms, and the Korean version of the Rose Garden, where the Korean president holds press conferences.
Address: 1 Sejongno, Jongno-gu, Seoul
Official site: https://english1.president.go.kr/Contact/Tours
9. Bongeunsa Temple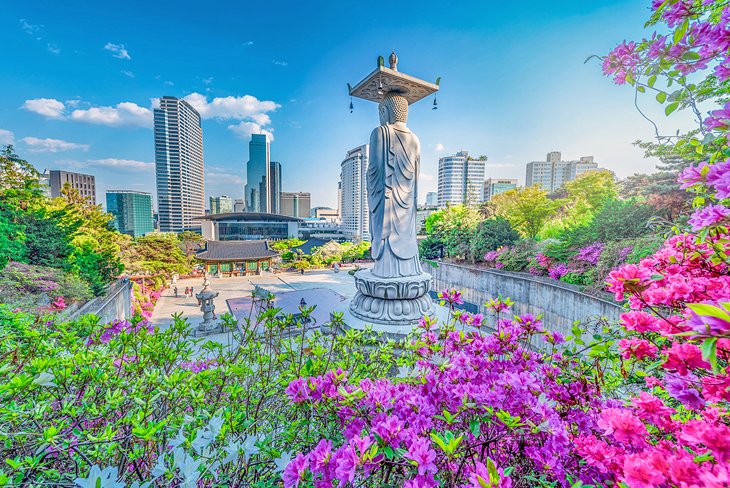 Bongeunsa is one of many Buddhist temples in and around Seoul. It first opened in the year 794 and is a complex of multiple buildings and shrines. It's easy to visit, as it's centrally located in the exciting Gangnam area.
The temple is on the side of a low mountain, directly across the street from the massive COEX convention center and mall. It's a popular spot for convention-goers to take a break and enjoy the peaceful atmosphere. Visitors are welcome, and the temple even has a program that allows guests to experience the daily life of a monk for a few hours.
Address: 531 Bongeunsa-ro, Samseong 1(il)-dong, Gangnam-gu, Seoul
10. Gwanghwamun Gate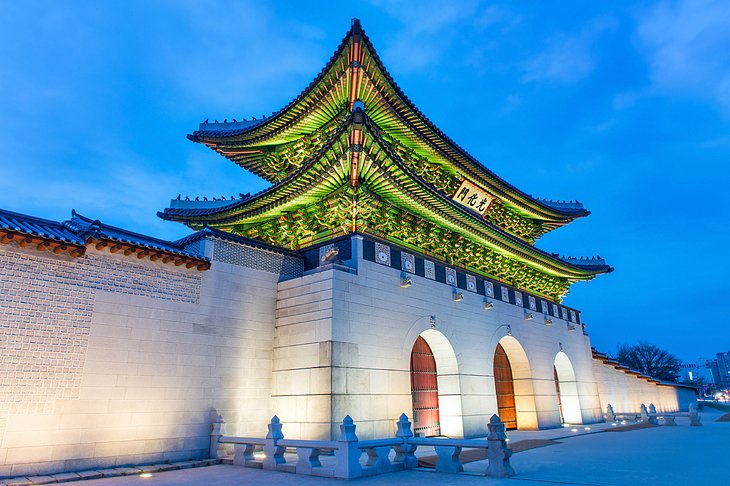 The largest and main gate to Seoul's Gyeongbokgung Palace, Gwanghwamun Gate is home to the changing of the guards ceremony (performed since 1469), which happens daily (except Tuesdays) at 10am and 2pm. The gate has undergone many renovations and rebuilding, most recently in 2010, when it was restored to its original location and reconstructed with native materials using traditional tools and building techniques.
There's a large plaza in front, and the gate sits in front of the vast Gwanghwamun Square, home to frequent political demonstrations, a large subway station, giant fountain, and some huge statues of Joseon-era leaders.
Address: 161 Sajik-ro, Sejongno, Jongno-gu, Seoul
11. Take a Walk along Cheonggyecheon, Seoul's Urban Stream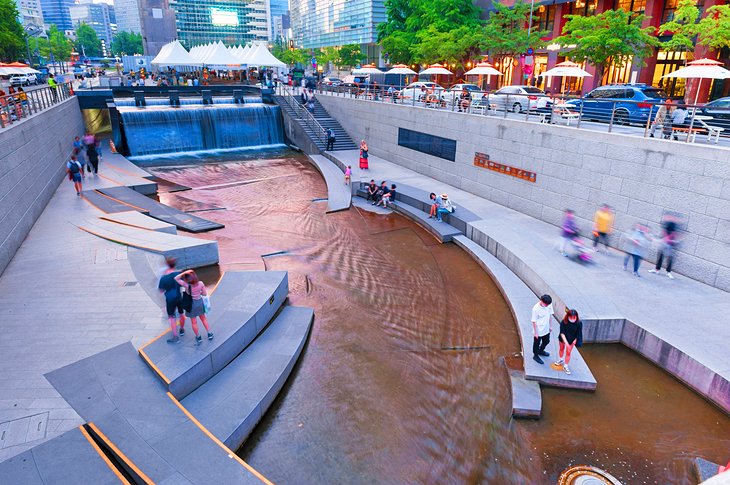 This natural creek that flows through central Seoul was covered over by highways in the post-Korean War economic boom. Seven miles of the creek were uncovered as part of an urban revitalization project and turned into an outdoor recreation area, opening in 2005.
There are now seven miles of creek-side hiking, walking and biking trails. It really has changed the CBD of Seoul by bringing an artery of water and green into what was a very urbanized, crowded area. The creek is also home to the spectacular Seoul Lantern Festival, held each November. Ornate, lighted paper lanterns are displayed in and along the creek, and each night, thousands of people line the creek to view and enjoy the floating artwork.
12. Jingwansa Temple, Bukhansan National Park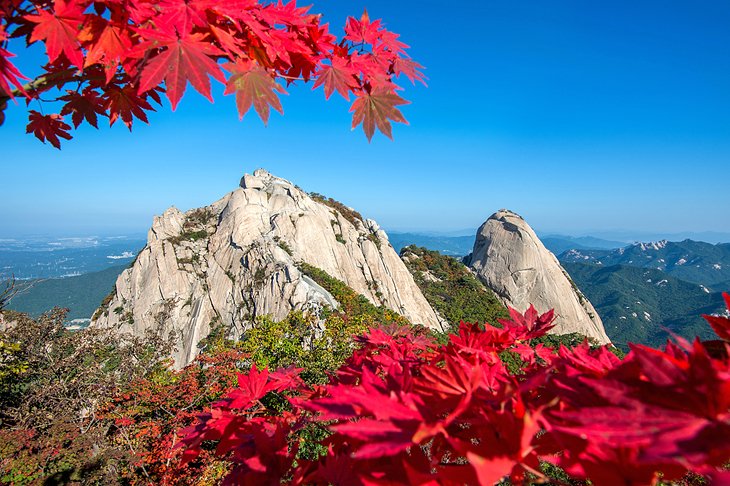 Set within the strikingly beautiful landscape of the Bukhansan National Park, Jingwansa is an ancient temple complex offering many ways to experience and learn about Buddhism and temple life. The traditional buildings are surrounded by miles of hiking trails (you can come here just to hike) snaking through the mountains.
The temple, which grows most of its own food (and even ferments its own kimchee), has a range of public programs. There's a temple stay program, which includes an overnight visit, plus there are cultural and learning programs. They also offer foodie experiences like a traditional vegetarian temple meal, as eaten by the monks.
Jingwansa is on the far west side of the city, one of the four major temples of Seoul first built around 1,000 BC.
Address: 73 Jingwan-gil, Jingwan-dong, Eunpyeong-gu, Seoul
13. People Watch in Itaewon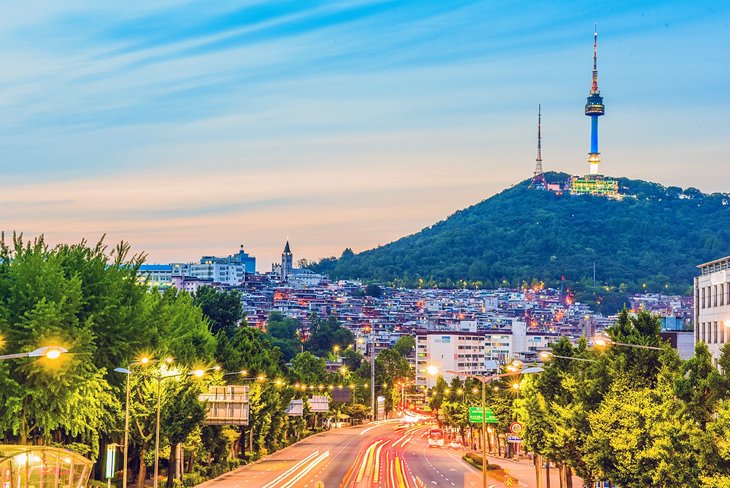 Itaewon is a bustling neighborhood of Seoul focused on a few pedestrian streets filled with shops, cafés, and other consumer businesses. If you have limited time in the city, it's one of those places that can give you a real feel for Korean retail culture in a short time period. There are food carts, street performers, and some of the side streets are filled with restaurants. It's a great place for people watching.
This is an excellent place to wander around and just lose yourself in the energy of the city. Be sure to wander down pedestrian-only Gyeongnidan Street, as it's lined with all kinds of restaurants and is a place to buy many international foods not easily available in Korea (like pizza and American-style barbecue).
Another street, literally called Itaewon Antique Furniture Street, is filled with antique shops, and this is always an excellent place to buy unique gifts.
14. Dongdaemun Design Plaza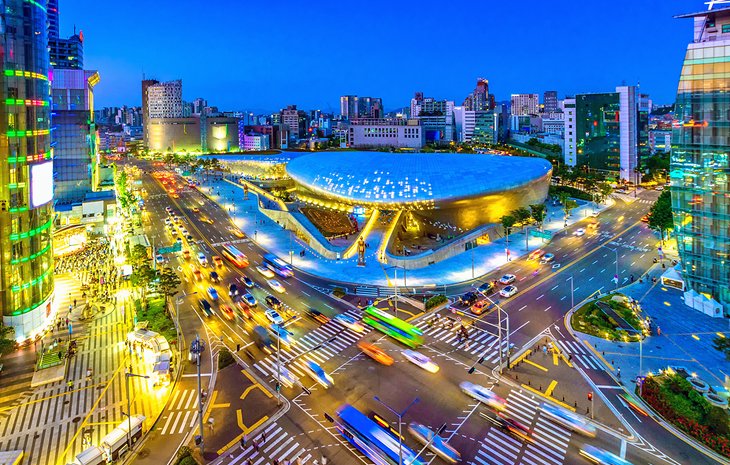 Known by its initials, the DDP is a very cool design center in Seoul's Dongdaemun area. Dongdaemun, Seoul's fashion district, is also known for its shopping; there are a lot of department stores and discount clothing and houseware stores in the area.
The silver, orb-like flowing DDP building looks like something from outer space. It was designed by the late Iraqi-British architect Zaha Hadid, considered one of the great female architects of the modern era. In perhaps Seoul's ultimate contrast, there are ruins of the ancient city fortress preserved just outside the front entrance of the design center.
The complex is filled with showrooms, work spaces, offices, and design studios. There is also what has to be Seoul's coolest shop, with small craft vendors selling all kinds of interesting items showcasing contemporary design and locally made, handcrafted items. It's an excellent place to buy unique gifts.
At night, the design center comes alive, the highlight being 25,550 white LED roses that light up. The silver-colored, modern, curving building and the rows of artificial flowers make the DDP one of Seoul's best Instagram spots. After your visit, head across the street for a burger and crinkle cut fries at one of Seoul's most popular new dining spots, Shake Shack. It's across from the DDP in the Doota shopping mall.
Address: 281 Eulji-ro, Euljiro 7(chil)-ga, Jung-gu, Seoul
15. Gwangjang Market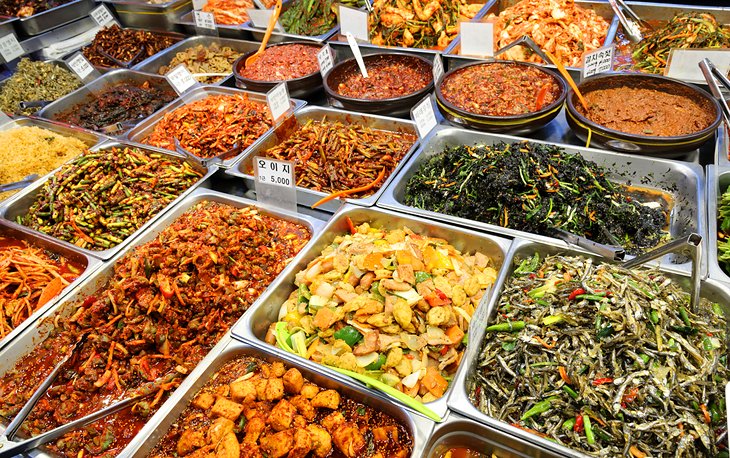 Seoul's best street food market combines a taste-bud tempting array of street food vendors under one large roof. The market features rows of food stalls, offering every kind of Korean food you can imagine. Most stalls have small chairs in front of them, creating tiny restaurants, where you can sit and have a meal. It's all about tasting things here, and a smile and request will get you a sample of most of the things on offer.
The market is in central Seoul, and it's open from 9am to 10pm. The most popular things sold here are bindaetteok (mung bean pancakes), bibimbap (rice mixed with sauteed beef, vegetables, and gochujang red chili paste), gimbap (Korean sushi), sundae (blood sausage), tteokbokki (stir-fried spicy rice cakes), and various types of noodles. Other parts of the market have vendors selling clothes and household items.
Address: 88 Changgyeonggung-ro, Jongno 4(sa)-ga, Jongno-gu, Seoul