As one of the largest and most diverse countries in the world, the United States has an abundance of stunning natural landscapes, iconic cities, and unique cultural attractions. From the towering skyscrapers of New York City to the rugged beauty of the Grand Canyon, the USA offers something for every type of traveler. In this article, we will explore the 20 best places to visit in the USA in 2023, highlighting the top attractions and experiences in each destination.
This guide is aimed to uncover the top 20 destinations to visit in the USA for the year 2023
1. New York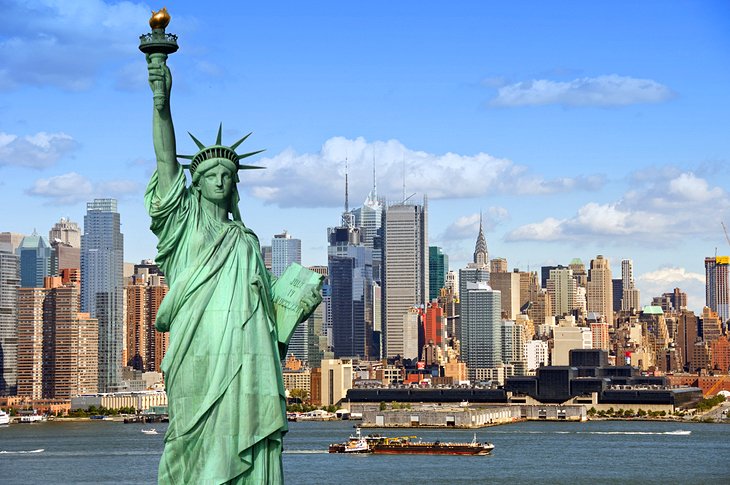 New York City is an incomparable metropolis that requires a visit to fully appreciate its unique character. Walking through its streets can feel like being on a movie set, with iconic landmarks at every turn, such as the Empire State Building, Rockefeller Plaza, the Chrysler Building, Central Park, The High Line, Times Square, 5th Avenue, Broadway, and the Statue of Liberty.
By day, visitors can sightsee and explore the city's famous landmarks, catch a Broadway show in the evening, fit in some shopping or a leisurely stroll, and top off the day with an exceptional meal. The city has so much to offer that it's impossible to see and do everything in just a day or a weekend. New York is worth returning to time and time again to experience all it has to offer.
Here are some suggestions for the best places to visit in New York:
The Statue of Liberty – an iconic symbol of freedom and the United States.
Central Park – a beautiful and expansive green space in the heart of Manhattan, perfect for strolling, picnicking, or taking a bike ride.
Times Square – a bustling commercial and entertainment district known for its bright lights, billboards, and busy atmosphere.
The Metropolitan Museum of Art – one of the world's largest and most comprehensive art museums, with an extensive collection of artwork from around the globe.
The Empire State Building – an iconic skyscraper with incredible views of the city from its observation deck.
The High Line – a unique park built on an elevated rail line, with stunning views of the city and plenty of greenery.
The 9/11 Memorial and Museum – a moving tribute to the victims of the September 11th attacks and a reminder of the resilience of the city.
The Brooklyn Bridge – a historic and iconic bridge connecting Manhattan and Brooklyn, offering fantastic views of the city skyline.
The One World Observatory – located at the top of the One World Trade Center, the tallest building in the Western Hemisphere, with panoramic views of the city and surrounding area.
The American Museum of Natural History – a fascinating museum with exhibits on everything from dinosaurs to human evolution to space exploration.
2. San Francisco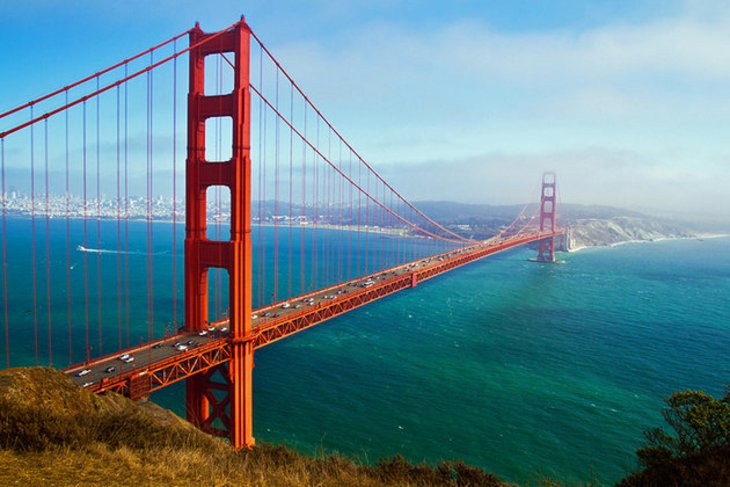 San Francisco is a charming and picturesque city located on the West Coast of the United States, ideal for romantic getaways, solo adventures, or family trips. Its numerous famous landmarks, charming streets, stunning views, and outdoor dining options make it a must-visit destination.
Visitors can enjoy a scenic cruise on San Francisco Bay, take a tour of the infamous Alcatraz Island, drive across the iconic Golden Gate Bridge, explore the bustling Fisherman's Wharf, or hop on a vintage streetcar to discover the city's many sights and sounds.
While summer and fall are popular times to visit, the city boasts a mild climate year-round, making it a pleasant destination at any time of the year.
Here are some suggestions for the best places to visit in San Francisco:
Golden Gate Bridge: This iconic suspension bridge is one of the most recognizable landmarks in the world and a must-visit attraction in San Francisco.
Alcatraz Island: Located in the middle of San Francisco Bay, Alcatraz is a former maximum-security prison that is now a popular tourist attraction with guided tours.
Fisherman's Wharf: This waterfront area is home to many seafood restaurants, souvenir shops, and street performers. It's also where you can catch a ferry to Alcatraz Island.
Cable Cars: A unique and historic way to travel around San Francisco, the cable cars offer scenic views of the city's steep hills and landmarks.
Chinatown: The largest Chinatown outside of Asia, this neighborhood is known for its colorful streets, bustling markets, and delicious Chinese food.
Golden Gate Park: This large urban park offers a wide range of outdoor activities, including hiking, cycling, and picnicking. It's also home to several museums and gardens.
Palace of Fine Arts: This beautiful Beaux-Arts style building was originally built for the 1915 Panama-Pacific Exposition and now houses a theater and exhibition space.
Lombard Street: Known as the "crookedest street in the world," Lombard Street is a steep and winding road that attracts many visitors each year.
Painted Ladies: This row of colorful Victorian houses is a popular photo spot and a symbol of San Francisco's architectural history.
Haight-Ashbury: This neighborhood was at the center of the 1960s counterculture movement and is now known for its eclectic shops, vintage clothing stores, and colorful street art.
3. The Grand Canyon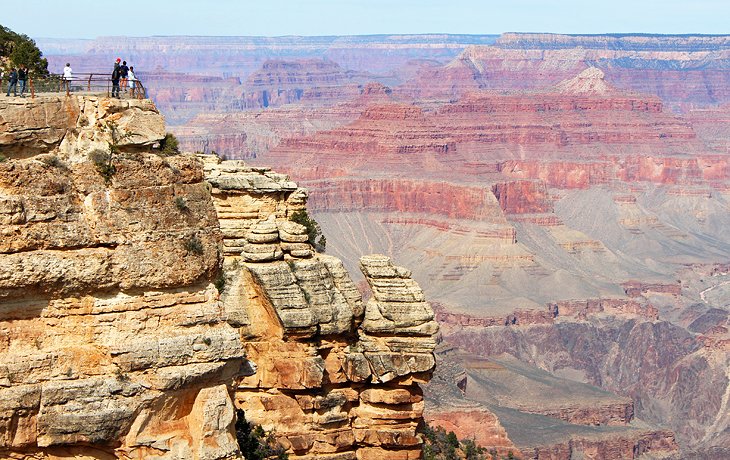 The Grand Canyon has been a must-visit destination for generations, drawing visitors from all over the world to marvel at its breathtaking natural beauty. With endless horizons and unfathomable depths, gazing out over the canyon walls is a truly unforgettable experience.
Located in Arizona, the Grand Canyon can easily be visited as a day trip from nearby cities such as Las Vegas, Phoenix, Sedona, or Flagstaff. For those looking to incorporate a visit into a longer road trip, the Grand Canyon is also easily accessible by car.
The south rim of the Grand Canyon is the most popular and frequently visited section, and it remains open year-round, making it accessible at any time. To avoid the crowds, consider visiting during the spring or fall when the weather is pleasant and the crowds are smaller. The road to the north rim of the Grand Canyon is closed in winter due to heavy snowfall.
Some of the best places to visit in the Grand Canyon include:
South Rim: The South Rim is the most popular area of the Grand Canyon and offers breathtaking views and many hiking trails.
North Rim: The North Rim is less visited but equally stunning with its remote and wild landscapes.
Havasu Falls: Havasu Falls is a popular and beautiful waterfall located in the Havasupai Indian Reservation within the Grand Canyon.
Bright Angel Trail: The Bright Angel Trail is one of the most popular hiking trails in the Grand Canyon, offering stunning views and a challenging hike.
Desert View Watchtower: The Desert View Watchtower is a historic building located on the South Rim that offers panoramic views of the Grand Canyon and the surrounding area.
Grand Canyon Skywalk: The Grand Canyon Skywalk is a glass bridge that extends out over the Grand Canyon, offering visitors a unique and thrilling perspective of the canyon.
Colorado River Rafting: Rafting down the Colorado River is an exhilarating way to experience the Grand Canyon's stunning landscapes and diverse wildlife.
Phantom Ranch: Phantom Ranch is a historic lodge located at the bottom of the Grand Canyon, offering a unique lodging experience for hikers and outdoor enthusiasts.
Mather Point: Mather Point is a popular viewpoint on the South Rim that offers stunning panoramic views of the Grand Canyon.
Yavapai Point: Yavapai Point is another popular viewpoint on the South Rim that offers breathtaking views of the canyon and its geological formations.
4. Houston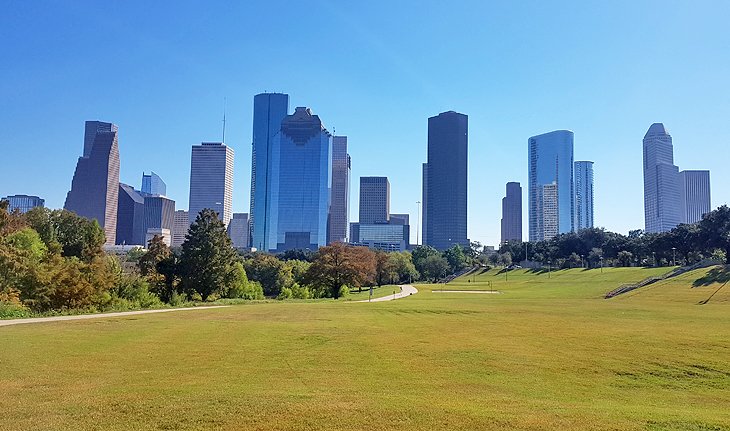 Houston is a diverse and exciting city that offers something for everyone, whether it's a family vacation, a romantic getaway, or a fun-filled trip with friends. Thanks to its excellent air connectivity with numerous cities across the United States and Canada, Houston is an easily accessible destination.
Houston's Museum District is a major attraction, and visitors can easily spend a day or two exploring the various museums and cultural institutions. But that's not all the city has to offer; Houston is also a haven for foodies and is known for its exceptional cuisine.
For those who want to spend time outdoors, Houston has many parks and miles of paved trails perfect for biking or walking. Buffalo Bayou Park is an excellent place to rent a kayak and paddle along the bayou.
Within an hour's drive, visitors can reach Galveston Island, which has numerous beaches to explore. And if you're interested in space exploration, be sure to stop by Space Center Houston on your way there.
Here are some options to consider for the best places to visit in Houston:
Space Center Houston: This attraction is perfect for science lovers and features a number of exhibits, displays, and interactive experiences related to space exploration and NASA.
Houston Museum of Natural Science: One of the most popular museums in the city, it has a wide range of exhibits and collections, including dinosaur skeletons, gems and minerals, and a planetarium.
Buffalo Bayou Park: This is a great spot for outdoor enthusiasts. Visitors can take a walk or bike ride on the trails, have a picnic or enjoy water activities like kayaking and paddleboarding.
The Menil Collection: This museum houses a unique collection of art, including works from artists like Picasso and Warhol.
The Houston Zoo: With over 6,000 animals and more than 900 species, this zoo is a fun destination for families.
The Museum of Fine Arts, Houston: This museum is one of the largest art museums in the country, with over 70,000 works in its collection.
Gerald D. Hines Waterwall Park: This park features a beautiful 64-foot-tall water wall that is a popular spot for taking photos.
The Houston Livestock Show and Rodeo: Held annually in March, this event features a carnival, concerts, and a livestock show and rodeo.
The Houston Arboretum and Nature Center: This nature center offers visitors a chance to learn about the local flora and fauna and explore the park's trails.
The Houston Galleria: One of the largest malls in the United States, this shopping center features over 400 stores, restaurants, and entertainment options.
5. Las Vegas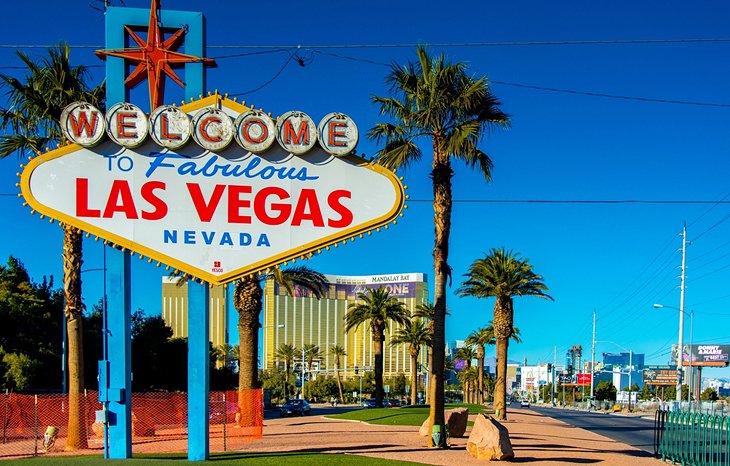 Las Vegas is a city like no other, with its glittering lights and endless entertainment options that attract visitors from all over the world. Huge resort complexes offer something for everyone, from those looking to tie the knot to families seeking fun in the sun.
With world-renowned musicians and spectacular shows from Cirque du Soleil, entertainment options are endless. Each resort has its own unique attractions, from dancing fountains to an erupting volcano.
If you're looking for a break from the city, there is plenty to explore in the surrounding area, including the stunning Grand Canyon, Hoover Dam, Death Valley National Park, and Valley of Fire State Park, all within easy day-tripping distance. Las Vegas is an ideal destination for a long weekend getaway, especially if you live in nearby cities such as Los Angeles or Phoenix.
Here are some options to consider for the best places to visit in Las Vegas:
The Strip – A 2.5-mile-long stretch of Las Vegas Boulevard where you'll find some of the world's most famous casinos and hotels.
The Bellagio – Known for its iconic dancing fountains, this luxury hotel and casino also has an impressive art collection and botanical garden.
The Venetian – A replica of Venice complete with canals, gondolas, and even a St. Mark's Square, this hotel and casino is a popular spot for shopping and dining.
Fremont Street Experience – A pedestrian mall and entertainment district in downtown Las Vegas featuring a massive LED canopy, live music, and street performers.
High Roller Observation Wheel – A 550-foot-tall Ferris wheel offering panoramic views of the Las Vegas skyline and surrounding desert.
Red Rock Canyon National Conservation Area – Just 17 miles west of the Strip, this scenic park offers hiking, rock climbing, and stunning views of the desert landscape.
The Neon Museum – A unique museum showcasing vintage neon signs from iconic Las Vegas landmarks and businesses.
The Mob Museum – A museum dedicated to the history of organized crime in Las Vegas and its impact on the city's development.
Hoover Dam – Located just a short drive from Las Vegas, this iconic dam offers guided tours and breathtaking views of the Colorado River and surrounding canyon.
Grand Canyon National Park – While not technically in Las Vegas, this natural wonder is a popular day-trip destination from the city, offering hiking, camping, and awe-inspiring views.
6. Waikiki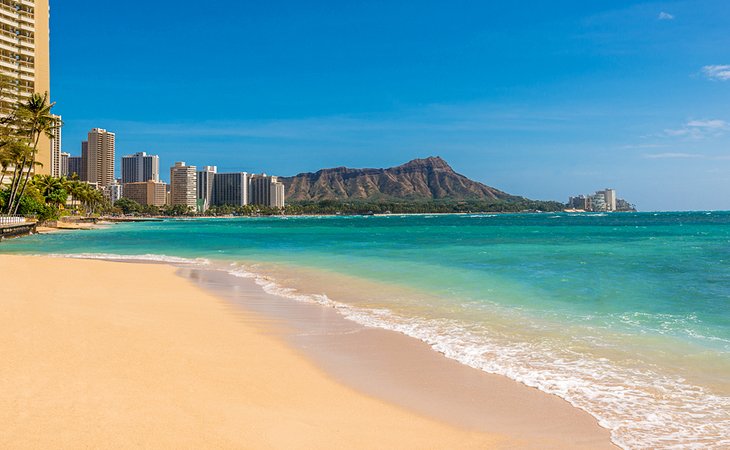 Waikiki is a highly sought-after destination for beach lovers, situated on the island of Oahu in Hawaii. This Honolulu suburb is renowned for its stunning golden sand beach, which is lined with hotels and retail establishments offering every comfort of North America on a beautiful tropical island in the Pacific Ocean.
In addition to sunbathing and swimming, visitors can rent a surfboard and try their hand at riding the waves, or browse the nearby shops for souvenirs and local treats. As night falls, Waikiki's dining scene comes to life with a range of delicious options to satisfy every taste bud. Whether you're traveling solo, as a couple, or with the whole family, Waikiki is the perfect destination for an unforgettable beach vacation.
7. Washington, D.C.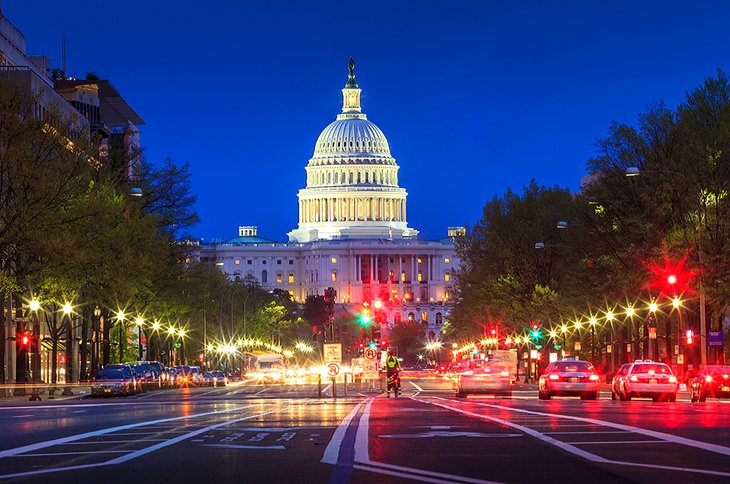 Washington, D.C., as the capital of the United States, is an iconic destination known for its historic landmarks and national treasures. From the White House to the Smithsonian museums, there is something for everyone to enjoy and explore.
The Cherry Blossom Festival in the spring is a popular time to visit when the city is adorned with beautiful pink blooms. Summer can be quite hot, but nearby beaches offer a refreshing escape. Fall is also a great time to visit when the temperatures have cooled down, making outdoor activities much more enjoyable. Winter is less busy and offers a unique experience with fresh snowfall highlighting the beauty of the city.
Washington, D.C. is home to many top-rated attractions and landmarks, including:
National Mall and Memorial Parks – a large park area in the center of the city that includes iconic landmarks such as the Washington Monument, Lincoln Memorial, and the National WWII Memorial.
Smithsonian Institution Museums – a group of 19 museums and galleries, including the National Air and Space Museum, National Museum of American History, and National Museum of Natural History.
United States Capitol – the home of the United States Congress and a stunning example of neoclassical architecture.
White House – the official residence and workplace of the President of the United States.
Arlington National Cemetery – a military cemetery and the final resting place for many American soldiers, including President John F. Kennedy.
National Zoo – a 163-acre zoological park that is home to over 2,000 animals representing more than 400 species.
Georgetown – a historic neighborhood with charming cobblestone streets, boutique shops, and trendy restaurants.
National Gallery of Art – a world-renowned art museum featuring an extensive collection of American and European art.
National Archives Museum – houses some of the most important documents in American history, including the Declaration of Independence and the Constitution.
Tidal Basin – a beautiful reservoir that offers scenic views of the city and is surrounded by cherry blossom trees that bloom in the spring.
8. Miami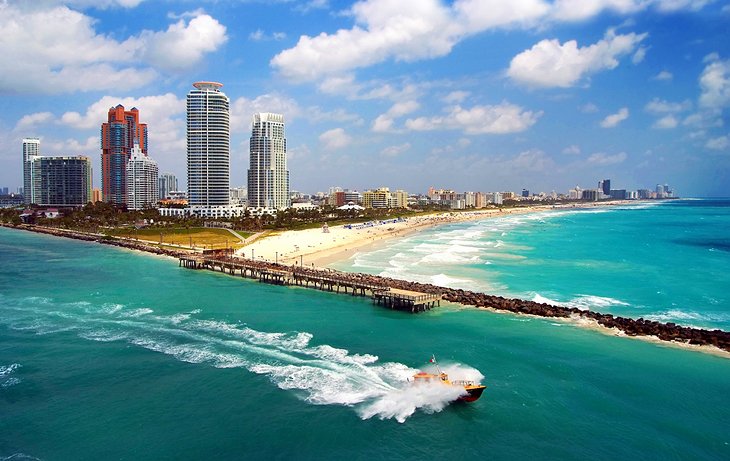 Miami is more than just a beach destination and is considered the hottest spot in southern Florida. It has a distinct atmosphere that sets it apart from other cities in the state. Visitors can experience the Cuban culture on Calle Ocho in Little Havana or explore the Art Deco District in Miami Beach, which is reminiscent of the 1930s era. The endless parade of sports cars cruising along Ocean Drive in the evenings, and the summertime beach scene at South Beach, add to the city's unique charm.
Additionally, Miami offers opportunities for unique experiences, such as taking a day trip to Everglades National Park, a one-of-a-kind wetlands area where visitors can see alligators, turtles, and an array of birds.
Miami is a vibrant and diverse city that offers a wide variety of attractions and activities. Here are some of the top places to visit in Miami:
South Beach: This famous Miami Beach neighborhood is known for its stunning Art Deco architecture, beautiful beach, and vibrant nightlife.
Little Havana: Experience Miami's Cuban culture and cuisine in this lively neighborhood. Don't miss the historic Domino Park, which is a popular gathering spot for locals.
Miami Design District: This trendy area is a must-visit for art and design enthusiasts, with many galleries, museums, and high-end shops.
Wynwood Walls: Take a stroll through the Wynwood Art District to see some of Miami's best street art and murals.
Vizcaya Museum and Gardens: This beautiful estate in Coconut Grove features a museum and stunning Italian Renaissance gardens.
Everglades National Park: Just a short drive from Miami, the Everglades is a unique ecosystem that is home to a diverse range of wildlife, including alligators and manatees.
Miami Seaquarium: Get up close and personal with dolphins, sea lions, and other marine animals at this popular attraction.
Bayside Marketplace: This open-air shopping and entertainment complex is located on the waterfront and features live music, restaurants, and shops.
Frost Museum of Science: This state-of-the-art museum features interactive exhibits and immersive experiences that explore science, technology, and the natural world.
Miami Beach Botanical Garden: Escape the hustle and bustle of the city and relax in this beautiful garden, which features a variety of plants and outdoor art installations.
9. Los Angeles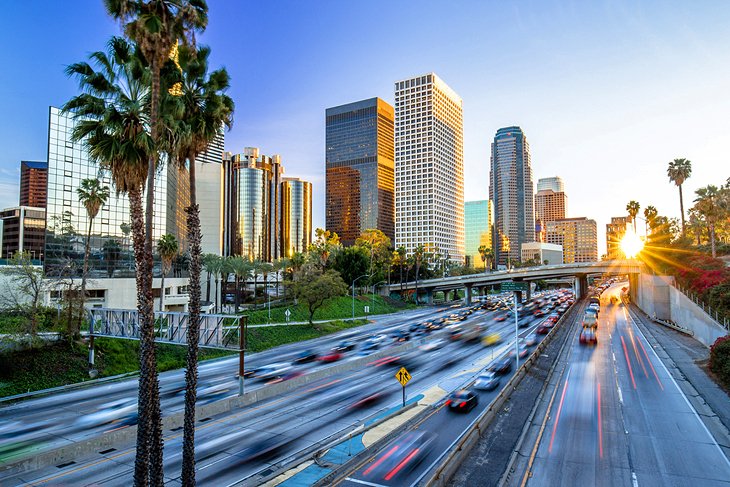 Los Angeles, located in Southern California, is renowned for its glamorous image and is a hub of cultural activity. The famous suburbs of Hollywood, Beverly Hills, and Bel Air, that dominate popular culture, have contributed significantly to the city's worldwide recognition. With a plethora of vacation possibilities, Los Angeles has something for everyone.
Movie lovers must visit Hollywood, while families can enjoy a day at nearby Disneyland. Shoppers will be delighted with the numerous options available in the Los Angeles area. Those seeking some sand and surf can head to one of the many beaches, while natural history buffs will appreciate the La Brea Tar Pits, where fossil remains of prehistoric animals that lived in the area 40,000 years ago can be seen.
Los Angeles is a large and diverse city with a wide range of attractions and activities to offer. Here are some top places you might want to consider visiting:
The Getty Center: This world-renowned art museum features an impressive collection of European and American art, beautiful gardens, and stunning architecture.
Griffith Observatory: Located on the slopes of Mount Hollywood, the observatory offers breathtaking views of the city skyline and the night sky, as well as educational exhibits and planetarium shows.
Universal Studios Hollywood: This popular theme park offers a behind-the-scenes look at movie and TV production, thrilling rides, and live shows.
Santa Monica Pier: This historic pier features an amusement park, an aquarium, shops, restaurants, and stunning views of the Pacific Ocean.
Hollywood Walk of Fame: This famous sidewalk features over 2,600 stars honoring celebrities from the entertainment industry.
The Original Farmers Market: This bustling outdoor market has been a Los Angeles institution since 1934, featuring fresh produce, specialty foods, and international cuisine.
The Griffith Park Observatory: Located in Griffith Park, this observatory has stunning views of the city and offers many space-related exhibits and educational opportunities.
The Los Angeles County Museum of Art: Known as LACMA, this museum features art from around the world and hosts a variety of exhibitions and events throughout the year.
The La Brea Tar Pits and Museum: This natural history museum is home to one of the world's largest collections of Ice Age fossils, many of which were discovered in the nearby tar pits.
Venice Beach: This popular beach destination is known for its lively boardwalk, street performers, and eclectic shops and restaurants.
10. New Orleans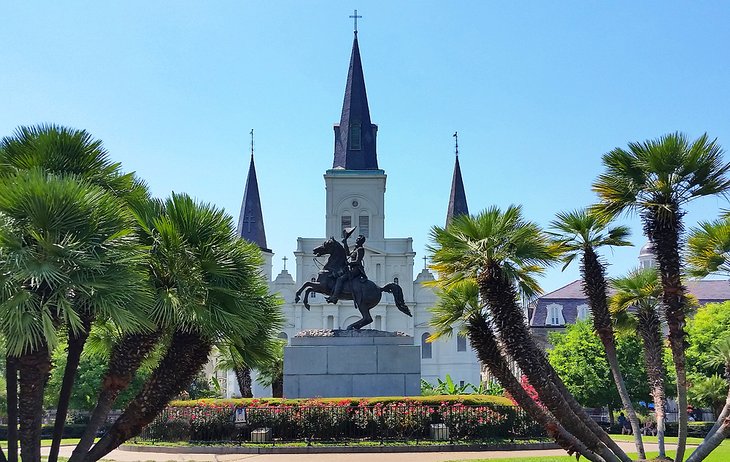 New Orleans stands out from other southern cities due to its unique blend of cultures, featuring distinct French and Spanish influences that resemble the Caribbean more than the rest of the United States. The city's individuality is further highlighted by its exceptional Cajun and Creole cuisine, soulful jazz music, and the charming architecture found in the French Quarter. Additionally, the city boasts an array of high-end resorts and hotels, making it a superb choice for a lengthy weekend getaway.
While Mardi Gras is the most highly anticipated event of the year in New Orleans, where flamboyant costumes and eccentric floats flood the streets, and lively music permeates the air, the festivities may not be suitable for everyone due to the vast crowds. As such, those seeking a more tranquil experience may wish to avoid this season.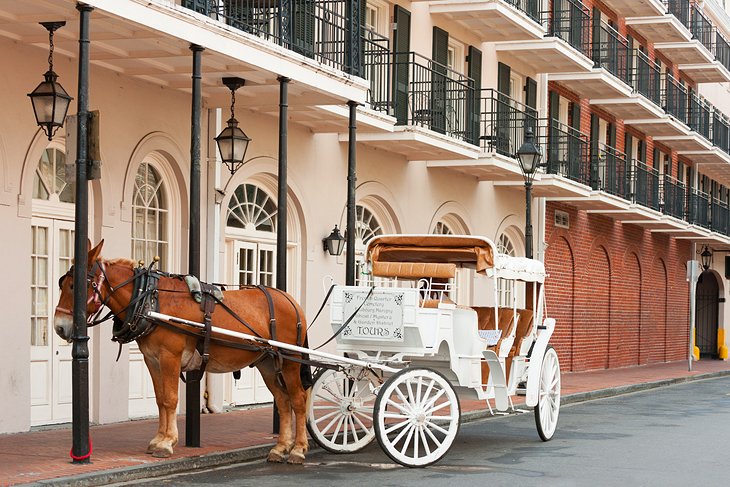 The ideal time to plan a visit to New Orleans is between December and May, although each season presents its unique advantages. From June to November, the temperature tends to rise, and hurricanes and storms become more frequent. However, this season also presents an opportunity to take advantage of attractive deals and discounts.
Here are some of the top places to visit in New Orleans:
French Quarter: Also known as the Vieux Carré, the French Quarter is the historic heart of New Orleans and is famous for its distinctive architecture, lively nightlife, and rich cultural heritage.
Jackson Square: Located in the French Quarter, this picturesque park is home to street performers, artists, and musicians, and is surrounded by historic buildings and landmarks.
Garden District: This upscale neighborhood is renowned for its stunning historic homes, lush gardens, and tree-lined streets.
National WWII Museum: This museum tells the story of the United States' involvement in World War II and features immersive exhibits, artifacts, and personal narratives.
Preservation Hall: This intimate jazz venue is renowned for its authentic New Orleans jazz performances and has been a fixture of the French Quarter for over 50 years.
Audubon Park: This expansive park features a picturesque lagoon, walking trails, and a golf course, as well as the Audubon Zoo and the Audubon Butterfly Garden and Insectarium.
St. Louis Cathedral: Located in Jackson Square, this stunning cathedral is a beloved symbol of New Orleans and is the oldest continuously active cathedral in the United States.
Magazine Street: This eclectic shopping district is home to a wide variety of boutiques, galleries, cafes, and restaurants, and is a great place to experience New Orleans' unique culture and style.
Mardi Gras World: This attraction offers a behind-the-scenes look at the famous Mardi Gras celebrations and features elaborate floats, costumes, and other festive displays.
City Park: This massive urban park features over 1,300 acres of green space, as well as attractions such as the New Orleans Museum of Art, the Sydney and Walda Besthoff Sculpture Garden, and the Carousel Gardens Amusement Park.
Regenerate response
11. Utah's National Parks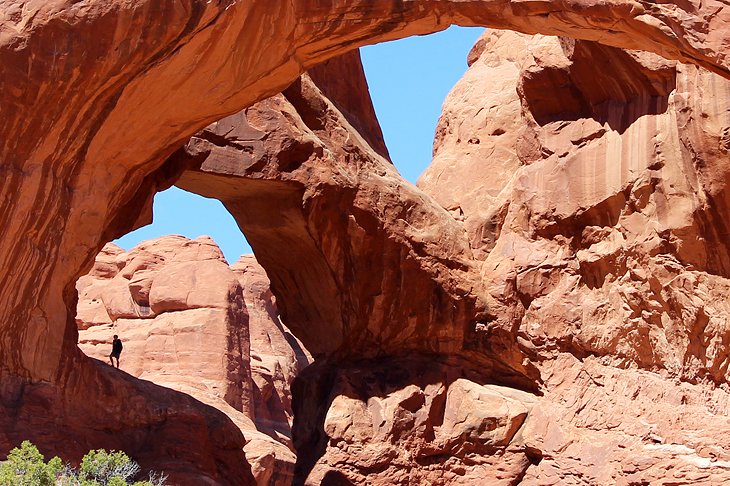 The striking natural landscape of Southern Utah is truly one-of-a-kind, featuring breathtaking canyons, arches, amphitheaters, and other uniquely beautiful rock formations. Luckily, visitors to Utah have the opportunity to explore this stunning scenery firsthand at the state's various parks.
Zion National Park is a standout park and an absolute must-see destination for hikers. Its soaring cliff walls, cascading waterfalls, and winding river create an enchanting valley that is among the most visited parks in the entire United States.
Arches National Park is home to a wide variety of natural wonders and is a must-see destination for nature lovers and outdoor enthusiasts. Here are some of the top places to visit in Arches National Park:
Delicate Arch: This iconic arch is perhaps the most famous landmark in the park and is a must-see for visitors. The hike to the arch is moderately difficult but offers stunning views of the surrounding landscape.
Landscape Arch: This remarkable arch is the longest natural arch in North America and is a sight to behold. The easy hike to the arch takes visitors through a beautiful canyon and is suitable for all ages and fitness levels.
Balanced Rock: This impressive rock formation features a massive boulder precariously balanced atop a slender rock pedestal, creating a truly breathtaking sight.
Double Arch: This unique arch formation features two arches joined at the base, creating a beautiful and distinctive sight.
Fiery Furnace: This maze-like area of narrow canyons and towering rock formations is a challenging but rewarding destination for adventurous hikers. A permit is required to explore the area.
Devils Garden: This area of the park features a variety of arches, including Landscape Arch and Double Arch, as well as several hiking trails ranging in difficulty from easy to strenuous.
Park Avenue: This stunning canyon features towering rock formations that resemble skyscrapers, creating an awe-inspiring sight that is best viewed at sunrise or sunset.
Windows Section: This area of the park features several arches that can be viewed from a short, easy hike, including the North and South Windows, Turret Arch, and Double Arch.
Delicate Arch Viewpoint: For those who are unable to make the hike to Delicate Arch, this viewpoint offers a distant but still stunning view of the iconic arch.
Devil's Garden Trailhead: This is the starting point for several of the park's hiking trails, including the popular Devil's Garden Loop Trail, which features a variety of arches and other unique rock formations.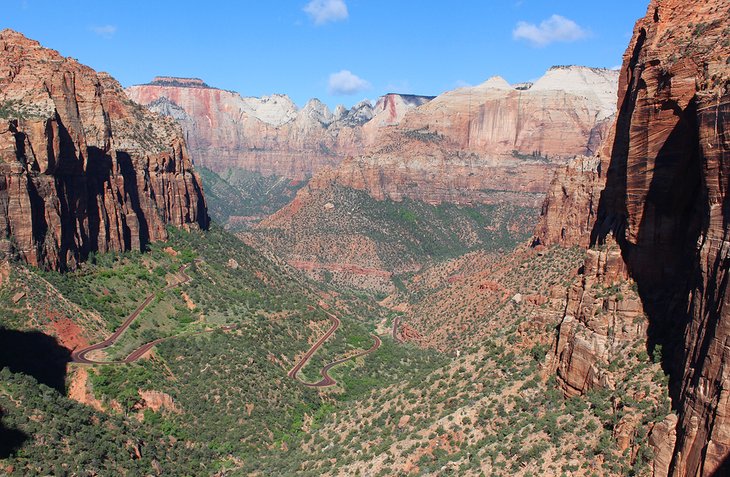 Located near the charming town of Moab, Arches National Park is a must-visit destination for anyone who appreciates stunning natural landscapes. While the park is certainly famous for its more than 2,000 sandstone arches, there is so much more to discover. From dramatic rock spires to petrified dunes, visitors can take in breathtaking views of distant mountain peaks and find endless opportunities for adventure. Arches National Park is also a premier mountain biking destination in the United States.
In close proximity, but with a completely different character, Canyonlands National Park is another must-visit destination. With some sections of the park as enchanting as the Grand Canyon but without the crowds, it's worth dedicating at least a day to exploring two separate sections of the park. And if you enjoy hiking, you may want to allow for even more time to explore the many trails that wind through this stunning landscape.
Zion National Park is home to some of the most breathtaking landscapes in the United States, including soaring cliffs, colorful canyons, and cascading waterfalls. Here are some of the top places to visit in Zion National Park:
The Narrows: This narrow slot canyon is one of the park's most iconic destinations and a must-see for visitors. Hiking through the water-filled canyon requires some physical ability and special equipment, but the experience is well worth it.
Angels Landing: This challenging hike takes visitors to a stunning viewpoint at the top of a narrow fin of rock. The hike is not for the faint of heart, with steep drop-offs and narrow ledges, but the views are simply stunning.
Emerald Pools: This series of pools and waterfalls is a popular destination for visitors of all ages and abilities. A short hike takes visitors to Lower Emerald Pool, while a longer, more challenging hike leads to Upper Emerald Pool.
The Subway: This challenging hike takes visitors through a narrow slot canyon and requires rappelling and swimming in cold water. The Subway is a highly sought-after destination for experienced hikers and photographers.
Observation Point: This challenging hike takes visitors to one of the best viewpoints in the park, with stunning views of Zion Canyon and the surrounding landscape. The hike is strenuous, but the views are well worth the effort.
Weeping Rock: This easy, accessible hike takes visitors to a natural spring that drips water from the sandstone cliffs above, creating a unique and beautiful sight.
Checkerboard Mesa: This stunning rock formation is a popular destination for photographers, with a distinctive pattern of cracks and fissures on its surface.
Kolob Canyons: Located in the northern section of the park, Kolob Canyons is a stunning destination for visitors seeking a more remote and less crowded experience. The area features several hiking trails and scenic drives.
Canyon Overlook Trail: This easy hike leads to a stunning viewpoint overlooking Zion Canyon, making it a popular destination for visitors of all ages.
Riverside Walk: This easy, wheelchair-accessible trail follows the Virgin River through a scenic canyon, offering stunning views of the surrounding landscape.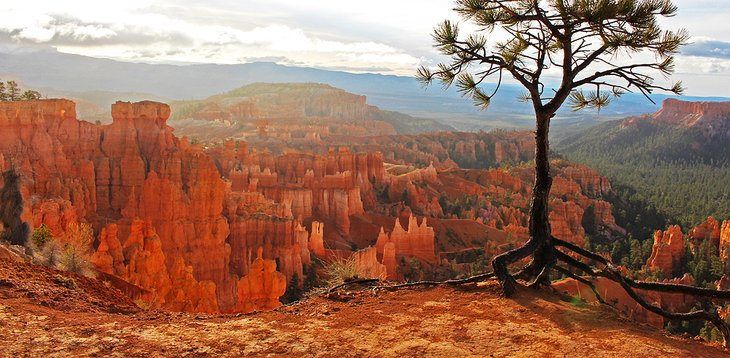 Bryce Canyon National Park is a unique and breathtaking destination, with its natural amphitheater and towering rock formations creating a one-of-a-kind landscape. The park's hiking trails offer visitors the chance to explore this mystical area and are generally moderate in difficulty, making them accessible to hikers of all skill levels.
Capitol Reef National Park, although a bit off the beaten path, is also a must-see destination for visitors to the region. The park's stunning red rock formations and rugged terrain offer a glimpse into the region's geological history, and the park's hiking trails provide ample opportunity for exploration. While it may require a bit of extra effort to visit, Capitol Reef is certainly worth adding to your itinerary if you have the time.
Bryce Canyon National Park is a spectacular destination with many must-see spots. Here are some top places to visit in Bryce Canyon National Park:
Bryce Amphitheater: This is the park's main attraction, featuring a large natural amphitheater filled with a collection of unique rock formations known as hoodoos. Visitors can explore this area on various hiking trails or by taking a scenic drive.
Sunrise Point and Sunset Point: These two viewpoints offer some of the best views of the Bryce Amphitheater and are popular spots for watching the sunrise or sunset. Both points also offer access to hiking trails that lead down into the amphitheater.
Navajo Loop Trail: This popular hiking trail descends into the Bryce Amphitheater, passing by many of the park's most famous rock formations. The trail is moderately difficult but provides incredible views of the hoodoos up close.
Fairyland Loop Trail: This 8-mile hiking trail is one of the park's most challenging but also one of the most rewarding. It winds through the Bryce Amphitheater and offers stunning views of the hoodoos and other rock formations.
Bryce Point: This scenic viewpoint offers panoramic views of the park's stunning landscape, including the hoodoos and other rock formations. It's a great spot for taking photos and soaking in the park's natural beauty.
12. Orlando/Kissimmee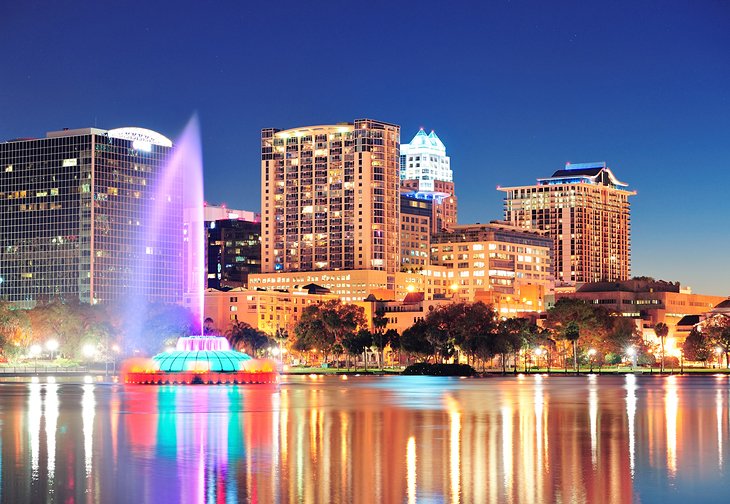 When most people think of Orlando, they think of Kissimmee and the city's famous theme parks, including Walt Disney World Resort, Universal Studios, and SeaWorld. Orlando is a top vacation spot in the US, especially for families with children who love the exciting attractions. However, the city is not just for kids. Adults can also have a great time exploring the theme parks, shopping, dining, playing golf, and enjoying the sunny weather.
It's important to note that school holidays, particularly Christmas and summer breaks, tend to be the busiest times to visit, so plan accordingly. Luckily, Orlando is well-equipped for visitors, with a variety of hotels and home rentals available throughout the area. Although Orlando is inland, visitors can easily take day trips to both the Atlantic and Gulf coasts, as well as visit the famous Kennedy Space Center at Cape Canaveral on the Atlantic coast.
Regarding the best places to visit absolutely, there are:
Walt Disney World Resort – the most famous theme park in the world, featuring numerous attractions, shows, and events for all ages.
Universal Studios Florida – another popular theme park with movie-themed attractions and thrilling rides.
SeaWorld Orlando – a marine-life park that offers interactive animal experiences, shows, and roller coasters.
The Wizarding World of Harry Potter – a themed area within Universal Studios that immerses visitors in the world of Harry Potter.
International Drive – a bustling tourist district with shopping, dining, and entertainment options.
Lake Eola Park – a beautiful downtown park with a scenic lake, walking paths, and outdoor concerts and events.
Kennedy Space Center Visitor Complex – a must-see attraction for space enthusiasts, with interactive exhibits, tours, and displays.
Disney Springs – a shopping and dining complex within Walt Disney World that also offers entertainment and events.
Gatorland – a theme park and wildlife preserve that offers visitors a chance to see and learn about Florida's native alligators.
Old Town – a nostalgic shopping and entertainment district with classic car shows, amusement rides, and dining options.
13. Chicago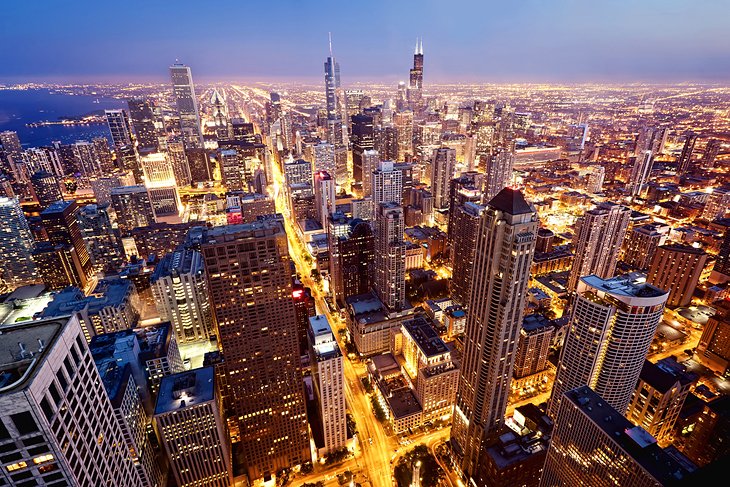 Chicago, located on the shore of Lake Michigan, is an excellent destination for summer vacations, thanks to its parks and stunning waterfront. However, the city's cultural and artistic attractions, as well as its excellent shopping options, make it a popular destination all year round. The Magnificent Mile, a stretch along Michigan Avenue, is the most famous area of the city, with luxurious stores, galleries, and remarkable architecture. Tourist attractions include the Art Institute of Chicago, Millennium Park, Navy Pier, and the Willis Tower SkyDeck, which offers spectacular views of the city.
Chicago offers a wide range of attractions and destinations to explore. Here are some of the best places to visit in Chicago:
Millennium Park: This beautiful park is home to several iconic landmarks, including the famous Cloud Gate sculpture, also known as "The Bean."
The Art Institute of Chicago: The Art Institute of Chicago is one of the oldest and largest art museums in the United States, featuring a vast collection of art and artifacts from around the world.
Navy Pier: A popular tourist destination, Navy Pier is home to a variety of attractions, including shops, restaurants, a Ferris wheel, and a children's museum.
Willis Tower SkyDeck: For breathtaking views of the city, head to the Willis Tower SkyDeck, located on the 103rd floor of the tower.
Magnificent Mile: This stretch of Michigan Avenue is lined with luxury stores, high-end restaurants, and beautiful architecture.
Lincoln Park Zoo: Located in Lincoln Park, this free zoo is home to a wide variety of animals from around the world.
Wrigley Field: Catch a baseball game at this historic stadium, home of the Chicago Cubs.
The Field Museum: This museum houses a vast collection of artifacts and exhibits, including Sue, the largest and most complete Tyrannosaurus Rex skeleton ever discovered.
The Chicago Theatre: This iconic theater is a landmark of the city's entertainment district, hosting concerts, comedy shows, and theatrical performances.
Grant Park: This expansive park is home to several landmarks, including Buckingham Fountain, and hosts several events throughout the year, including the Taste of Chicago food festival.
14. Phoenix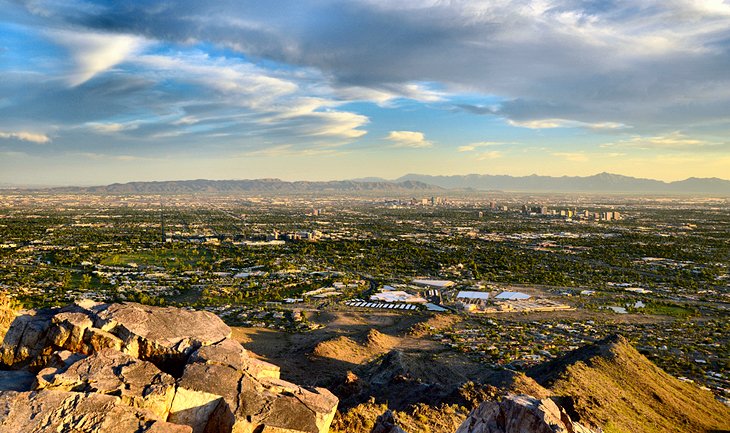 Phoenix, located in the southwestern US, is a vast and sprawling city that attracts snowbirds seeking to escape the cold winter weather. Whether you're looking to indulge in golfing, shopping, or simply relaxing, Phoenix is an excellent destination. The region is home to a diverse range of resorts, from massive family-friendly complexes with beaches and waterslides to more intimate properties that cater to your every need.
Golf enthusiasts will be pleased to discover that Phoenix and its surrounding areas, including Scottsdale and Mesa, boast some of the world's finest golf resorts, many of which are significant stops on the PGA Tour for both men and women.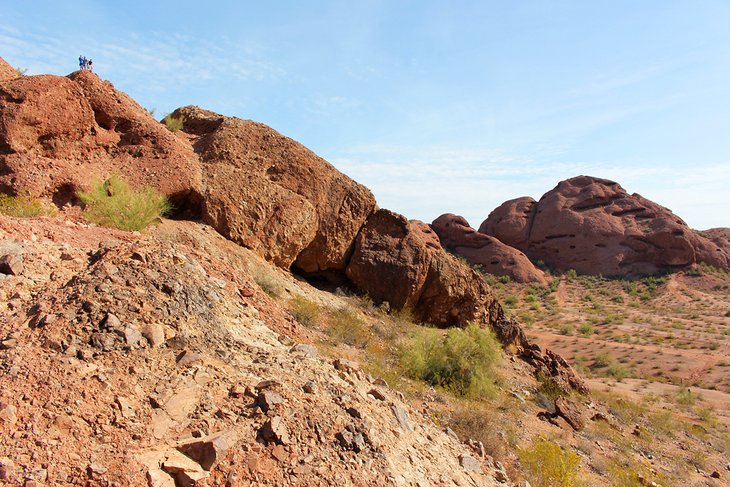 If you have some extra space in your luggage, you may want to consider packing your hiking boots for your trip to Phoenix. The region is home to several natural areas that display the stunning desert landscape, and they are conveniently located within the city or in close proximity, making it easy for visitors to enjoy hiking or mountain biking. Keep in mind that summer temperatures can reach very high levels, but if you plan your visit between October and April, the weather is usually mild and perfect for spending time outdoors.
Here are some of the top places to visit in Phoenix
Desert Botanical Garden: This garden showcases a diverse collection of arid-land plants from around the world.
Camelback Mountain: This mountain offers some of the best hiking and rock climbing opportunities in the city, with stunning views from the top.
Heard Museum: This museum features exhibits and collections of Native American art and culture.
Papago Park: This park offers hiking and biking trails, as well as a variety of recreational activities, including fishing and golfing.
Musical Instrument Museum: This museum features exhibits and collections of musical instruments from around the world.
Taliesin West: This architectural masterpiece was the winter home of Frank Lloyd Wright and now serves as the headquarters of the Frank Lloyd Wright Foundation.
Phoenix Art Museum: This museum features a collection of over 18,000 works of art from around the world, including contemporary and Native American art.
Phoenix Zoo: This zoo features over 3,000 animals from around the world, including endangered species and rare animals.
South Mountain Park and Preserve: This park offers hiking and biking trails, scenic drives, and panoramic views of the city.
Arizona Science Center: This museum features hands-on exhibits and interactive displays focused on science and technology.
15. Savannah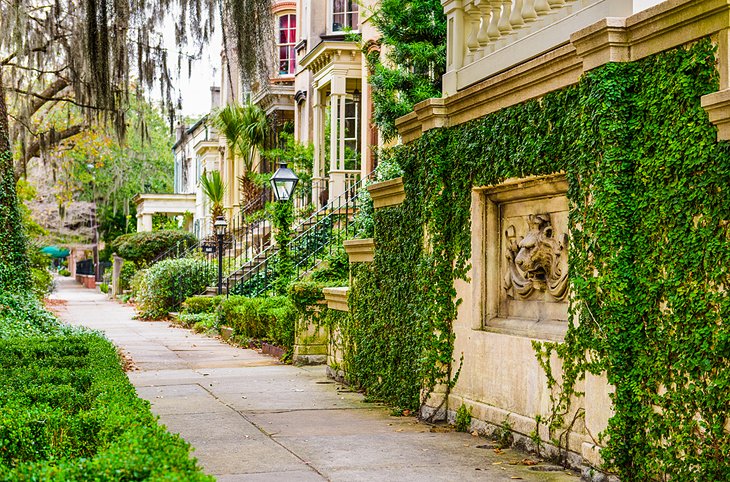 Savannah embodies the charm and character of a small southern city, complete with sprawling parks filled with moss-draped trees, impressive historic mansions, and a picturesque waterfront lined with unique shops and boutiques housed in historic buildings. The city's laid-back pace and friendly locals make for a pleasant and enjoyable visit.
It's clear that Savannah is a place where people live and thrive, rather than just a tourist destination. The compact city center is easily walkable, allowing visitors to explore at their leisure. Although you could see the highlights of the city in a day, Savannah's unique appeal and vibrant atmosphere will likely entice you to stay longer.
In addition to the city's many attractions, the nearby Tybee Island and Hilton Head Island offer beautiful beaches just a short drive away, making them ideal day trips from Savannah.
16. Boston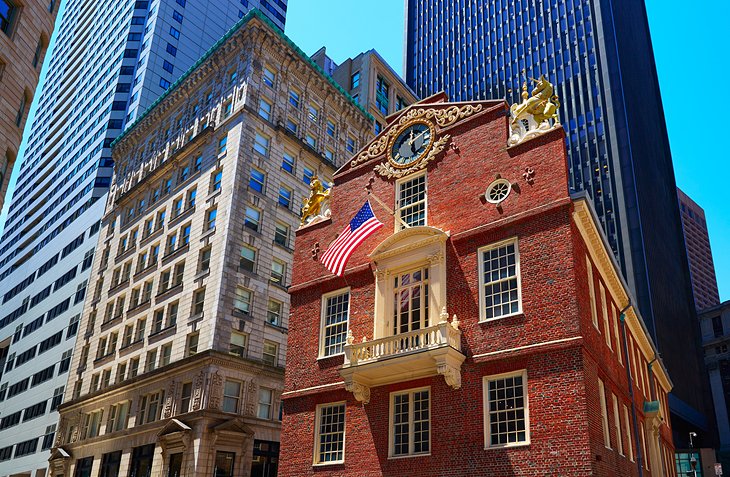 Boston is a city steeped in history and located on the Eastern Seaboard. The famous Freedom Trail winds through the city, taking visitors past some of its most famous and historic sites. Boston's unique charm lies in its picturesque location on the oceanfront and its blend of modern skyscrapers with centuries-old buildings. Public spaces like Boston Common add to the city's quaint, small-town feel, while its strong arts and cultural scene and renowned Boston Pops Orchestra attract visitors from all over.
Despite the legendary winters that bring nor'easters dumping copious amounts of snow, Boston residents continue to enjoy life with a long list of winter activities. Whether visiting in winter or other seasons, Boston is a wonderful place to explore and discover.
17. Yosemite National Park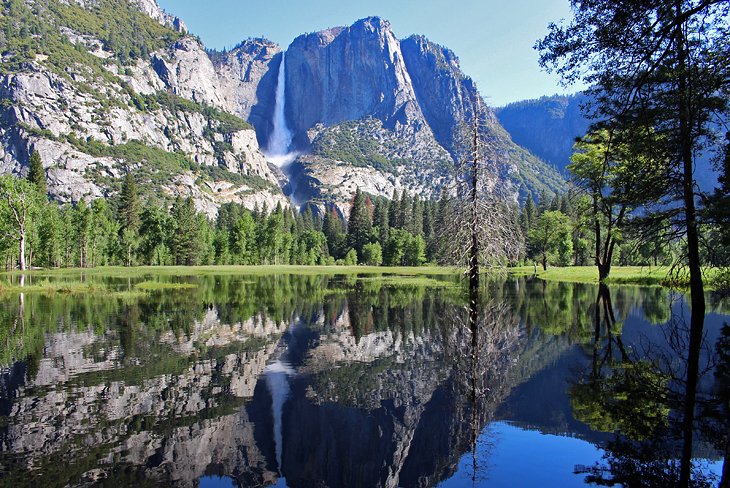 Yosemite, a national treasure not to be missed, is home to some of America's most famous landscapes and natural attractions. Yosemite Valley features iconic sights, such as the dramatic waterfalls and the towering cliff walls of El Capitan and Half Dome. The area's history is shaped by the captivating photographs of Ansel Adams, the climbing community that has flocked here for decades, and generations of families who have come to camp, hike, and enjoy the scenery. Prior to this, the area was inhabited by the Miwok people, whose story can be discovered at the Yosemite Museum and Indian Village of the Ahwahnee within the park. While the Grand Canyon is a popular destination for international travelers, Yosemite is also a must-see national treasure.
18. Colorado's Rocky Mountains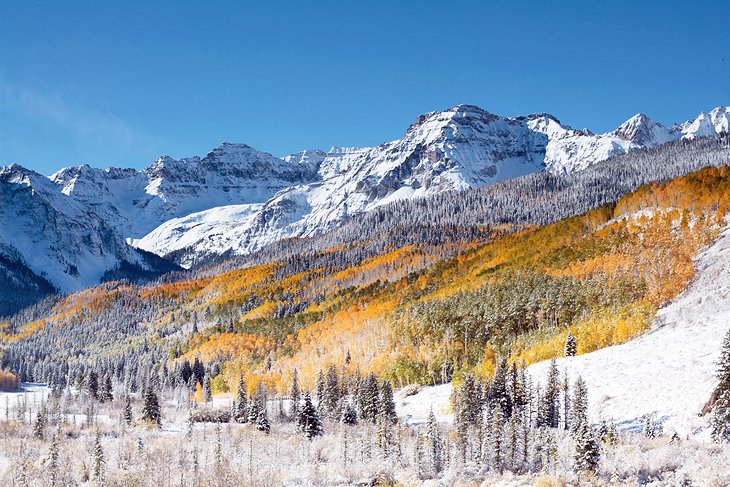 Colorado is a state that should be on every nature lover's itinerary. The stunning Rocky Mountains are a highlight of the state, with snow-capped peaks and cascading waterfalls that make for breathtaking vistas. The small mountain towns and alpine climate add to the charm of the region, making it an ideal destination for those seeking an escape from the hustle and bustle of everyday life.
Summer in the Rockies is the perfect time for hiking, mountain biking, and rafting. In winter, the area becomes a winter wonderland, attracting skiers and snowboarders from around the world. Colorado boasts some of the best ski resorts in North America, making it a popular destination for winter sports enthusiasts.
Some of the must-visit towns in the region include Vail, Aspen, Telluride, and Durango. These towns offer visitors the chance to experience the local mountain culture and enjoy the stunning natural beauty of the region. Scenic drives like the San Juan Scenic Byway and the Million Dollar Highway take visitors through picturesque mountain scenery and charming old mining towns like Silverton and Ouray. For a more relaxed way to enjoy the beauty of the Rockies, take a ride on the Silverton & Durango Narrow Gauge Railroad.
In the southwest corner of Colorado, just over an hour from Durango, is Mesa Verde National Park. This incredible park is home to Native American cliff dwellings that are both fascinating and awe-inspiring, and it has been designated as a UNESCO World Heritage Site.
19. Seattle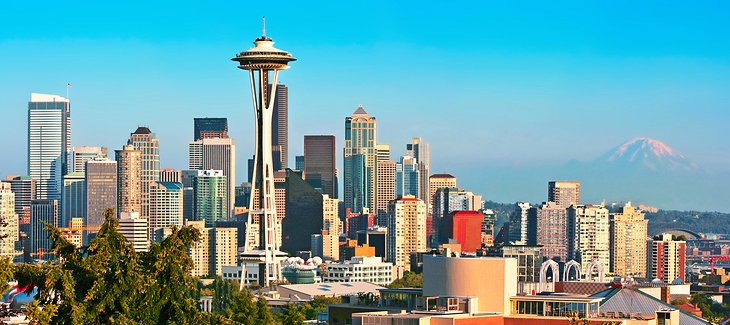 Seattle, a coastal city located in the northwest of the United States, offers visitors a multitude of activities to enjoy in a beautiful natural setting surrounded by water and mountains. The active population and easy access to outdoor activities are reminiscent of its Canadian counterpart, Vancouver.
Must-see attractions in Seattle include the iconic Space Needle, the bustling Pike Place Market, and the picturesque waterfront. Day trips from the city offer opportunities to explore beautiful beaches, the stunning Hoh Rain Forest, and majestic mountain landscapes.
While winter months tend to be rainy, Seattle has a mild climate that makes it a great destination to visit year-round.
20. North Carolina's Outer Banks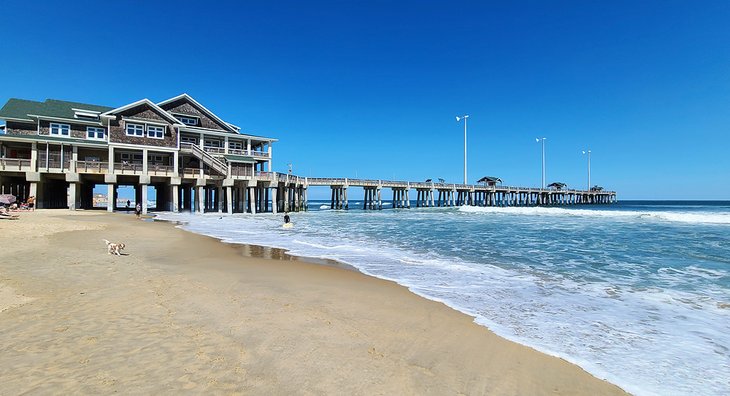 The beaches of North Carolina's Outer Banks have been luring visitors from all over the United States since the 1830s. These narrow sand islands boast over 100 miles of spectacular beaches, which make them a top summer destination for families, either at resorts or campgrounds.
In addition to the beach, visitors can explore historical cities such as Nags Head, Kitty Hawk (home to the Wright Brothers Memorial), Duck, Waves, and the towns on Hatteras Island. The Outer Banks are also famous for their lighthouses, many of which are open for tours to the top.
Furthermore, deep sea fishing is a popular activity in this offshore hotspot, and many records have been broken by anglers.
Conclusion
In conclusion, the USA offers a wide range of destinations for travelers to explore. From the bustling metropolis of New York City to the natural wonders of Yosemite National Park, there is something for everyone. Other notable destinations include the vibrant music scene in New Orleans, the historical landmarks of Washington, D.C., the picturesque beaches of Hawaii, and the stunning mountains of Colorado. Whether you're looking for adventure, relaxation, or culture, the USA has it all.