You can choose to spend your holidays in an "all inclusive" without surprises, or to live an unforgettable unusual stay in one of these unique and extravagant hotels.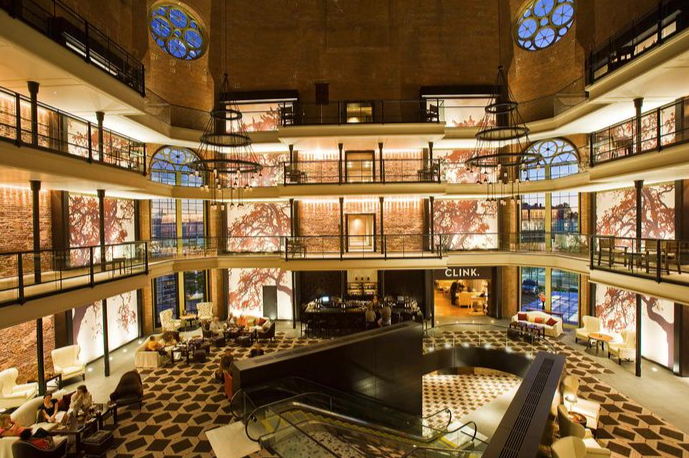 Liberty Hotel, Boston
Formerly Charles Street Jail, the Liberty Hotel in Boston, Massachusetts is an authentic prison-turned-hotel that housed some famous inmates, including Malcom X and one of Boston's former mayors, James Curley .
This luxurious establishment has kept traces of this prison past in the name of the rooms and the dining areas. For example, a restaurant has been named The Clink (La Taule) and the hotel's cocktail bar is called The Alibi (L'Alibi). It is installed in the former drunk tank of the prison.
The rooms offer all amenities: air conditioning, safe, minibar, shoe shine in the evening, and concierge service. We bet the prisoners' cells weren't so welcoming.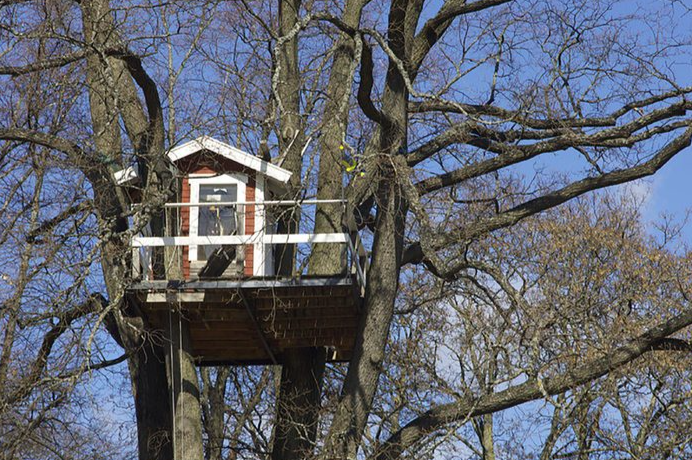 Hotel Hackspett, Suède
Hotell Hackspett – woodpecker in Swedish – was created in 1998 by artist Mikael Genberg in Västeras, Sweden. It consists of a single chamber suspended by cables at a height of 13 m above the ground, in the branches of a 130-year-old oak tree. (Rest assured, no nails were used to fix the structure).
Guests are hoisted to their place of stay by a system of pulleys and harnesses. The room offers a spectacular view of the public park where it is located and of Lake Mälaren. As comfort is rudimentary, with dry toilets and without electricity or heating, accommodation is only offered in summer.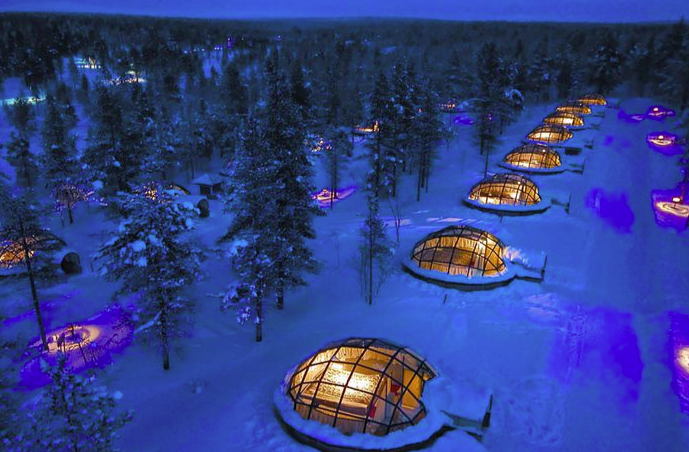 Hotel Kakslauttanen, Finland
Do you dream of a sublime view of the Northern Lights, combined with the comfort of a cozy bed in an igloo? The Kakslauttanen Hotel, located in Arctic Finland, offers many glass igloos. Couples and groups of friends can admire, snuggled up in the warmth, the dance of the Northern Lights in the icy Arctic night sky.
The glass igloos are only available during the Northern Lights season, from late August to late April. The Kakslauttanen hotel also offers its guests traditional log cabins or ice igloos, to compare a night in the warmth of a sleeping bag and another in an ice cave.
You can also take advantage of the hotel's spa treatments, thanks to the steam baths and hot tubs located throughout the estate.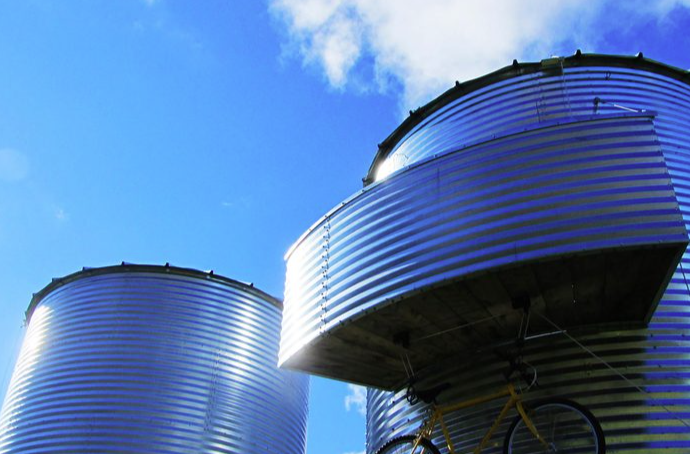 SiloStay, New Zealand
Sleeping inside a silo is one of your wildest dreams? SiloStay could meet your expectations!
The complex, located in Christchurch in the middle of farmland, includes nine individual silos arranged for two people to stay and sleep. The upper floor of each unit is equipped with a large bed and a bathroom with shower. It communicates via a spiral staircase with the ground floor, where the kitchen and dining area are located. Some units can even accommodate families. (If you suffer from claustrophobia rest assured, there are windows.)
Designed by Stuart Wright-Stow and his "F3" design team, each silo is both environmentally friendly and innovative. The complex's energy is provided by a wood pellet boiler, which can be seen through each unit.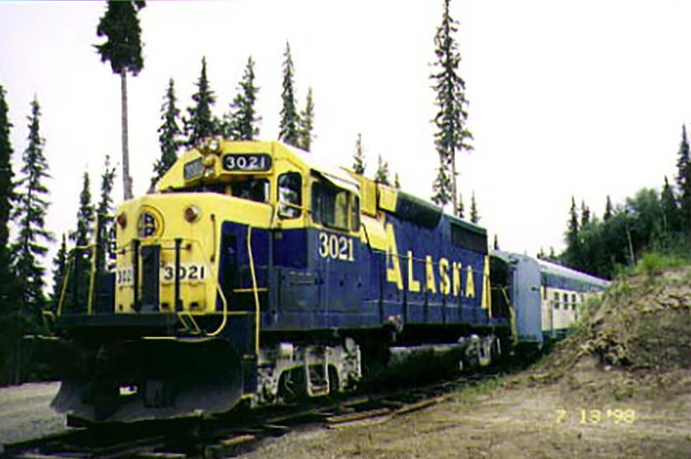 Aurora Express, Alaska
Guests of the Aurora Express Bed & Breakfast are received aboard Alaska Railroad cars, converted into a hotel and renovated in the style of the early 19th century settlement of the state. You can also opt for a stay in one of the luxury cars, baptized "Golden Nellie", "National Emblem", "Gold Mine" and "Maison Close".
But wherever you are on the train, you and other passengers will have breathtaking views of the city of Greater Fairbanks, the Tanana Valley and the Alaska Range.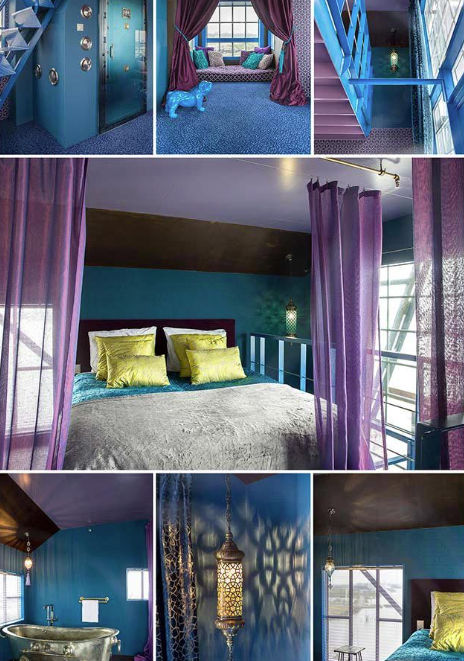 Crane Faralda Hotel, Netherlands
Located on Amsterdam's waterfront, the Crane Hotel Faralda offers three luxury suites housed inside an old construction crane used on the docks. The lowest suite, the 'Free Spirit', is suspended almost 35m, while the 'Secret' is 40m above the ground and the 'Mystique' suite rises to almost 45m above the ground. altitude.
The three five-star suites have a living room and private bathroom on the first floor and a bedroom on the second. At the top, there is a jacuzzi for all guests, as well as a bungee jumping platform and a spectacular view of the quays that change direction with the wind. At 15 m above the ground, you can also have a drink at the panoramic lounge bar, the Sky High.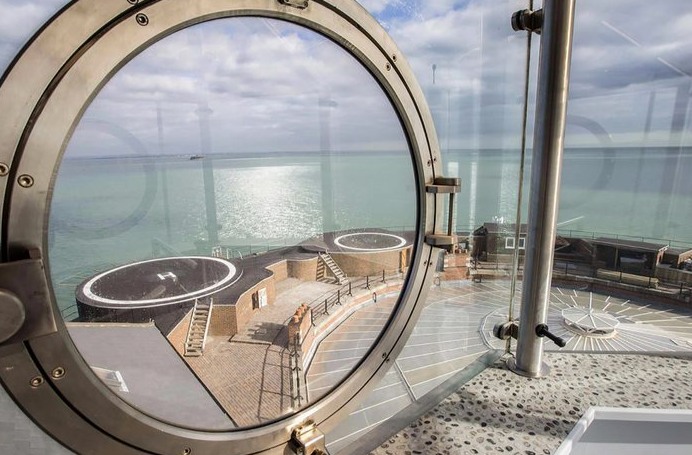 No Man's Fort, Portsmouth, England
Built 160 years ago off Portsmouth, No Man's Fort (Fort Solent) is a former naval fortification from the Victorian era. Originally built to keep the French fleet at bay, it nevertheless rendered proud service during the two world wars.
After being decommissioned in 1956, the fort was transformed in 2009 into a four-star luxury hotel. The establishment now offers 23 luxurious suites, with jacuzzis, lounge bars, casual or dressy dining. Accessible by boat or helicopter, the structure boasts spectacular views of the English and French coasts.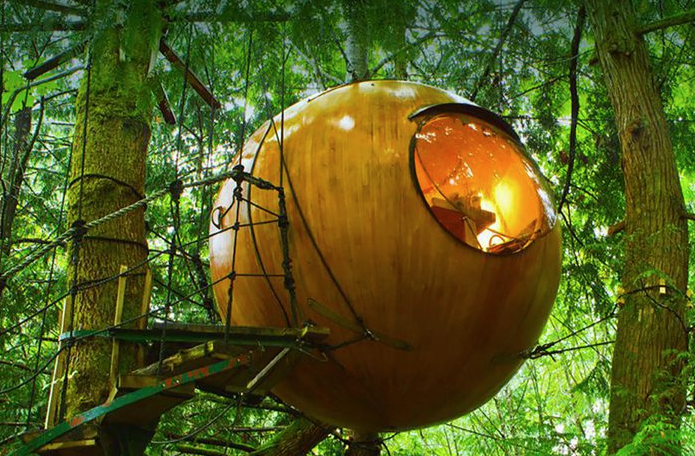 Free Spirit Spheres, Qualicum Beach, British Columbia
This Canadian hotel stands out on several counts: it's adults-only, and the rooms are wooden spheres suspended from trees in a lush rainforest.
Located on Vancouver Island, British Columbia, this arboreal resort is open year-round and offers unparalleled tranquility within three differently sized spheres, affectionately named Eve, Eryn and Melody. At the Free Spirit Spheres, guests have bathrooms and composting toilets on the ground floor, welcome snacks, freshly changed linens, sauna, BBQ and communal kitchen. In addition, each sphere is equipped with integrated speakers and above all, Internet access.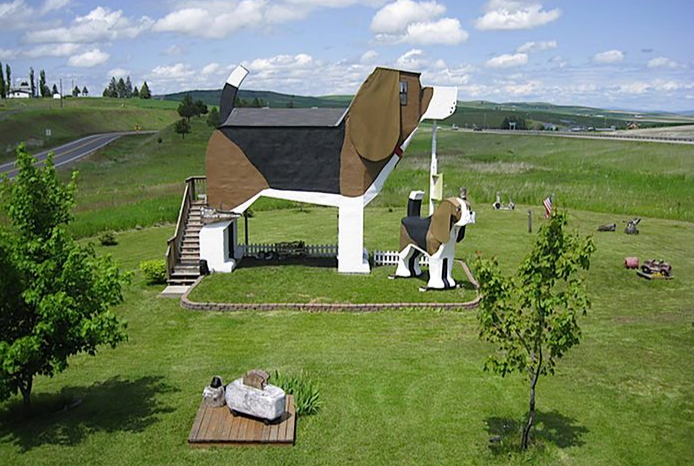 Auberge Dog Bark Park, Idaho
If you can't do without man's best friend, sleeping in a dog's belly might be your thing. Located in Cottonwood, the Dog Bark Park Inn is considered "the biggest beagle in the world": the building of the inn having the shape of a giant beagle!
A one-night stay includes a continental buffet breakfast, and guests stay in comfortable rooms that sleep four and are equipped with a full bathroom, air conditioning, and a selection of books, games and puzzles. No telephone or television – but internet access is available. To quote the hostel's website, "At Dog Bark Park Inn, spending a dog's night has positive meaning!" »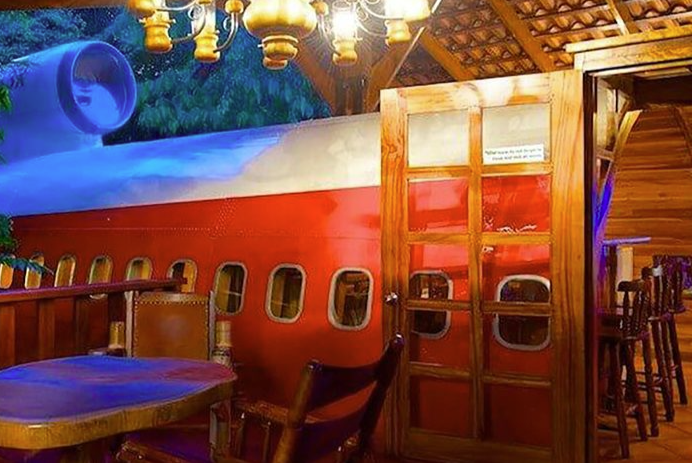 Hotel Costa Verde, Costa Rica
Can't sleep a wink on a plane? In this one it might be different. This old Boeing 727, transformed and converted into a luxurious two-bedroom suite, is grounded in the tropical jungle, between Manuel Antonio National Park and the Pacific Ocean, in Costa Rica.
A guest can experience all that Hotel Costa Verde has to offer: cliffside pools, sunbathing terraces, and a bar inside the aircraft fuselage. And no queue for boarding: you are already at your destination!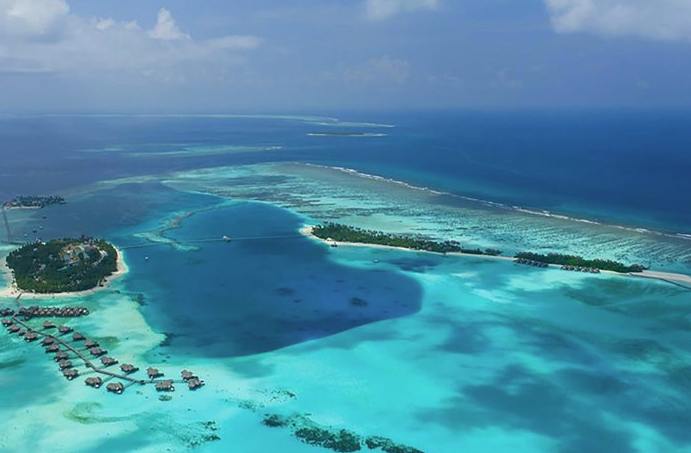 CONRADHOTELS.HILTON.COM
Hilton Conrad Maldives Rangali Island, Maldives
The Hilton Conrad Maldives Rangali Island is a spectacular and luxurious resort in the Maldives, an island state in the middle of the Indian Ocean. The resort offers open-air bungalows with transparent floors under your feet, to admire the depths of the ocean. If you want to sleep and eat among the fish (literally), there are also rooms and restaurants set up underwater.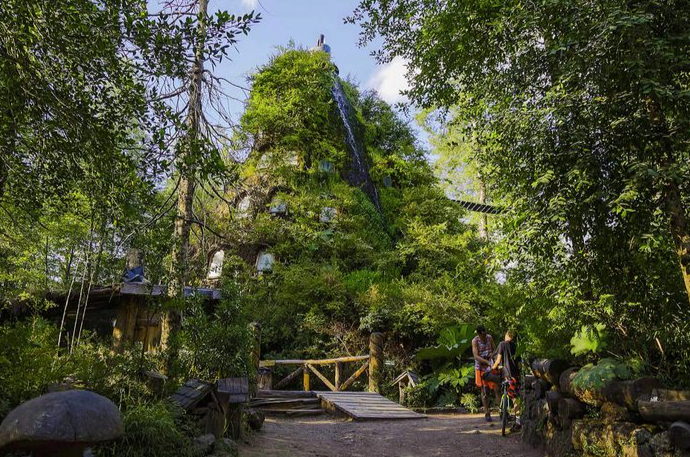 Hôtel Magic Mountain, Chili
Nestled in the heart of Chile's Huilo Huilo Nature Reserve, the Magic Mountain Hotel is an oddity worth a look. The establishment, only accessible by a wooden bridge, is built in the shape of a giant volcano with sides covered in green moss. A waterfall tumbles from its summit and it is surrounded by lush rainforest, picturesque lakes and lagoons, pleasant hot springs and towering mountain ranges.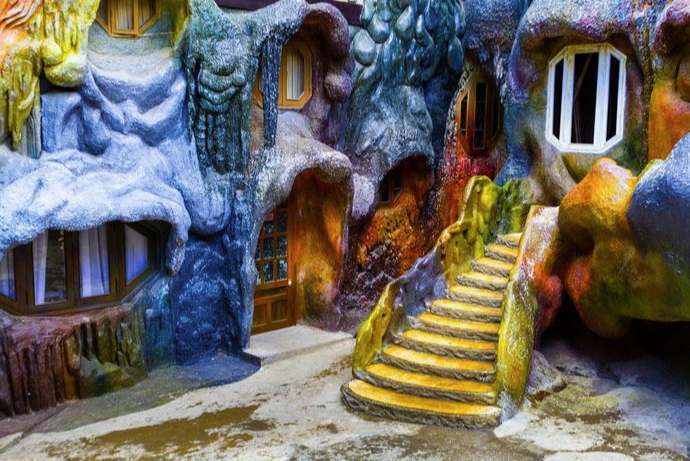 Hang Guest House, Da Lat, Vietnam
Nicknamed "the Crazy House", this one-of-a-kind hotel was designed and built by Vietnamese architect Dang Viet Nga in Da Lat, Vietnam. Its shape is reminiscent of a tree and each room has an animal theme, evoked by sculpted elements.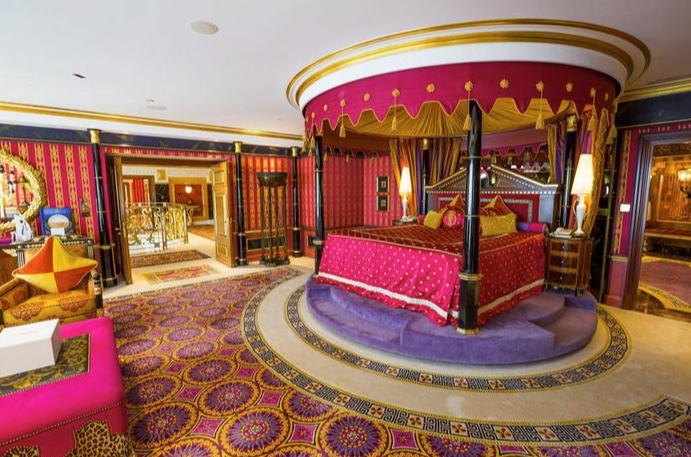 Burj Al Arab Jumeirah, Dubai
The fifth highest hotel in the world, consisting of non-habitable areas for 39% of its height, the Burj Al Arab Jumeirah is a 7-star hotel in the shape of a sail.
Its opulent indoor spaces include an underwater restaurant-aquarium, a $23,000-a-night royal suite, and an iconic Skyview bar.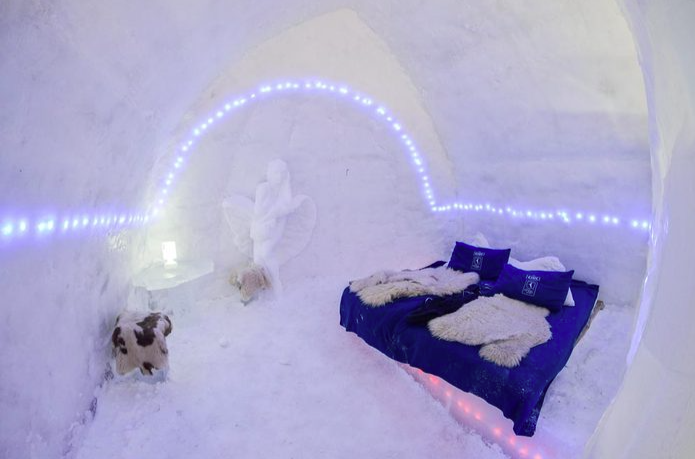 Lake Bâlea Ice Hotel, Romania
Located near Lake Bâlea in the Fagaras Mountains, the famous Romanian Ice Hotel is rebuilt every year with 1.2m ice "bricks" taken from the nearby lake.
It is a unique hotel in the true sense, because every year it is given a different design. Considered one of the main tourist attractions in Transylvania, it also offers a lounge bar and an ice cream bar-restaurant, as well as igloos.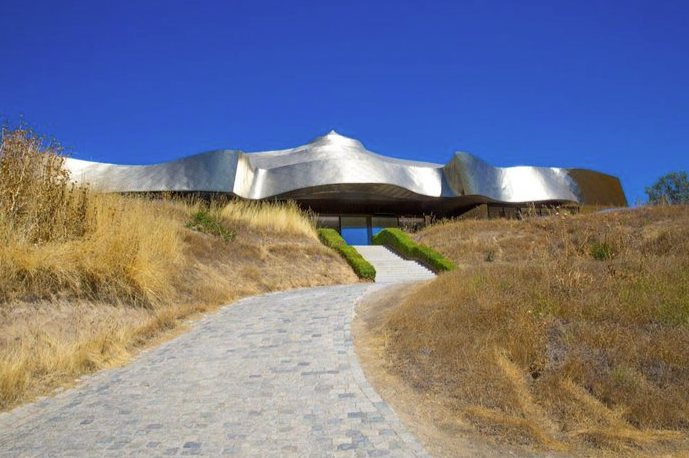 Vina Vik Hotel in Millihue, Chile
This 22-suite hotel and spa is located atop a hill surrounded by Chile's most prestigious vineyards. Each room has floor-to-ceiling glass windows, offering panoramic views of vineyards or snow-capped peaks of the Andes.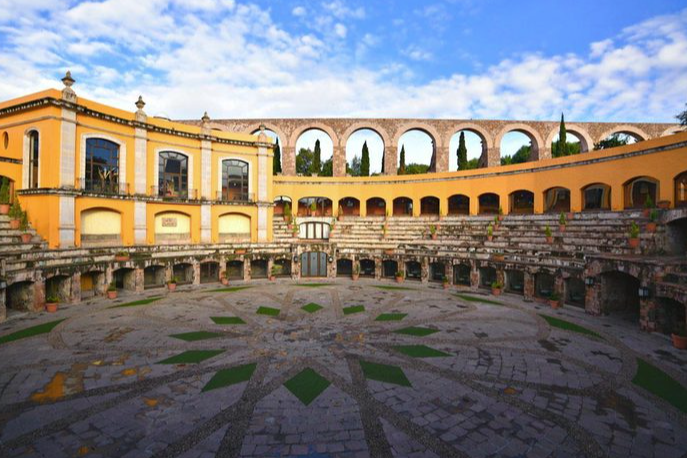 Quinta Real Zacatecas, Zacatecas, Mexique
What makes this breathtaking luxury hotel so exceptional is that it is built around a restored 19th century bullring (the last bullfight took place in 1975). Today, the hotel's restaurant overlooks the vast former bullring, while the bar sits where the bullring once stood.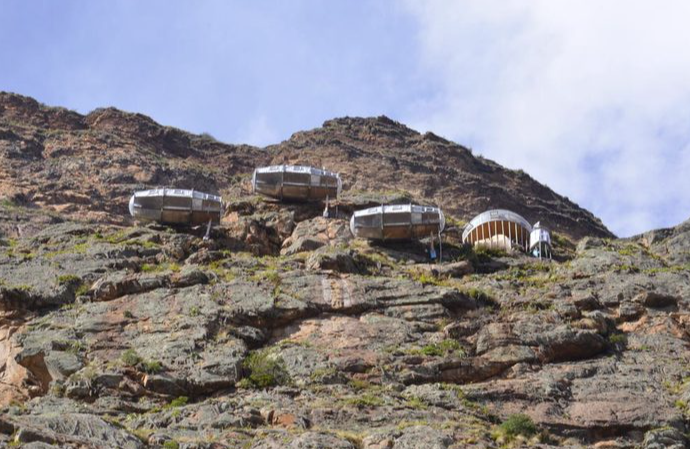 Skylodge Adventure Suites, Sacred Valley, Peru
Clinging to a granite slope overlooking the Urubamba valley, these aluminum and polycarbonate capsules allow you to sleep in the sky in a luxurious transparent cocoon. An experience that has to be earned: to sleep at the Skylodge, you have to climb 400 m by climbing the rock face via the ferrata or reach a steep hiking trail via zip lines.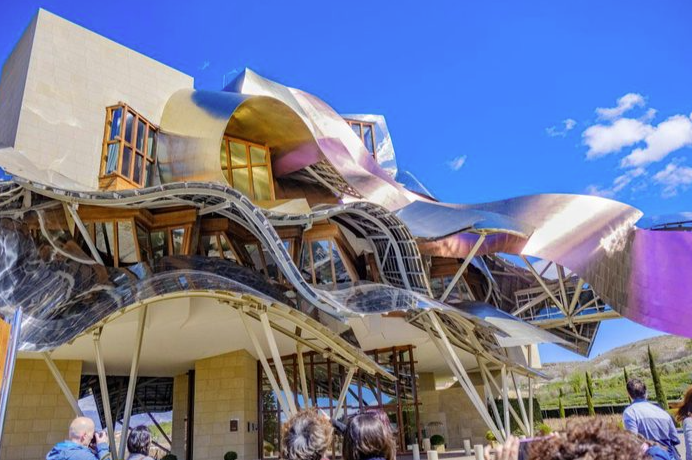 Hotel Marques de Riscal, La Rioja, Spain
Architect Frank Gehry's first (and only) hotel project, the Marqués de Riscal is nestled in the heart of Spain's famed Rioja wine region. Massive ribbons of titanium complete the impressive avant-garde structure, following methods previously used by Gehry at the Guggenheim Museum in Bilbao.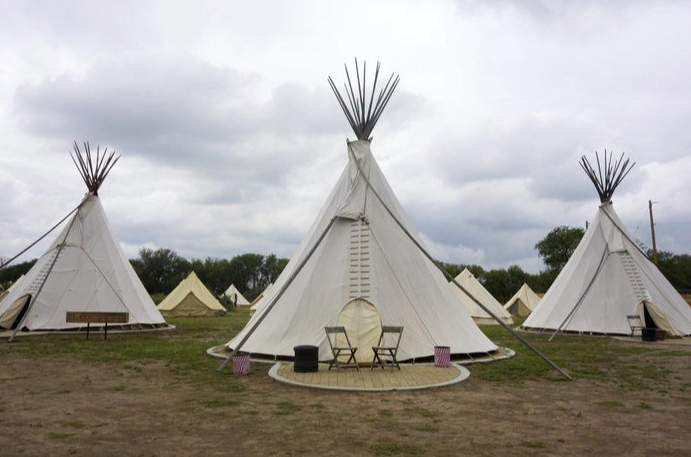 El Cosmico, Marfa, Texas
A self-proclaimed "nomadic hotel", the Cosmico offers different types of accommodation for guests who have a taste for adventure. One has the choice of sleeping in "old model" caravans, safari tents, Sioux style teepees, yurts or camping tents.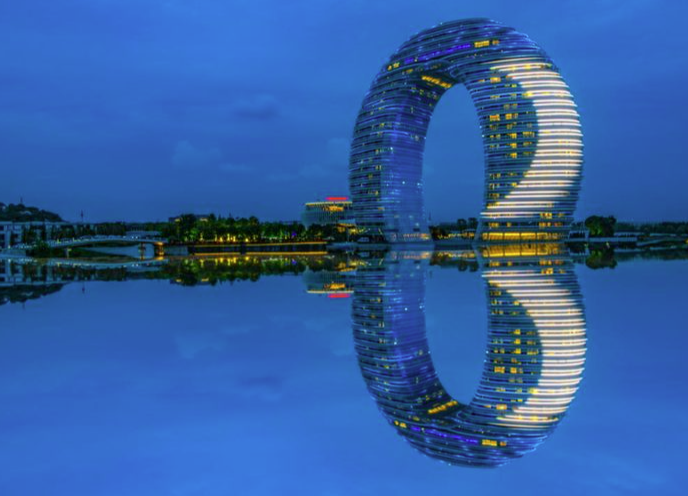 Sheraton Huzhou Hot Spring Resort, Huzhou, China
Also nicknamed "Le Donut", the Sheraton Huzhou Hot Spring was created by architect Ma Tansong. Located on Lake Taihu between Nanjing and Shanghai, this arched skyscraper has 27 floors above the water and two below, to create a complete oval.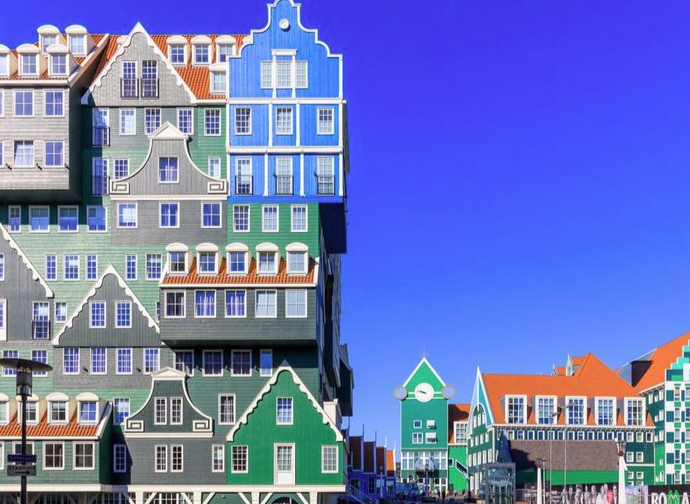 Inntel Amsterdam Zaandam, Amsterdam
The facade of this hotel consists of nearly 70 superimposed houses. Tribute to all the traditional habitats of Amsterdam, from the worker's house to the townhouse. The establishment is located in the heart of the city, with rooms whose decoration is inspired by local history. There is also a Turkish bath and a Finnish sauna.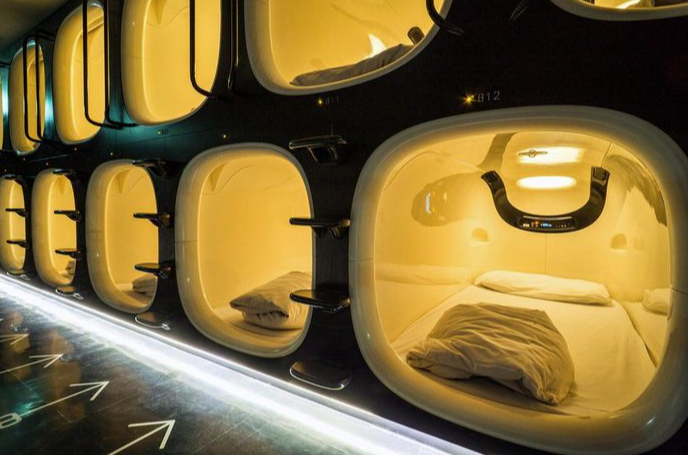 Capsulevalue Kanda, Tokyo
This capsule hotel is a concept originating in Osaka, which has become popular throughout Japan. The "bedrooms" are berths aligned horizontally and vertically to maximize space. As the place doesn't have much to offer, guests only come here to get a good night's sleep, wash up and go!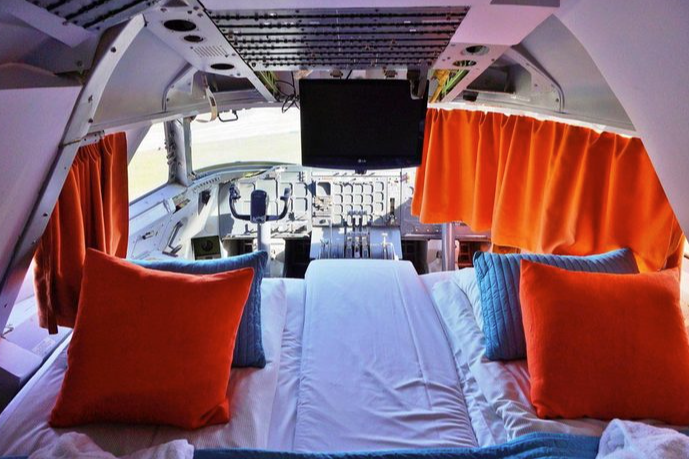 Jumbo Stay, Stockholm Arlanda Airport, Sweden
This former Jumbo Jet dating from the 1970s is a unique accommodation experience. The plane, completely converted into a hotel, offers something for all budgets, from rooms with adjoining bathrooms to budget dormitories, or rooms twinned with the luxurious cockpit suite with panoramic view.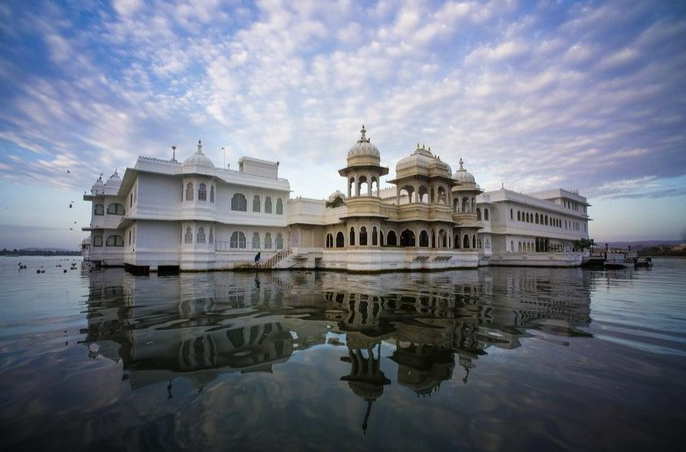 Taj Lake Palace, Udaipur, Inde
With a 360° view of the city of Udaipur, this stunning hotel looks like a white boat floating on the waters of Lake Pichola. The original palace, which was built in 1746, served as a vacation spot for the young prince, Maharana Jagat Singh II of Udaipur, to be visited with the 'zenana' (women's apartments).