Eungbongsan (Seoul) is a mountain in Eungbong-dong, Seongdong-gu, South Korea, bordering the Han River. It has an elevation of 81 metres.[1] There is a traditional eight-sided pagoda at the top of the mountain with panoramic views of Seoul Capital Area including Gyeonggi Province.
Eungbongsan (Seoul) is a mountain in Eungbong-dong
Eungbongsan is one of Seoul's many mountains, like many in the city. However, unlike Bukhansan or Gwanaksan, at 836 and 632 meters respectively, Eungbongsan culminates at only 81 meters. You don't need to be an experienced athlete to get there, even if you have to climb a certain number of steps.
The summit is set up as an observation platform, and from up there, you dominate the banks of the Han River and the east of the capital, with a view of Seoul Forest and the sports complex of Jamsil.
The mountain is located between Eungbong-dong and Geumho-dong and earns its name due to the king in the Joseon Dynasty hunting on this mountain with a falcon (Mae in Korean, earning name Maebong), which is Eungbong in Hanja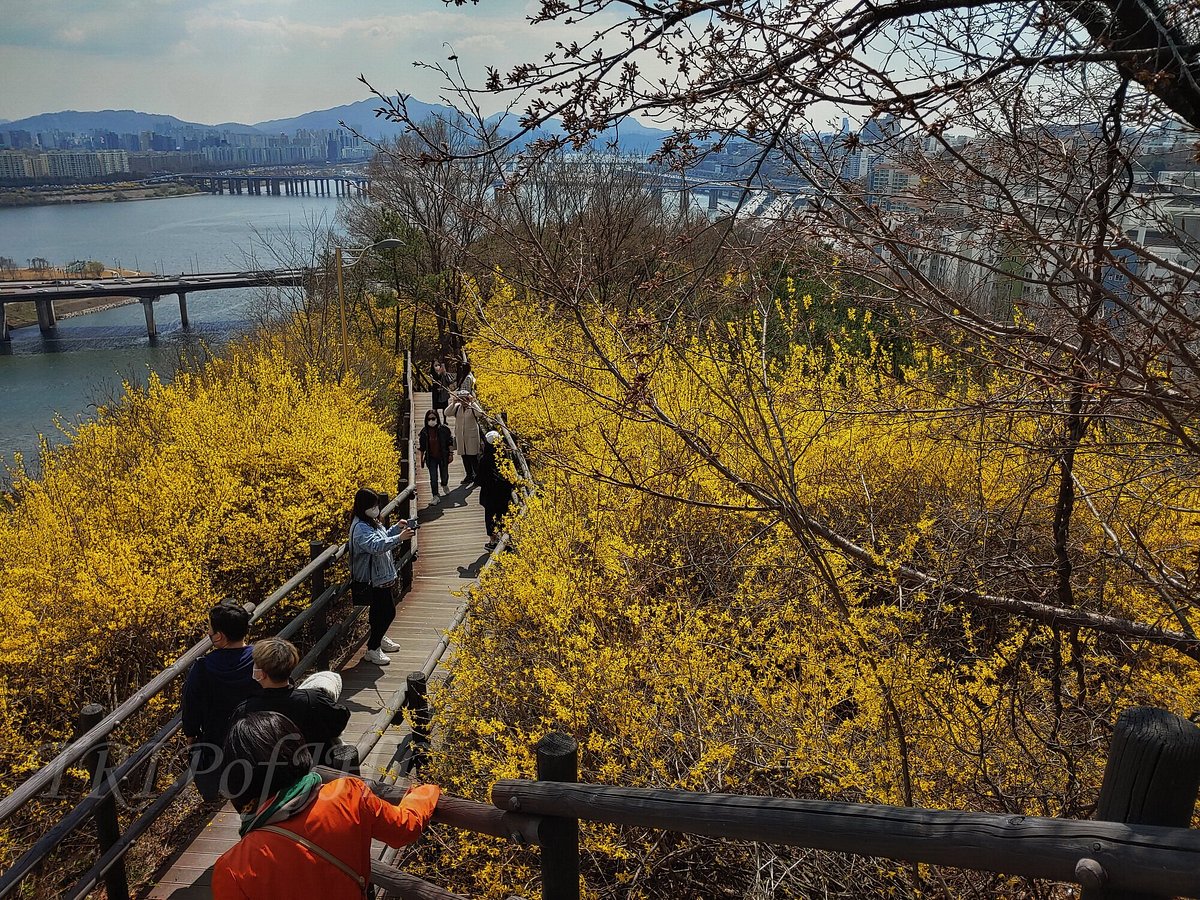 There is a very nice little traditional Korean pavilion in the center of the esplanade and if you look to the west, you can also easily see the Namsan tower.
Isn't that beautiful? In the past, the area was a hunting ground for the kings of the Joseon Dynasty. Nowadays, the place is quiet and uncrowded, but you will surely meet a new type of hunters: amateur photographers, who come in large numbers to immortalize the superb night panorama:
.The climb is a bit steep, it takes 25 to 35 minutes to reach the summit from the metro station. If you want to take advantage of the park to perfect your physical activity, know that there are outdoor sports facilities, as is often the case in public gardens in Korea.
More information
In Korean : 응봉산
Subway : Eungbong Station, Jungang Line, Exit No. 1, then walk about 20 minutes (800 meters).