Along with Haiku Stairs , hiking Mount Huashan, one of the five sacred mountains in the country, is among the most thrilling in the world. Also, some consider it to be one of the most dangerous experiences one can have on this Earth. And if you discover in your turn this place of adrenaline and wonder in the center of China in the province of Xi'an?
A via ferrata less dangerous than expected
Many media describe the Mount Huashan via ferrata as the most dangerous in the world. However, this is not necessarily the case even if it surely was once! Indeed, things changed when mass tourism developed there. For a few years now, this hiking path, made up exclusively of wooden stairs and planks nailed to the side of the mountain, has been very well maintained. In reality, there are several alternatives to climb the mountain, some of which are more dangerous than others.
To ensure the safety of visitors and avoid tragedies, all adventurers are securely attached to a harness at the level of the plank part of the via ferrata. On the other hand, we can't deny that this is the scariest hike on the planet! At more than 1000 meters in height, it is better not to be dizzy. And even if the journey is often safe, few people can help but think the worst when venturing on Mount Huashan.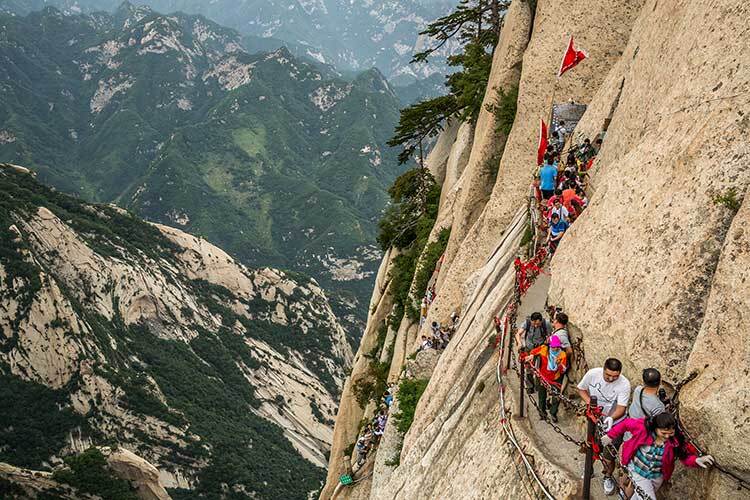 A worthwhile experience
If you are a thrill seeker and you are passing through this region of China, go for it! You will not find such a path anywhere in the world. For nearly 12 kilometers , walk along the edge of this cliff and let yourself be carried away by this atmosphere between tension and fascination . At the end, you will discover one or more of the peaks of Mt. Indeed, this one has 5. Know that if you want to venture on Mount Huashan, you will not have to climb the entire mountain on foot. A cable car goes there and provides access to the last part of the ascent to the southern peak.
For the bravest, you can embark on the very tough ascent of the mountain on foot, although it starts gently. There is also a second longer path , but much more suitable for people who do not practice a lot of sport or who suffer from vertigo. Throughout the hike, whatever alternative you choose, you will be amazed! The mountainous landscapes are breathtaking and at the top, you will discover the magnificent temples of this sacred mountain.