If you had only one archaeological site to visit in the world, I would tell you without hesitation to go see the temples of Angkor in Cambodia. It is for me the most beautiful architectural ensemble on earth, and you will be as amazed by its quality as its immensity. From the gigantic temple of Angkor Wat to the delicate Banteay Srei, you will be transported to another era.
A bit of history about Angkor
Angkor is the work of the great Khmer civilization, which reigned over a vast portion of Southeast Asia from the 9th century . It owes its growth to the mastery of irrigation. The Tonle Sap region (the largest lake in Cambodia) being subject to major floods and multiple droughts, the Khmers knew how to build a set of canals and basins to stabilize the hydraulic network. You will also see around Angkor Wat and many other temples a moat, which allows the ground to remain waterlogged. It can therefore maintain a constant density, without which the buildings would risk collapsing.
The first temples that have come down to us were erected from the 9th century . Many of them, like Angkor Wat, have a shape reminiscent of Mount Meru. It is the center of the world according to the Hindu and Buddhist religions. These two religions have left their mark on the site: the first sovereigns imposed Hinduism there, before opting for Buddhism, then Hinduism, then Buddhism again. Let's say it's lucky that these two cults share common roots.
At its height in the 11th and 12th centuries, Angkor was one of the largest urban centers in the world with its 750,000 inhabitants, and covered an area of ​​approximately 1,000 km 2 . His empire stretched from present-day Burma to Vietnam.
This colossus was unfortunately literally built on feet of clay: it therefore ended up losing control of the water, and the droughts dealt severe blows to its agriculture. Gradually, this great civilization declined, and Angkor was practically abandoned around 1431.
When to visit Angkor
The best time to visit Angkor is during the dry season, between November and March. Although it is the coolest time of the year, it is still hot and humid, especially when you are on a temple and the sun is beating down.
The temperature then rises until the arrival of the monsoon, which brings heavy rains between May and October.
Siem Reap: the perfect base
More than 2 million tourists visit Angkor every year, which has greatly contributed to the rise of Siem Reap, the nearest town. Once a quiet little town, it now has 140,000 inhabitants.
You will find hotels of all styles, from the most standard to the most chic. I highly recommend getting one with a pool as you will really appreciate it after a sweaty day exploring the temples. Accommodation prices are very affordable, so you deserve this little luxury.
The tourist heart of the city is located north of the Psar Chas market, and you will find many Cambodian and international restaurants there, especially on the famous streets Pub Lane and The Alley . If you are looking for a more authentic experience, there are also nice little restaurants all over the city.
How to get to Angkor
Siem Reap airport is located less than 10 km from the city and the temples of Angkor. It is the 2nd most popular in the country, after that of the capital Phnom Penh. If you are arriving from Vietnam, there are direct flights from Hanoi, Ho Chi Minh City and Danang.
If you arrive from Phnom Penh, it will take you about 6 hours by bus to reach Siem Reap.
All information regarding Cambodia entry visa can be obtained from this website . Depending on your citizenship and where you will be arriving from, you may be eligible to purchase it online.
How many days should we dedicate to Angkor?
Admission tickets for Angkor are available for 1, 3 and 7 days. I would tell you to count a minimum of 3 days to get a good overview of the temples. As the site is very large and hot, visits can easily become exhausting.
You will have a much better experience by doing smaller days, and you will be able to appreciate each of the temples more. Because I doubt you will have much fun if you go to see the sunrise at Angkor Wat, which you then run to Ta Prohm, before exploring Angkor Thom. When it comes to temples, less often means more.
Note that tickets can only be purchased on site, at the official office located near the Angkor Panorama Museum. You will not be able to get them at any other place, neither online, nor at the entrance of the temples and nor at a tourist kiosk in town. So take the time to include this trip in your schedule on your first morning.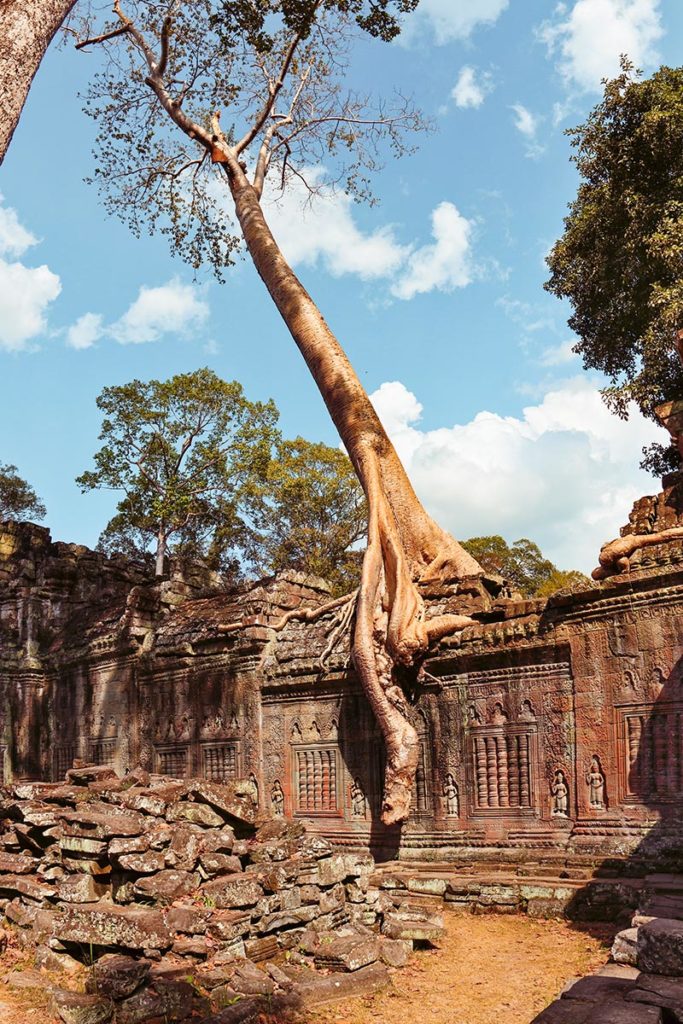 How to get around Angkor
The Angkor site extends over approximately 400 km 2 , you will need a means of transport to discover it well. The easiest option is to be transported by a tuk-tuk driver. For around US$20 a day, you can go wherever you want, and your dedicated driver will patiently wait for you while you pretend to be an Indiana Jones. As an added bonus, you will definitely enjoy the cooling breeze as you ride.
It is also possible to rent bicycles in Siem Reap. It is a good option to visit Angkor Wat, which is only 6 km north of the city. As you will certainly sweat a good shot while pedaling, know that there are food kiosks (and toilets) at the entrance of the majority of the temples.
To visit more remote sites like Banteay Srei, you will need a car taxi, as tuk-tuks do not go that far. Ask your hotel to find you a driver, it's always more reliable than hailing any vehicle on the street.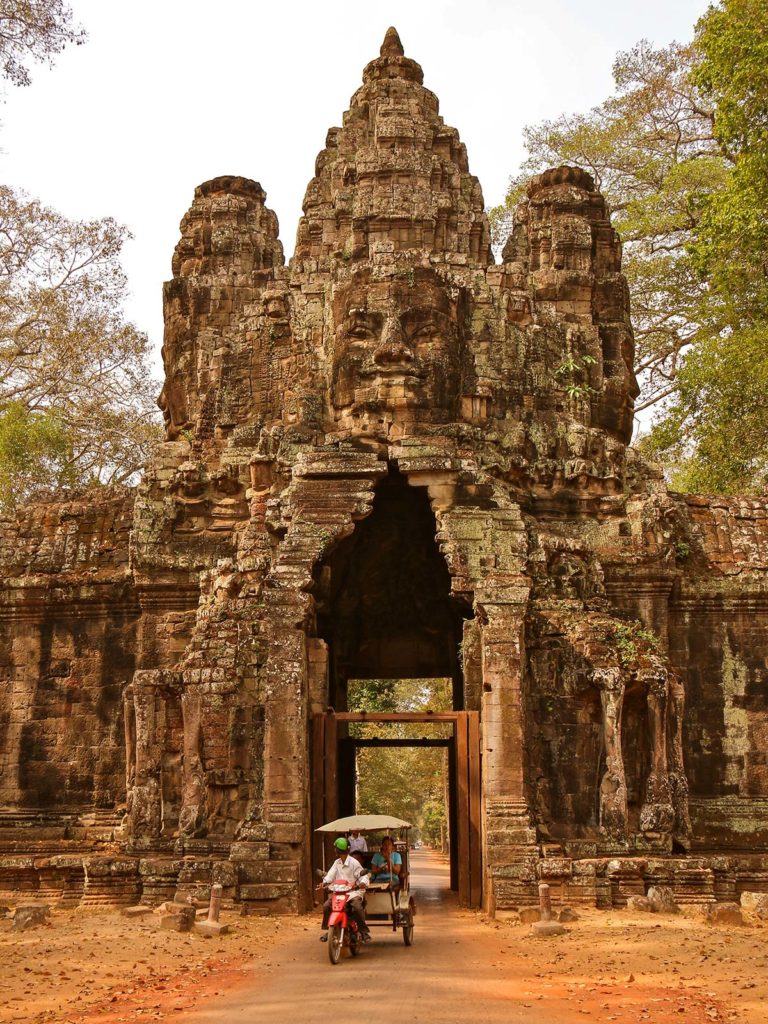 Our favorite temples
ANGKOR WAT
When we think of the temples of Angkor, it is inevitably Angkor Wat that comes to mind first. Considered the largest religious structure on earth, it is so iconic that it features at the very center of the Cambodian flag. It is also the only building to receive this honor in the world.
Built in the early 12th century during the reign of Suryavarman II, its shape symbolizes Mount Meru, the center of the universe for Hindus. It was then converted to Buddhism a few centuries later, and has been visited and cared for by monks ever since. This explains the remarkable state of preservation in which it has come down to us: impossible to speak of ruins here.
As you approach it, you will first pass over the gigantic moat that surrounds it. It is 1.5 km by 1.3 km, and adds a lot of charm to the whole.
Once at the gates of the temple, you will find that it is not just the size of Angkor Wat that is impressive: its hundreds of meters of bas-reliefs are just as impressive. They represent gods, animals, and important episodes of the Hindu religion.
As you walk through them, you will notice many apsaras , celestial nymphs that you will see dancing everywhere.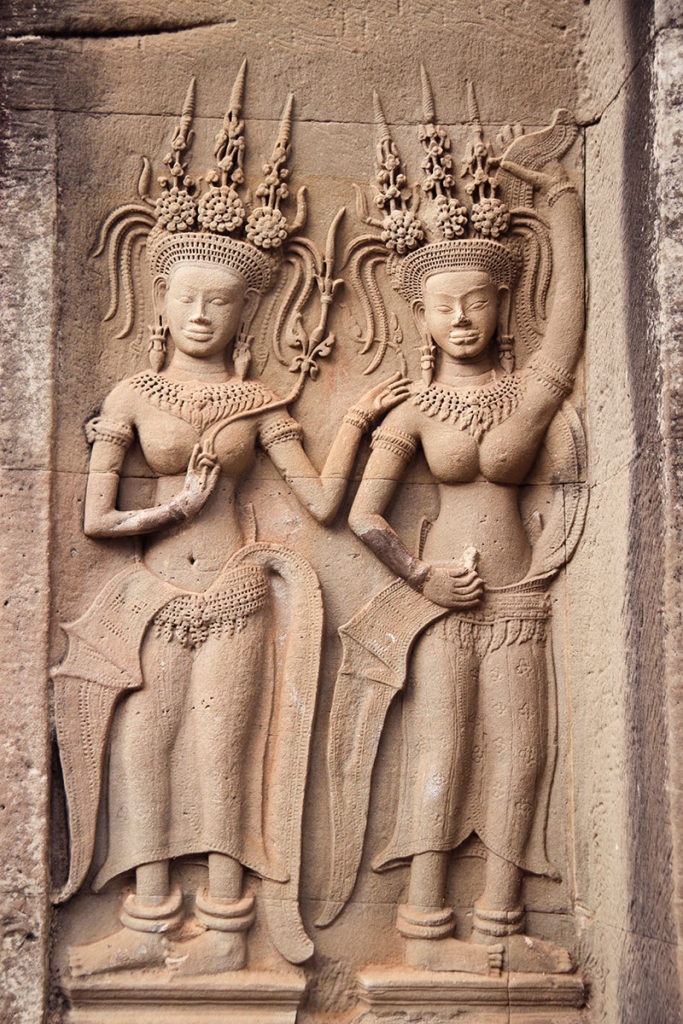 You will then have to go through three gallery levels, and climb some fairly steep stairs before reaching the main sanctuary. This raised platform has a tower at each of its corners, in addition to the central structure which culminates at 55m. Going up there, you will almost feel like you have reached nirvana.
The most iconic experience to have here? It is to admire the sun rising while setting the sky ablaze behind Angkor Wat. Even if you are not an early riser, I assure you that it is an unforgettable moment. For some reason, the overwhelming majority of people gather near the northern basin to watch this spectacle. So if you want to experience this moment in a slightly more… serene way, opt for the south basin, because the view is just as beautiful there.
After a while, you'll be delighted to see coffee vendors, sniffing out a bargain, wandering among the sleeping tourists. To accompany all this, ask your hotel to prepare a lunch box for you. This is very common and most of your hosts will provide you with one at no extra cost.
TA PROHM
If you want to feel like an explorer discovering a lost temple in the jungle, Ta Prohm is the place to go. Unlike Angkor Wat, the site was abandoned for centuries, and nature had time to regain possession of the place. Since the authorities have chosen to keep it in this state, you will see gigantic trees everywhere growing through the ruins.
The site has become famous since its appearance in the film Tomb Raider , starring Angelina Jolie. Almost too famous in fact: as it is relatively small (compared to giants like Angkor Wat and Angkor Thom), one can easily feel overwhelmed by a tide of visitors. I therefore advise you to go there at dawn: while hundreds of tourists will watch the sun rise at Angkor Wat, you will have the temple almost to yourself.
ANGKOR THOM AND THE BAYON
What's even better than a temple to visit? A complete city. Angkor Thom was at the time the capital of the Khmer Empire, and one of the largest cities in the world. The site still extends today over an area of ​​9 km 2 .
Before entering it, you will cross the moat that surrounds it for 12 km in length. The bridges spanning it are sculpted to recall an episode in Hindu mythology where warriors mastered a legendary snake. At each of its cardinal points, a monumental gate bearing the face of Buddha made it possible to control the comings and goings in the immense city.
If you had only one place to visit, it would definitely be the spectacular Bayon Temple, with its 54 towers displaying 216 Buddha heads. Impossible not to be fascinated by their benevolent faces, which would have been inspired by that of Jayavarman VII, the emperor who ordered the construction of the temple.
As you will surely want to spend a good hour there, I recommend you to go there at the beginning or the end of the day, because it is very hot there when the midday sun beats down on the dark stone.
A little north of Bayon, you will see the Baphuon temple, whose architecture influenced that of Angkor Wat. It was initially topped with a large tower, which unfortunately has not reached us.
Continuing north, you will see the Terraces of the Elephants and the Leper King respectively. Both are notable for the quality of their bas-reliefs. There is also a large food court nearby, where hundreds of tuk-tuk drivers wait for their passengers to return from lunch.
BANTEAY SREI
The smallest temple on this list, Banteay Srei, was our biggest crush. Located about 30 km from Siem Reap, you will need a taxi to get there, since no tuk-tuk travels that far. But don't let the distance put you off, it's definitely worth the trip.
The quality of its bas-reliefs is so impressive that it is considered the jewel of the temples of Angkor. It is also nicknamed the Temple of Women , because they are said to be the only ones with small enough hands to create such fine and exquisite sculptures. Dedicated to the Hindu god Shiva, it was fashioned at the end of the 10th century in pink sandstone, a softer stone conducive to such virtuosity. It is the only temple in the region that was not erected by a sovereign: rather, it owes its existence to a wealthy patron.
As this site can be visited quite quickly, I advise you to pay a few dollars more to take a boat ride on the small pond located right next to it. It is very pleasant to take a walk among the swamps and the reeds.
You will also find in the vicinity Kbal Spean, the River of a thousand Lingas . The bottom of this river has been sculpted over approximately 150m, which sometimes gives the impression that a gigantic crocodile is about to emerge. To get to the river you will have to walk two kilometers through the humid jungle, so bring plenty of water.
I would tell you honestly that we still wonder if the river was worth the sweat we paid to reach it… but I'll let you make up your own mind.
PIN THIS ARTICLE ON PINTEREST