Seoul, the bustling capital of South Korea, is a city that effortlessly blends tradition with modernity. With its vibrant street markets, ancient palaces, sleek skyscrapers, and mouthwatering cuisine, Seoul offers a diverse range of experiences for every traveler. Whether you're a history buff, a shopaholic, a food lover, or simply someone seeking adventure, this dynamic city has something for everyone.

In this guide, we will take you on a virtual journey to 12 must-see places in Seoul, showcasing the city's rich cultural heritage, cutting-edge technology, and breathtaking natural landscapes. From iconic landmarks to hidden gems, these destinations will provide you with a glimpse into the soul of Seoul and leave you with unforgettable memories.

So, put on your walking shoes, charge your camera, and get ready to explore the enchanting city of Seoul, where ancient traditions meet contemporary wonders. Let's dive into the captivating sights, sounds, and flavors that make Seoul a truly remarkable destination.
Contents
1. Gyeongbokgung Palace
2. Cheonggyecheon River
3. Bukchon Hanok Village
4. The National Museum of Korea
5. Insadong District
6. Myeongdong District
7. Namsan N Seoul Tower
8. Namdaemun Market
9. Hongdae District
10. Dongdaemun Design Plaza
11. Gangnam Ward
12. Lotte World Tower
1. Gyeongbokgung Palace
Gyeongbokgung (경복궁, 景福宮), also known as Gyeongbok Palace, is a royal palace situated north of Seoul, South Korea. It was initially constructed in 1394 and later rebuilt in 1867, serving as the primary palace among the Five Grand Palaces built during the Joseon Dynasty. The palace's name, Gyeongbokgung, translates to "Resplendent Palace of Happiness." The Gwanghwamun Gate serves as its main entrance.
During the early 20th century, the palace suffered extensive damage and was nearly destroyed by the Japanese government. However, ongoing restoration efforts have been gradually bringing the entire palace back to its original form.
As of 2015, the site had 510 fire extinguishers and 230 surveillance cameras installed across its vast area, which spans 432,703 square meters.
The palace was initially built in 1394 by King Taejo, the founder and first king of the Joseon Dynasty. It was named Gyeongbokgung after Jeong Do-jeon, a highly influential government minister. Throughout the reigns of King Taejong and King Sejong the Great, Gyeongbokgung Palace underwent continuous expansion. Tragically, a significant portion of the palace was destroyed by fire during the Japanese invasions of 1592-1598. Following the demolition of all the palaces in the capital by the Japanese, Changdeokgung, a secondary palace, was reconstructed and served as the main palace.
Subsequently, Gyeongbokgung Palace remained abandoned for 250 years until it was finally rebuilt in 1868 under the order of the Prince Regent. More than 500 buildings were constructed on an expansive land measuring over 40 hectares, forming a small town. The second major destruction of Gyeongbokgung occurred during the Japanese occupation from 1910 to 1945. Approximately 80% of the restored buildings were dismantled, the Gwanghwamun Gate was removed, and a massive Japanese government building was erected in the vicinity of the main palace area. Since 1990, efforts have been underway to fully restore Gyeongbokgung Palace to its former glory.
The colonial government building was demolished, and the Heungnyemun Gate was restored to its original state. The Royal Quarters and the Eastern Palace for the Crown Prince were also brought back to their original condition. By the end of 2009, it was estimated that approximately 40% of the structures that existed before the Japanese occupation of Korea had been restored or rebuilt. The South Korean government's restoration project is planned to span at least 20 years, with ongoing efforts to restore various parts of the palace complex.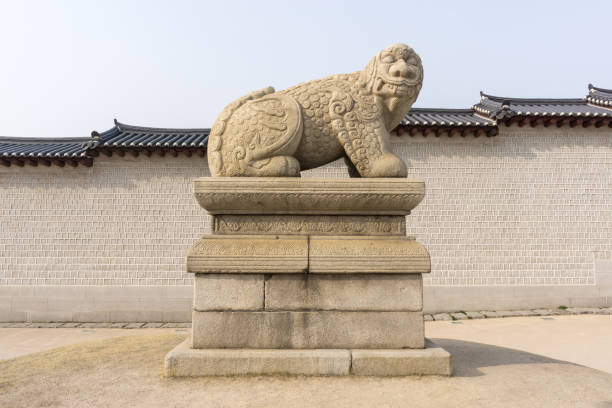 The Royal Quarters and the Eastern Palace for the Crown Prince were indeed restored to their original condition. As of the end of 2009, approximately 40% of the structures that existed before the Japanese occupation of Korea had been successfully restored or rebuilt. The South Korean government has undertaken a restoration project for Gyeongbokgung Palace that is planned to span at least 20 years. The aim of this ongoing project is to fully restore the palace to its former grandeur, ensuring the preservation of its historical and cultural significance for future generations.
2. Cheonggyecheon River

Cheonggyecheon (청계천) is a waterway that has been transformed into an approximately 6 km long promenade in central Seoul, South Korea. The revitalization project for Cheonggyecheon was completed in 2005, opening up a scenic boardwalk for the public to enjoy. The initial redevelopment cost for the project was estimated at $900 million, but it was later reported to have been completed at a total cost of around $280 million. The transformed Cheonggyecheon has become a popular destination for locals and tourists alike, offering a refreshing and picturesque urban oasis in the heart of Seoul.
The Cheonggyecheon was originally a watercourse that ran from east to west through a portion of Seoul. It connected to the Jungnangcheon, which in turn flowed into the Han River and ultimately into the Yellow Sea. However, during Syngman Rhee's presidency from 1948 to 1960, the Cheonggyecheon was covered and transformed into a road. Subsequently, in 1968, an elevated expressway was constructed in the former location of the river. This alteration significantly changed the landscape and disrupted the natural flow of the watercourse.
3. Bukchon Hanok Village
Bukchon Hanok Village is a historic Korean traditional village situated in Seoul, known for its rich history and cultural significance. Nestled on the top of a hill, it is located between Gyeongbok Palace, Changdeok Palace, and Jongmyo Royal Shrine, which are all prominent landmarks in the city. The village is characterized by its narrow alleyways and traditional hanok houses, providing visitors with a glimpse into a well-preserved, 600-year-old urban environment.
Bukchon Hanok Village serves as a living heritage site, showcasing the traditional architecture, lifestyle, and atmosphere of ancient Korea. The village is carefully preserved to maintain its historical authenticity and offers visitors a unique opportunity to experience the beauty and charm of traditional Korean culture.
Bukchon Hanok Village encompasses several neighborhoods, including Wonseo-dong, Jae-dong, Gye-dong, Gahoe-dong, and Insa-dong. Historically, it served as the residential area for high-ranking government officials and nobility during the Joseon Dynasty. The village is situated north of Cheonggye Stream and Jongno, hence its name Bukchon, meaning "north village."
In recent years, many of the traditional hanok houses in Bukchon have been repurposed as artists' studios, cafes, restaurants, and guest houses. However, this transformation has not diminished the charm of the village's narrow streets, which form a captivating labyrinth where wandering and getting lost is part of the experience. No one can claim to know Bukchon perfectly, and each visit offers a unique perspective, adding to its allure.
A survey conducted by the Seoul Metropolitan Government in November 2011 revealed that exploring the narrow streets of Bukchon was ranked as the fourth favorite activity among nearly 2,000 foreign visitors in Seoul.
The Bukchon Traditional Culture Center reported that 30,000 people visited the area in 2007. However, after the village gained exposure through television programs like "1 Night 2 Days" and "Personal Taste," the number of visitors rose significantly to 318,000 in 2010. It was expected to double to over 600,000 in 2012.
In 2015, a large and beautiful hanok was opened to the public as part of the Seoul Museum of History. Located in an alley at the foot of the hill, this hanok offers free admission, allowing visitors to experience traditional housing in a 15-20 minute visit.
To reach Bukchon Hanok Village, you can head to Samcheongdong street, situated between Gyeongbokgung Palace and Changdeokgung Palace. The closest subway station is Anguk Station (Seoul Subway Line 3). Take exit 3 and turn right. After approximately 200 meters, you will see prominent information signs marking the start of the Bukchon Village Walking Tour. The village offers a free walking tour lasting around 2-3 hours, taking you to various destinations where you can collect stamps. Upon completion, you can receive a keychain as a memento.

Bukchon Hanok Village is not only known for its traditional hanok houses but also houses several cultural centers and museums that are worth visiting. These include the Bukchon Traditional Culture Center, Seoul Intangible Cultural Heritage Center, Donglim Knot Museum, Gahoe Museum, Han Sangsu Embroidery Museum, Bukchon Asian Art Museum, and Owl Museum. These places offer opportunities to learn about and experience traditional Korean culture, making them must-visit destinations in Korea. The village itself has a rich history of over 600 years, and many of the hanoks have been repurposed as cultural centers, guesthouses, restaurants, and tea houses. They provide a picturesque backdrop and showcase beautiful architectural designs that are rarely seen in modern society.
Bukchon Hanok Village has become a popular spot for tourists seeking photo opportunities and a chance to immerse themselves in the historical ambiance surrounded by modern Korea. While the village offers a unique and charming experience, it has also faced challenges due to the influx of tourists. In 2018, the visiting hours were limited from 9 am to 5 pm, Monday to Saturday, with Sundays closed off to non-residents, in response to the increased tourist activity. Some residents have expressed concerns about the overwhelming number of tourists, including incidents of tourists causing trouble and even berating residents for driving on the narrow roads. This situation has led to tensions, and the increasing number of tourists has reportedly driven down the resident population from over 9,000 to 7,530.
Bukchon Hanok Village is often compared by tourists to typical towns in other countries, such as Switzerland, Gatlinburg in Tennessee, or Galena in Illinois, due to its unique and charming atmosphere.
4. The National Museum of Korea
The National Museum of Korea is a prominent institution in South Korea, serving as the country's main art and history museum. It occupies a substantial total area of 137,201 square meters, making it one of the largest museums worldwide. In 2009, the museum attracted an impressive number of visitors, with a total of 2,730,204 individuals exploring its exhibitions and collections.
The museum has a strong commitment to conducting extensive research in the fields of archaeology and history. Through its scholarly endeavors, it has made significant contributions to knowledge and understanding in these areas. The museum also places great emphasis on education, offering a range of programs and exhibitions aimed at promoting cultural appreciation and fostering public engagement.
As a cultural institution, the National Museum of Korea serves as a vital platform for showcasing the rich artistic and historical heritage of the country. Through its diverse collections and exhibits, it allows visitors to immerse themselves in Korea's vibrant cultural legacy and gain a deeper understanding of its traditions and history.
In October 2005, the National Museum of Korea relocated to a new building situated in Yongsan Family Park in Seoul. The museum houses a vast collection of over 220,000 objects, with around 13,000 items displayed for visitors to appreciate. These artifacts are categorized into six permanent exhibition sections: Archaeology, History, Fine Arts (twice), Donations, and Asian Arts galleries.
The museum is home to numerous significant pieces, including more than 67 national treasures, as well as countless other remarkable works in the realms of painting, ceramics, sculpture, furniture, and jewelry. Each gallery within the museum offers its own unique delights, with highlights such as the impressive 10-story pagoda of Gyeongcheon Temple. While it may be impossible to see everything within the museum, the experience of immersing oneself in the rich and vibrant history it represents is truly worthwhile. The history showcased within the museum is an integral part of South Korea's identity, and its preservation and exploration are essential to understanding the nation's past.
The origins of the National Museum of Korea can be traced back to 1908 when Emperor Sunjong established Korea's first museum, known as the Imperial Museum, during the final years of the Joseon Dynasty. The Imperial Museum collection, housed in Changgyeonggung, along with the Japanese General Government Museum, formed the foundation of the National Museum's collection when Korea regained its independence in 1945.
During the Korean War, in order to safeguard the exhibits from potential destruction, the museum's 20,000 artifacts were relocated to Pusan. After the war, the museum found temporary residences in Gyeongbokgung and Deoksugung Palaces before a new building was constructed near Gyeongbokgung Palace in 1972. However, it was in 2005 that the museum moved to its current location in Yongsan Family Park, offering visitors a modern and spacious facility to explore and appreciate the country's cultural heritage.
After its temporary residence near Gyeongbokgung Palace, the National Museum of Korea moved to the Jungangcheong building in 1986. This building was formerly used by the Japanese General Government and served as the museum's location until its demolition in 1995. The decision to use this building was met with criticism and controversy due to the association with the Japanese government. Recognizing the sentiment of the people, the government decided to demolish the building and embarked on a new construction project in Yongsan Family Park.
During the interim period, the museum temporarily reopened to the public in the social education hall. The construction of the new museum building in Yongsan Family Park was completed, and the official inauguration took place on October 28, 2005. The Yongsan complex is indeed impressive, with a ground area of 45,438 square meters and a total usable space of 307,227 square meters. As one of the six largest museums globally, it holds great potential to become one of Asia's premier cultural institutions.
The National Museum of Korea is organized across three floors, each housing different galleries and exhibitions. Here is a breakdown of the galleries found on each floor:
First Floor:
Archaeological Gallery: This gallery showcases approximately 4,500 artifacts dating from the Paleolithic period to the Silla period, providing insights into Korea's ancient history.
Historical Gallery: The historical gallery on the first floor explores various aspects of Korean history through displays of historical artifacts and objects.
Second Floor:
First Gallery of Fine Arts: This gallery focuses on Korean religious and traditional art, featuring around 890 pieces that highlight the artistic expressions of Korean culture.
Donations Gallery: The donations gallery exhibits around 800 artworks and objects contributed by individuals and organizations from diverse cultures.
Third Floor:
Second Gallery of Fine Arts: The second gallery of fine arts displays approximately 630 handicrafts from the Joseon period, including metalwork, celadon, buncheong, white porcelain, and Buddhist sculptures from Korea.
Asian Arts Gallery: This gallery showcases around 970 objects that illustrate the similarities, differences, and cultural exchanges in art across various regions of Asia. It also explores the impact of Western art on Asian art through the Silk Road. The gallery includes sections dedicated to Indian and Southeast Asian arts, Central Asian art, Chinese art, Japanese art, and underwater discoveries.
Ground Floor: The ground floor of the museum features outdoor spaces such as parks and gardens with local plants. It also houses a collection of pagodas, stupas, lanterns, and stelae, providing visitors with a glimpse into traditional architectural elements.
Overall, the National Museum of Korea offers a comprehensive display of archaeological artifacts, historical objects, fine arts, and Asian cultural artifacts, providing visitors with a rich understanding of Korea's history, art, and cultural heritage.
5. Insadong District
Insa-dong, also known as Insadong, is a district located in Seoul, South Korea. Its main street, Insadong-gil, serves as the central hub and is lined with a variety of shops, galleries, teahouses, and restaurants. The district is known for its vibrant art scene and traditional Korean culture.
Insa-dong is not only limited to its main street but also extends into a network of alleyways that offer a deeper exploration of the district. These alleyways are filled with modern galleries, boutiques, craft shops, and traditional teahouses, providing visitors with a unique blend of contemporary and traditional experiences.
Once recognized as the largest antique and fine art market in Korea, Insa-dong continues to be a hub for art and cultural activities. The district has undergone revitalization efforts to preserve its cultural heritage while also embracing modern influences.
Covering an area of approximately 12 hectares, Insa-dong is bordered by Gwanhun-dong to the north, Nagwon-dong to the east, Jongno and Jeokseon-dong to the south, and Gongpyeong-dong to the west. It is centrally located within Seoul, making it easily accessible to both locals and tourists.
Visitors to Insa-dong can immerse themselves in Korean traditional arts, crafts, and cuisine, as well as enjoy cultural performances and exhibitions. The district offers a charming blend of old and new, making it a popular destination for those seeking a glimpse into Seoul's rich cultural heritage.
Insa-dong's history dates back to the early Joseon period when it was divided into two towns named "In" and "Sa," separated by a stream that ran along the present-day main street. Originally, it served as a residential area for civil servants, belonging to Gwanin-bang and Gyeonpyeong-bang of Hanseong (the former name of Seoul).
During the Japanese occupation, many wealthy Korean residents were forced to relocate and sell their possessions, leading to Insa-dong becoming a hub for antique trading. After the Korean War, the district experienced a revitalization and emerged as a center of artistic life and coffeehouses in South Korea. It gained popularity among foreign visitors, who referred to the area as "Mary's Alley" during the 1960s. The 1988 Seoul Olympics further boosted its reputation as a tourist destination.
In the year 2000, the area underwent renovation, but it faced protests due to concerns about rapid modernization. As a result, the process was interrupted for two years. In recent years, Insa-dong's alleys have continued to evolve, with the emergence of cafes, garden restaurants, and traditional-style accommodations. While the district has faced challenges from cheap shops and excessive globalization, it still holds its charm.
Jogyesa Temple, a lively and remarkable temple, is located in Insa-dong and attracts visitors. Additionally, the newly opened Gongpyeong Historical Sites Museum provides another cultural attraction within the district.
Despite personal preferences for the narrow streets of nearby Ikseon-dong, Insa-dong remains a district that many people revisit on their trips to Seoul, offering a mix of traditional and modern experiences.
It's a neighborhood where I love to have tea during the day, and I adore its joyful and light atmosphere (I'm not a fan of crowds). It's also the place where I've developed a habit of shopping for gifts, particularly at the National Center for Souvenirs.
Insadong is impossible to overlook when visiting Seoul for the first time. However, if you prefer more stylish areas, an alternative worth considering is Sinsa-dong and Apgujeong in Gangnam, where you'll find the finest luxury boutiques and art galleries.

Insadong-gil Street is renowned as a traditional street that attracts both locals and foreigners. It beautifully represents the culture of both the past and present, creating a unique atmosphere that showcases the rich cultural history of the nation.
The street features a fascinating blend of historical and modern elements. Many of the traditional buildings originally belonged to merchants and bureaucrats, while some larger residences were constructed for retired government officials during the Joseon period. Nowadays, most of these older buildings have been repurposed as restaurants or shops. Notable historical landmarks in the area include Unhyeongung House, Jogyesa Temple (one of the oldest Buddhist temples in Korea), and the oldest Presbyterian Church.
Insa-dong is highly recognized as a tourist destination, with approximately 100,000 visitors reported on Sundays in 2000. It has also attracted visits from foreign dignitaries such as Queen Elizabeth II, as well as princes from Spain and the Netherlands. The district boasts 40% of the nation's antique shops and art galleries, along with 90% of the traditional paper mills, further adding to its cultural significance.
Other attractions
In addition to the mentioned landmarks, the Insa-dong area is also home to notable attractions such as Unhyeon Palace, Bosingak Bell Pavilion, and Jongno Tower. Nearby, the neighborhood of Samcheong-dong boasts a vibrant art scene, making it an interesting place to explore.
Among the newer attractions in Insa-dong is the Asia Eros Museum, which opened its doors in 2004. This museum claims to be South Korea's first sex museum, offering visitors a unique perspective on the topic.
For those looking to venture outside of Insa-dong, there is an express bus service available to Namiseom, a resort island famous for being the filming location of the popular Korean drama series "Winter Sonata."
In terms of culinary experiences, Insa-dong has gained recognition as one of Seoul's top 10 street food destinations in Asia. It offers a wide range of delectable treats such as gimbap (rice rolls), odeng (fish cake), and bungeo-ppang (fish-shaped pastry). These street food options add to the vibrant and diverse culinary scene of the area.
In Insa-dong, there are three information centers available to provide visitors with information and materials about the neighborhood and Seoul. These centers include the Insadong Public Relations Center, the North Information Center, and the South Information Center.
The North and South Information Centers are conveniently situated at the respective entrances of the main street in Insa-dong, offering easy access for visitors. These centers serve as information hubs where visitors can obtain assistance and gather information about the area.
The Insadong Public Relations Center is located on the opposite side of Ssamzigil, a well-known shopping center in Insa-dong. In addition to providing information, this center offers visitors a unique experience of dressing up in hanbok, the traditional Korean attire. It allows visitors to immerse themselves in Korean culture and tradition by donning hanbok and experiencing the elegance of this clothing style firsthand.
These information centers serve as valuable resources for tourists and provide an opportunity for visitors to enhance their understanding and appreciation of Insa-dong and its cultural offerings.
6. Myeongdong District
Myeong-dong, also known as Myeongdong, is a district located in the Jung-gu ward of Seoul, South Korea. Spanning an area of 0.99 square kilometers and with a population of 3,409, Myeong-dong is primarily known as a bustling commercial and tourist area.
Transportation to Myeong-dong is convenient, with Myeong-dong subway station serving the southern part of the district and Euljiro 1-ga station serving the northern part. Additionally, Myeongdong Cathedral, a prominent landmark, is situated within the district.
If you're looking for a vibrant and lively atmosphere in Seoul, Myeongdong is the place to visit. It is packed with a wide variety of shops and restaurants, creating a bustling scene. The area is vibrant and colorful, attracting both locals and tourists. The buildings are adorned with signs, and the streets are filled with shops, creating a lively and energetic environment.
One of the highlights of Myeongdong is the abundance of street food stalls. As you explore the streets, you'll find a wide array of mouthwatering street food options such as tteokbokki (spicy rice cakes), gyeranbbang (egg bread), hweori gamja (twisted potato), mandu (dumplings), and hotteok (sweet pancakes). Make sure to have some 1,000 won bills on hand to indulge your taste buds in these delectable treats.
Myeongdong offers a vibrant and exciting experience, making it a must-visit destination for those seeking a lively atmosphere, diverse shopping options, and delicious street food in Seoul.

Myeongdong is not typically known as a district with a significant concentration of banks and insurance companies. While it may have a few branches or offices of some financial institutions, the headquarters of major banks and insurance companies are usually located in other parts of Seoul or in the financial district of Yeouido. It's more accurate to say that Myeongdong is primarily a commercial and tourist area, known for its shopping, dining, and entertainment options.
However, Myeongdong is indeed home to notable landmarks such as the Chinese Embassy, Myeongdong Theater, and Myeongdong Cathedral, which is the oldest Catholic cathedral in Korea. These landmarks contribute to the cultural and historical significance of the area.
To enhance the pedestrian experience, Myeongdong takes measures to ensure pedestrian safety and convenience. During designated hours when deliveries are not taking place, the main street and many neighboring streets are temporarily blocked off to vehicular traffic. This allows pedestrians to freely explore the area without being impeded by vehicles, creating a more enjoyable and pedestrian-friendly environment.
Indeed, amidst the vibrant atmosphere and commercial activities, Myeongdong carries a significant historical legacy. The Myeongdong Cathedral, with its century-old red-brick Gothic architecture, holds a rich history. During the 1960s and 1970s, the cathedral served as a refuge for those who opposed the military regime, becoming a symbol of resistance and human rights. It played a pivotal role in providing sanctuary and support to activists during a challenging period in South Korea's history.
Similarly, the Myeongdong Theater, which opened in 1936, stands as a witness to the Japanese colonial period. It serves as a reminder of the cultural and historical impact of that era and the changes that have occurred since then.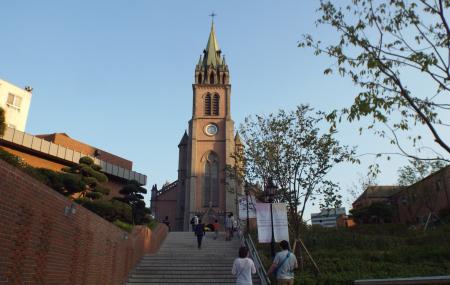 These historical landmarks in Myeongdong not only contribute to the cultural fabric of the area but also provide insights into the struggles, resilience, and progress of the nation. They add depth and meaning to the bustling modern environment, offering a glimpse into the past and the stories of those who have shaped the area throughout history.
7. Namsan N Seoul Tower
N Seoul Tower, also known as 엔서울타워, is a telecommunications tower located in the capital city of South Korea, Seoul.
Construction of the tower began in 1975, and it was opened to the public in 1980. Standing at a height of 236.7 meters, with an elevation of 479.7 meters from sea level, the tower is situated on top of a hill, providing a commanding view of the entire city. Visitors can reach the tower either by foot or by cable car, enjoying a scenic journey to the top.
Initially named Seoul Tower, it was later renamed N Seoul Tower at the request of the builder, CJ Corporation. At the tower's summit, visitors can enjoy the breathtaking views of Seoul while dining at the panoramic restaurant. At the base of the tower, there is also the Teddy Bear Museum, where the history of Korea is depicted through various paintings featuring teddy bears instead of traditional figurines. This unique museum offers a whimsical and creative approach to learning about Korean history.
N Seoul Tower serves as an iconic landmark in Seoul and remains a popular tourist attraction, drawing visitors from around the world to experience its panoramic views, cultural exhibits, and memorable dining options.
Namsam Tower was constructed in 1969 at a cost of approximately 2.5 million US dollars. However, it wasn't opened to the public until eleven years later, in 1980. The tower's construction was completed on December 3, 1971, designed by Jang Jong Ryul Architects. The facility's interiors were not initially provided, but by August 1975, the third floor of the observatory, a museum rooftop, an open hall, and a souvenir shop were established, along with other facilities.
Despite the completion of the tower, the observatory remained closed to the public until October 15, 1980. Since then, it has become a prominent landmark in Seoul. The tower stands at a height ranging from 236.7 meters (777 feet) from the base to 479.7 meters (1,574 feet) above sea level. In 2005, the name of the tower was changed from Seoul Tower to N Seoul Tower, with the "N" standing for "new" and "Namsan" representing "nature." Renovation and redesigning efforts for the tower cost approximately KRW 15 billion.
After the original owner of N Seoul Tower merged with CJ Corporation, the tower's name was officially changed to N Seoul Tower, although it is also commonly referred to as Namsan Tower or Seoul Tower. It serves as the first public radio wave tower in Korea, carrying transmitting antennas for several channels such as KBS, MBC, SBS TV, FM, PBC, TBS, CBS, and BBS FM.
N Seoul Tower has gained international recognition and popularity, being listed among the world's 500 most visited attractions, based on ratings from world travel experts and reader preferences. It continues to be a beloved landmark and a must-visit destination for tourists in Seoul.
Others Attractions
Lighting of the Tower
The N Seoul Tower is illuminated in blue from sunset until 23:00 (22:00 in winter) on days when the air quality in Seoul is 45 or less. In the spring of 2012, the Tower was lit up for 52 days, which is four days more than in 2011. The tower utilizes the latest LED technology to provide visitors with a digital, cultural art experience through 'light art.' The N Seoul Tower offers various shows, including the "Reeds of Light" and "Shower of Light."
However, there is an exception for Earth Day. On Earth Day, lights were turned off nationwide to promote awareness of energy conservation. At 8 p.m. KST on that day, the lights at N Seoul Tower on Namsan disappear into darkness.
Love Padlocks
In November 2011, the Seoul Metropolitan Government conducted a poll of nearly 2,000 foreign visitors, in which 16 percent stated that hanging named padlocks on the fence of the Tower as a symbol of love was their favorite activity in Seoul.
The "Locks of Love" attraction is situated on the 2nd floor of the N Plaza, at the Roof Terrace. It is a popular location for people to hang locks that symbolize eternal love and has been depicted in many Korean television shows, dramas, and movies for this reason.
This activity is commonly known as 'Love padlocks' and is a popular couple's activity. It involves purchasing a padlock and key, on which initials, messages, and symbols can be personally inscribed onto the surface of the lock using markers and pens. Participants then secure the padlocks on the fences that are filled with locks from previous participants. The key is often thrown away as a symbol of everlasting love. This tradition is similar to the love locks found on the Pont Neuf bridge in Paris, France.
Wishing Pond and Observatory
The N Tower offers several other attractions, including the Digital Observatory and the Wishing Pond. The Wishing Pond is located on the second floor of the tower, where visitors can throw coins into the pond while making a wish. These coins are collected and later donated to support the development of schools in China and Southeast Asia, particularly in underdeveloped areas.
The observatory, which underwent renovation in 2011, is situated on the third floor. It not only provides a panoramic 360° view of the city but also features 36 LCD screens that showcase 600 years of Korean history. On the fifth floor, visitors can find N Grill, a French restaurant known for its culinary offerings.
8. Namdaemun Market
Namdaemun Market is a vast traditional market situated in Seoul, South Korea. The market is located near Namdaemun, also known as the "Great Southern Gate," which served as the primary southern entrance to the Old City. Namdaemun Market holds the distinction of being the oldest and largest market in Korea.
Choosing the most typical market in Seoul can indeed be a challenging task. While my friends prefer Gwangjang Market, known for its gastronomic delights and lively atmosphere, Namdaemun Market holds its own unique charm and is often considered as the epitome of a Korean market.
Namdaemun Market captures the essence of a bustling Korean market with its maze-like layout comprising hundreds of shops catering to a wide range of goods and products. Whether it's clothing, tableware, everyday items, food products, flowers, or souvenirs, Namdaemun Market offers a diverse array of shopping options.
The market provides a glimpse into the vibrant and lively atmosphere that characterizes Korean markets. While Gwangjang Market may be more renowned for its culinary experiences, Namdaemun Market encapsulates the multifaceted nature of a traditional Korean market, showcasing various aspects of daily life and commerce in Seoul.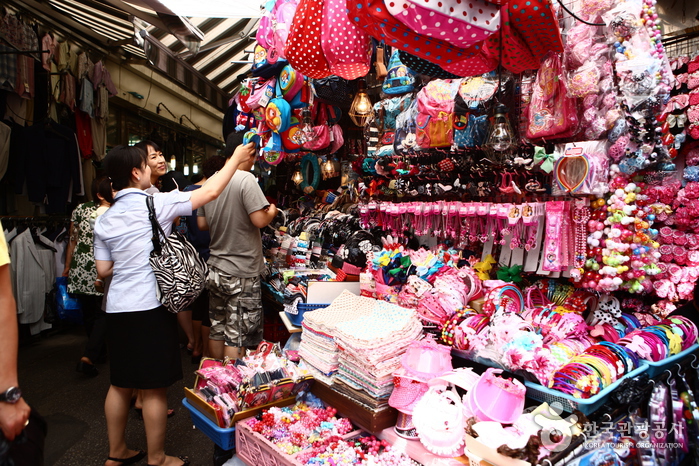 Namdaemun Market has a rich history that dates back to 1414, during the reign of King Taejong. It started as a government-managed marketplace and later developed into a trading marketplace in the 1600s. Commercial activities flourished, and the market became a hub for trade in grains, fish, fruit, and various goods.
During the Japanese occupation, the market came under Japanese management in 1922. However, after liberation in 1945, the merchants formed the Namdaemun Merchant Organization and regained control of the market. Unfortunately, the market suffered significant damage during the Korean War and subsequent fires in 1953, 1968, and 1975.
Efforts for reconstruction began in 1954 with the establishment of Seoul Namdaemun Market Co. Ltd., but financial difficulties hampered progress. The city of Seoul announced plans to renovate the market in 2007, and reconstruction and renovations have been ongoing since then.
Namdaemun Market is not easily accessible by car due to its narrow streets designed in a time when cars were not prevalent. Goods are transported using motorcycles and hand-drawn carts. The market occupies several city blocks, and car traffic is limited due to parking congestion. It can be reached by subway or bus, with Seoul Station and Hoehyeon Station (Line 4) being the closest stations.
The market consists of outdoor stalls as well as stores lining the streets. Many retailers purchase items, particularly clothing, at wholesale prices in Namdaemun to sell in their own stores in other cities. It is a popular tourist attraction and known for its street food, with hotteok being a notable specialty.
Namdaemun Market is the largest traditional market in South Korea and offers a labyrinthine experience for visitors. Even if you don't intend to make a purchase, the sellers are friendly and welcoming. It is recommended to visit during busy hours, particularly between 11 am and 2 pm, as it is an excellent place for food.
To complement your visit, the nearby Namdaemun Gate, also known as the "Gate of Exalted Ceremonies," is a must-see. It is South Korea's No. 1 national treasure, having stood for over 600 years before being partially destroyed by an arsonist in 2008. Fortunately, it was rebuilt to its original form in 2013.
For a unique experience combining history and a coffee break, the Hanok Cafe, located nearby, offers a chance to visit a brick hanok (traditional Korean house). It is highly recommended to pay a visit.
9. Hongdae District
Hongdae (홍대) is a vibrant area in Seoul, South Korea, situated near Hongik University, from which it derives its name. The neighborhood is renowned for its street arts, indie music scene, nightclubs, and street food. It is located in Mapo-gu, to the west of Seoul, between Seogyo-dong and Hapjeong-dong.
The term "Hongdae" is an abbreviation of "Hongik University" (홍익 대학교), which is known for having one of the top fine arts schools in South Korea.
Hongdae is widely recognized as the most famous student neighborhood in Seoul, and its energetic atmosphere is hard to ignore. It serves as a hub for students from Hongik University, Yonsei University, and Ewha Womans University, attracting a passionate and dedicated crowd. The area boasts eccentric shops, themed cafes, and street artists. During the day, visitors can immerse themselves in the colorful streets adorned with mural frescoes and explore quirky museums. However, it is at night that Hongdae truly comes alive, with its lively and festive ambiance, especially during live performances of K-pop music. There is always something happening in Hongdae, making it an ideal place to experience the vibrant youth culture of Seoul.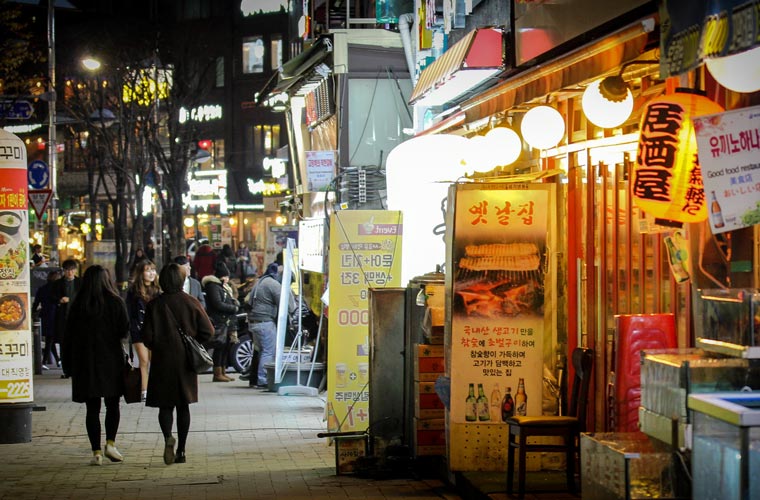 The Hongdae district is famous for its trendy cafes, vibrant nightlife, and thriving indie music scene, as well as its underground musicians and street arts. Notable bands like Jaurim, Crying Nut, and Peppertones originated from this area, starting as indie bands. Street art festivals, performances, and concerts by independent artists and well-known personalities contribute to the dynamic atmosphere of the neighborhood.
Since the 1990s, Hongdae has revolved around art and Hongik University, renowned for its prestigious arts faculty. In the early years, low rents attracted struggling street musicians and performers to set up workshops in the Hongdae district. Many of these workshops have since transformed into cafes or concert halls, establishing the area as a prominent hub for urban arts and underground nightlife.
Similar to other multicultural urban areas, Hongdae has experienced gentrification. The recent influx of high-end brand stores has led artists to migrate to the southern part of the district near Hapjeong subway station. Nonetheless, Hongdae Street retains its reputation as an ideal place for independent musicians, and numerous concert halls and festivals continue to attract a large number of visitors. YG Entertainment, a major K-pop agency, also has its offices near this street.
In addition to its music and arts scene, Hongdae boasts a plethora of independent clothing stores and vintage shops. The area is also home to quirky and eclectic themed cafes that often revolve around characters or animals, adding to the distinctive character of the neighborhood.
Others events
Zandari Festa 

Zandari Festa derives its name from the district's old name, "Zandari," which means "little bridge." The festival aims to serve as a bridge between the local independent music scene and the wider public. It takes place over three days during autumn and is hosted in pre-determined concert halls that serve as venues for the events.
One of the unique aspects of Zandari Festa is its encouragement for bands to participate independently. Artists are encouraged to take an active role in organizing and promoting the events in which they perform. This approach fosters a sense of community and collaboration within the independent music scene, allowing musicians to have a direct hand in the festival's organization.
By providing a platform for emerging artists and facilitating connections between musicians and the public, Zandari Festa plays a crucial role in showcasing and supporting the independent music scene in the district. It creates opportunities for both local and international audiences to discover new talent and experience the vibrant and diverse musical landscape of the area.
Live Club Day 
"Club Day" was established in March 2001 as an event that offered entry to multiple nightclubs for the price of one, facilitated by a wristband. Over time, the event expanded to include concert halls with the introduction of "Sound Day" after 2007. However, the days faced interruptions in 2008 and early 2009 due to violence and disturbances caused by US Army soldiers and minors.
Despite the challenges, the event resumed but eventually ceased in January 2011, specifically after the 117th Club Day. Disputes over profit distribution between popular nightclubs and less frequented, more affordable establishments played a significant role in the decision to halt the event.
After a four-year break, six nightclubs came together in January 2015 to establish the "Cooperative Live Club." Alongside other participating nightclubs, they reintroduced "Live Club Day" on February 27. This revitalized event takes place on the last Friday of each month and follows the same ticketing system, where a single ticket grants access to various venues showcasing different music genres such as rock, jazz, hip-hop, and electro.
Street Art Exhibition 
In the early 1990s, a movement of street art began to emerge among the Fine Arts students of Hongik University. These students started decorating the streets, walls, and roads surrounding the university with their artistic creations. Over time, artists from all across South Korea joined in, contributing to the vibrant art scene in the area. As a result, the first "Street Art Festival" took place in 1993.
Every year, Hongik students and local artists come together to transform the streets of Hongdae into a canvas for various visual art projects. These projects encompass a wide range of artistic expressions, including graffiti, art installations, and performances. The festival provides a platform for artists to showcase their creativity, engage with the local community, and contribute to the unique artistic atmosphere that characterizes Hongdae.
Free Market 

The "Hongdaeap Artmarket Freemarket" is situated at Hongdae Playground, located opposite the main gate of Hongik University. It is a recurring event that takes place every weekend from March to November, specifically between 1 p.m. and 6 p.m. The event has been organized by the NGO 'Living and Art Creative Center' (일상예술창작센터) since 2002.
The flea market consists of two distinct markets: the "Free Market" on Saturdays and the "Hope Market" on Sundays. These markets serve as platforms for students and street artists to showcase and sell their creative works. The objects available for sale include various crafts and artistic creations made by the participants.
The success and popularity of the playground market have sparked the establishment of other cultural markets in different areas of the Hongdae district. These markets provide additional opportunities for artists, students, and visitors to engage with the local art scene and contribute to the vibrant creative atmosphere of Hongdae.
10. Dongdaemun Design Plaza
The Dongdaemun Design Plaza (DDP) is a massive multi-use complex located in Seoul, South Korea. It was inaugurated in March 2014 and has since become a prominent symbol of the city's urban development. Situated near Dongdaemun Gate, a trendy and touristy area, the DDP serves as a temple of design, a convention center, and an entertainment hub.
Although during your first trip in 2013, the DDP was still under construction and may not have appeared welcoming, it has now transformed into a vital cultural destination in Seoul. The DDP hosts numerous conventions, including Fashion Week, and is also a venue for the popular Bamdokkaebi night markets.
While the DDP may not share a direct connection with the bustling Dongdaemun district, their proximity can provide an opportunity for a more immersive visit to the area. Dongdaemun is known for its numerous sewing factories, where the skilled "little hands" of the capital work diligently. Exploring the district allows visitors to experience the vibrant atmosphere and witness the craftsmanship behind the thriving fashion industry in Seoul.
Main characteristics
The Dongdaemun Design Plaza (DDP) stands out with its neo-futuristic architecture, characterized by bold curved and elongated forms, which is a signature style of the renowned architect Zaha Hadid. Built on the site of a former baseball stadium, the DDP serves as both a design temple and a versatile convention and entertainment center.
The complex encompasses eight exhibition halls, conference spaces, amphitheaters, and shops that offer designer works. It also features creative laboratories that serve as testing grounds for new product marketing. With four floors and three basements, the DDP hosts a variety of festivals, concerts, and events.
Located in the heart of Dongdaemun, a fashion hub and popular tourist destination in Seoul, the DDP has played a significant role in establishing the city as the World Design Capital in 2010. The building's distinct appearance, often compared to a silver spaceship, has become an iconic landmark in the area.
The DDP is divided into four main sections: the Art Hall, Design Lab, Park, and Museum. The Art Hall showcases Korean art exhibitions, while the Design Lab serves as a platform for creative experimentation. Visitors can also enjoy the green roof space and take in the panoramic views. The DDP is conveniently connected to the Seoul Subway through Dongdaemun History & Culture Park Station, which is serviced by lines 2, 4, and 5.
History
Dongdaemun Stadium holds historical significance as the first modern stadium in Korea, constructed during the Japanese Colonial Period. It was initially built to commemorate the wedding of a Japanese Prince. From 1925 until its demolition in 2007, the stadium served as a venue for numerous national sports events and celebrations.
Following the conclusion of the Seoul Olympics in 1988, the stadium was no longer actively used and eventually fell into disuse. It became abandoned and neglected, losing its former glory. However, the location of the stadium, situated in front of the bustling fashion hub of Dongdaemun, presented an opportunity for redevelopment.
Over time, the area surrounding the stadium transformed into a vibrant local market, known for its fashion industry and bustling trade. The market became a prominent destination for both locals and tourists, offering a wide variety of clothing, accessories, and other fashion-related products.
In 2007, the decision was made to demolish the old Dongdaemun Stadium, paving the way for new developments in the area. The Dongdaemun Design Plaza (DDP), designed by architect Zaha Hadid, was subsequently constructed on the site, bringing a modern and innovative architectural landmark to the neighborhood.
While the old stadium holds a historical legacy, its transformation into a thriving market and the subsequent redevelopment of the area with the DDP represents the dynamic evolution of Dongdaemun into a vibrant cultural and fashion district in South Korea.
Demolition of Fortress Wall in the Dongdaemun District
The district of Dongdaemun, Dongdaemun-gu, has a historical connection to the fortress wall that once protected the capital of Chosun, Hanyang (now Seoul). However, the wall suffered damage and destruction over time due to wars and the rapid urban development and expansion of the city.
The first demolition of the fortress wall took place in 1889 to make way for the construction of a trolley railway connecting Seodaemun and Cheongnyangni, two areas of Seoul. Subsequently, in 1908, during the visit of a Japanese prince, the wall near Dongdaemun was demolished. Additionally, a section of the wall connecting Dongdaemun and Gwanghwamun was destroyed in 1924 to construct the Gyeongseong Sports Complex, which was built to celebrate the marriage of a Japanese prince during the reign of Japanese Emperor Hirohito.
The destruction of the fortress walls continued as residential housing projects were developed, further eroding the remaining sections. Moreover, illegal constructions that occurred after the Korean War expedited the process of demolition.
These various factors, including transportation infrastructure projects, celebratory constructions, residential development, and illegal construction, collectively led to the gradual disappearance of the fortress wall that once protected Dongdaemun and other parts of Seoul. While the physical remnants of the wall may no longer exist, its historical significance remains as a testament to the city's past and the changes it has undergone over time.
Hullyeondogam and Gyeongseong Sports Complex

After the demolition of the fortress wall in the vicinity of Dongdaemun to build the Gyeongseong Sports Complex in 1925, the complex was later renamed Dongdaemun Stadium. It played a significant role as the first modern stadium in Korea and became an important venue for various national events. Following Korea's independence, the stadium was renamed the Seoul Sports Complex.
Over time, the complex underwent another name change and became known as the Dongdaemun Sports Complex. However, with the construction of the Jamsil Sports Complex in 1984 for the Seoul Olympics, the usage of Dongdaemun Stadium decreased. The new Jamsil Sports Complex offered more modern facilities and became the primary sports venue in the city, replacing the role of Dongdaemun Stadium.
The transformation of Dongdaemun Stadium and its renaming reflect the evolving sports infrastructure in Seoul and the need for more advanced facilities to accommodate national and international events. While Dongdaemun Stadium may no longer serve as a prominent sports venue, it holds historical significance as one of the early modern stadiums in Korea and as part of the city's sporting heritage.
Formation and development of Dongdaemun commercial area
The Dongdaemun commercial area has a long history that dates back to the latter part of the Chosun Dynasty. It began to develop as an autonomous market place around Baeogae, attracting various small businesses and markets. One of the notable markets in the area is Gwangjang Market, which played a significant role in shaping the district.
In the 1960s, the growth of the sewing industry led to the establishment of numerous sewing factories near Pyenghwa Market in Dongdaemun-gu. This development further solidified the area's position as a major shopping district. The combination of the bustling markets and the presence of sewing factories made Dongdaemun a hub for fashion and retail.
In 1998, the addition of Miliore, a fashion shopping mall, brought a new dimension to the area. With its construction, Dongdaemun became a retail destination where both locals and visitors could find the latest fashion trends at affordable prices. This expansion further boosted the area's reputation as a vibrant and dynamic retail sphere.
The Dongdaemun commercial area continues to evolve and adapt to changing consumer needs and fashion trends. It remains a popular destination for shopping, offering a wide range of products, from traditional markets to modern shopping complexes, making it an important part of Seoul's commercial landscape.
11. Gangnam Ward
Gangnam-gu, located south of the Han River, is a district in Seoul known for its wealth and modernity. The district developed later than the northern part of the river and features wide avenues and prestigious buildings. It is particularly renowned for its concentration of information technology companies.
The modernity of Gangnam, along with the presence of foreign institutions, restaurants, and entertainment venues, attracts many young people, especially in the popular Apgujeong area. As a result, Gangnam has become a highly touristy district.
Gangnam District is one of the 25 local government districts of Seoul and is the third largest in terms of area. It has a population of over half a million people. The district is known for its high concentration of wealth, with apartment prices experiencing a significant increase over the years.
The Teheranno business district, running from Gangnam Station to Samseong Station, is an important economic hub in the district. It is home to the COEX Convention & Exhibition Center, the Korean World Trade Center complex, and various shopping and entertainment areas. Apgujeong, COEX Mall, Gangnam Station area, and Garosugil are popular destinations for shopping and leisure activities.
Cheongdam-dong, within Gangnam-gu, is a renowned upscale shopping area that houses global and local luxury brands. Notable stores include the flagship store of MCM Haus, Vera Wang Bridal Korea, and Cartier Maison.
Gangnam District also offers a wide range of dining options. The area has a significant concentration of upscale restaurants serving Korean cuisine with a modern twist, especially along the main street from Bongeun Temple to Park Hyatt Hotel in Samseong-dong.
Gangnam is considered one of Korea's most important business districts. The architecture in the area is impressive, with towering buildings and unique designs. It is a great destination for architecture enthusiasts to explore the latest constructions, as architects in Gangnam showcase their creativity in projects such as Starfield Coex Library, Louis Vuitton Maison Seoul, Seocho Garak Tower East, and Prugio Summit. The district's approach to architecture and concepts reflects limitless creativity.

After 6 p.m., Gangnam truly comes alive with its vibrant nightlife. The district, which may be relatively quiet during the day, transforms into a hub of entertainment for young clubbers. Trendy bars and nightclubs cater to the energetic crowd looking to enjoy the city's lively nightlife. While the nightlife scene may primarily attract young people, it's worth noting that trendy restaurants in Gangnam are open to everyone, allowing visitors to indulge in the culinary delights offered.
In addition to its bustling nightlife, Gangnam is home to several must-visit tourist sites. The Bongeunsa Buddhist temple provides a serene escape from the urban hustle and bustle. The Lotte World Tower, one of the tallest buildings in the world, offers stunning panoramic views of the city. Garosu-gil and Apgujeong Rodeo streets are renowned for their trendy shops, cafes, and boutiques, making them popular destinations for fashion enthusiasts. The royal tombs of Seolleung showcase the rich history and cultural heritage of the area.
With a diverse range of attractions, Gangnam caters to the interests of various visitors, ensuring there is something for everyone to enjoy in this vibrant district.
12. Lotte World Tower
Lotte World Tower, also known as Lotte Super Tower 123, is an impressive 123-story skyscraper located near the existing Lotte World complex in Seoul, South Korea. It opened in 2017 and stands at a height of 555 meters, making it one of the tallest skyscrapers in the world.
If you have a desire to enjoy breathtaking views from great heights, visiting the Lotte World Tower is a must. However, instead of attempting a daring climb like the famous French "spider-man" Alain Robert, it is advisable to take the elevator to reach the top. Once you arrive at the observation deck, situated at 486 meters, you will be treated to an awe-inspiring view that is distinct from that of Namsan Tower. Many visitors find the panoramic vistas from Lotte World Tower to be even more impressive and captivating.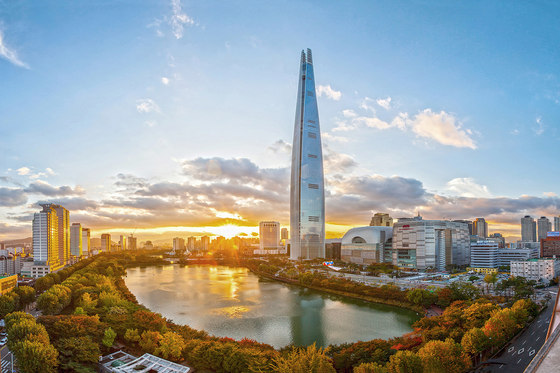 Seoul, the capital of South Korea, is a vibrant city with numerous must-see places. Here are some popular attractions and landmarks that visitors often enjoy:
Gyeongbokgung Palace: This grand palace is a symbol of the Joseon Dynasty and offers a glimpse into Korea's rich history.
Bukchon Hanok Village: A traditional Korean village with well-preserved hanok (traditional houses), offering a picturesque setting and cultural experiences.
N Seoul Tower: Located atop Namsan Mountain, it provides stunning panoramic views of the city and has become a popular spot for tourists.
Myeongdong: A bustling shopping district known for its vibrant street food stalls, fashion boutiques, and cosmetics shops.
Insadong: A neighborhood famous for its traditional Korean arts and crafts, tea houses, and antique shops.
Hongdae: A trendy district near Hongik University known for its lively nightlife, street performances, and indie music scene.
Changdeokgung Palace and Huwon: Another beautiful palace complex designated as a UNESCO World Heritage site, featuring a stunning garden called Huwon.
Namdaemun Market: One of the oldest and largest traditional markets in Seoul, offering a wide range of goods from clothing to street food.
Han River Park: A picturesque park along the Han River, perfect for leisurely walks, picnics, and cycling.
Dongdaemun Design Plaza: A futuristic architectural landmark and cultural hub, hosting exhibitions, events, and fashion shows.
These are just a few highlights, and Seoul has much more to offer in terms of history, culture, shopping, and dining. Exploring the city's neighborhoods and trying local cuisine are also highly recommended to truly experience the vibrant atmosphere of Seoul.