Eungbongsan, located in Eungbong-dong, Seongdong-gu, Seoul, South Korea, is a mountain that borders the Han River. With an elevation of 81 meters [1], it offers breathtaking panoramic views of the Seoul Capital Area, including Gyeonggi Province. At the summit of the mountain, you can find a traditional eight-sided pagoda, adding to the scenic beauty of the area.
Eungbongsan (Seoul) is a mountain in Eungbong-dong
Eungbongsan, situated in Seoul, is one of the many mountains that grace the city's landscape. However, in contrast to the towering heights of Bukhansan (836 meters) and Gwanaksan (632 meters), Eungbongsan reaches a modest peak of 81 meters. Its accessibility is not limited to experienced athletes, as visitors can easily reach the top by climbing a set of steps.
Once you reach the summit, you'll discover an observation platform that offers commanding views of the Han River banks and the eastern part of the capital. From this vantage point, you can enjoy vistas of Seoul Forest and the Jamsil sports complex.
Eungbongsan derives its name from a historical event during the Joseon Dynasty when a king went hunting on the mountain with a falcon known as "Mae" in Korean, giving rise to its alternate name, Maebong, in Hanja. It holds a significant place in Seoul's mountainous landscape, despite its relatively modest elevation.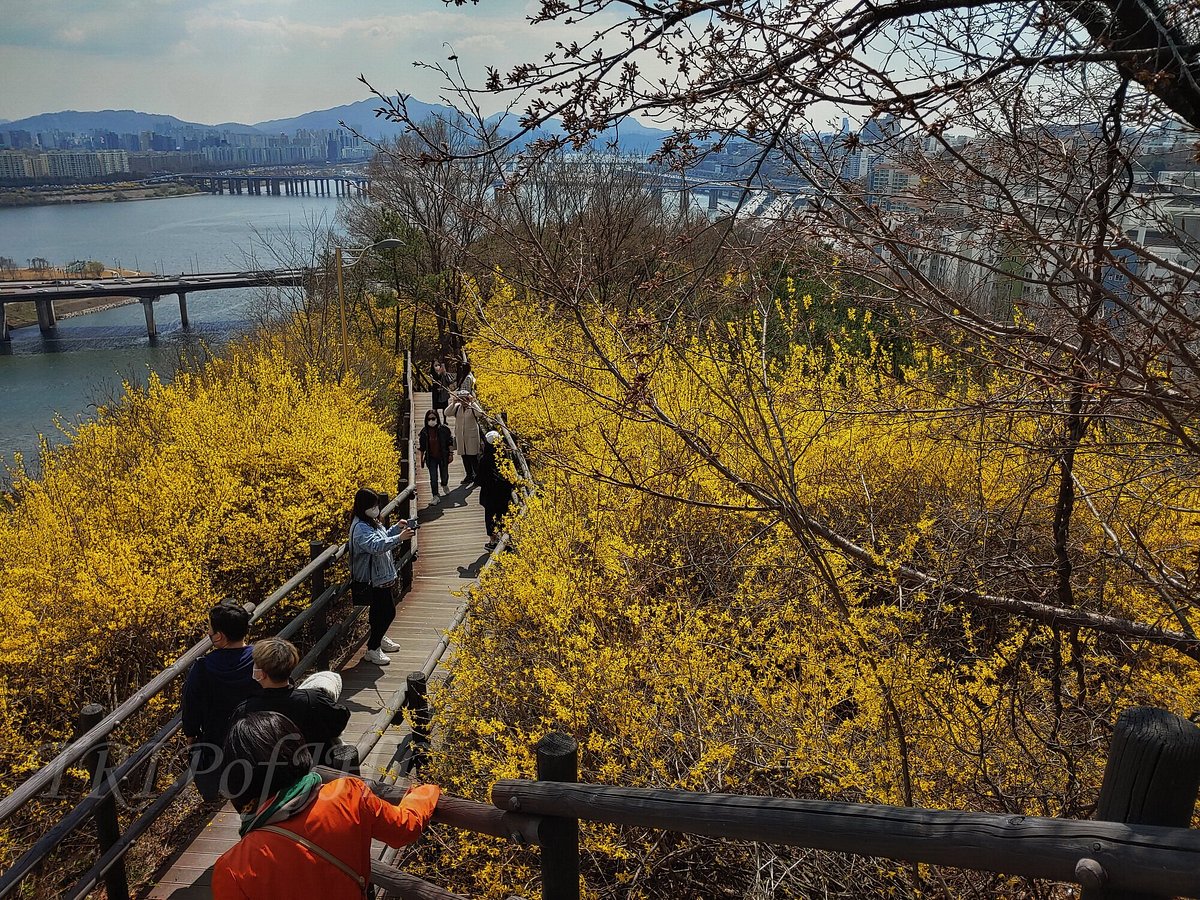 In the heart of the esplanade, you'll find a charming traditional Korean pavilion that adds to the beauty of the surroundings. From this point, if you cast your gaze to the west, you'll be treated to a clear view of the iconic Namsan Tower.
Isn't it breathtaking? Once a hunting ground for the kings of the Joseon Dynasty, this area now exudes a serene and peaceful atmosphere, free from crowds. However, you'll likely encounter a different kind of hunters in this modern era—enthusiastic amateur photographers. They flock to this spot in large numbers, eager to capture the stunning night panorama in timeless images.
The ascent to the summit of Eungbongsan may present a slightly steep climb, requiring approximately 25 to 35 minutes of effort from the nearby metro station. However, if you wish to combine your visit with physical exercise, you'll be pleased to know that the park offers outdoor sports facilities, a common feature found in public gardens throughout Korea. These facilities provide opportunities for various recreational activities, allowing visitors to engage in fitness or enjoy sports amidst the natural beauty of the park.
More information
In Korean : 응봉산
Subway : Eungbong Station, Jungang Line, Exit No. 1, then walk about 20 minutes (800 meters).