Today in this article we are going to discover a traditional restaurant located in the famous Insadong district. This is the Imojib (이모집) establishment which offers several traditional dishes on the menu.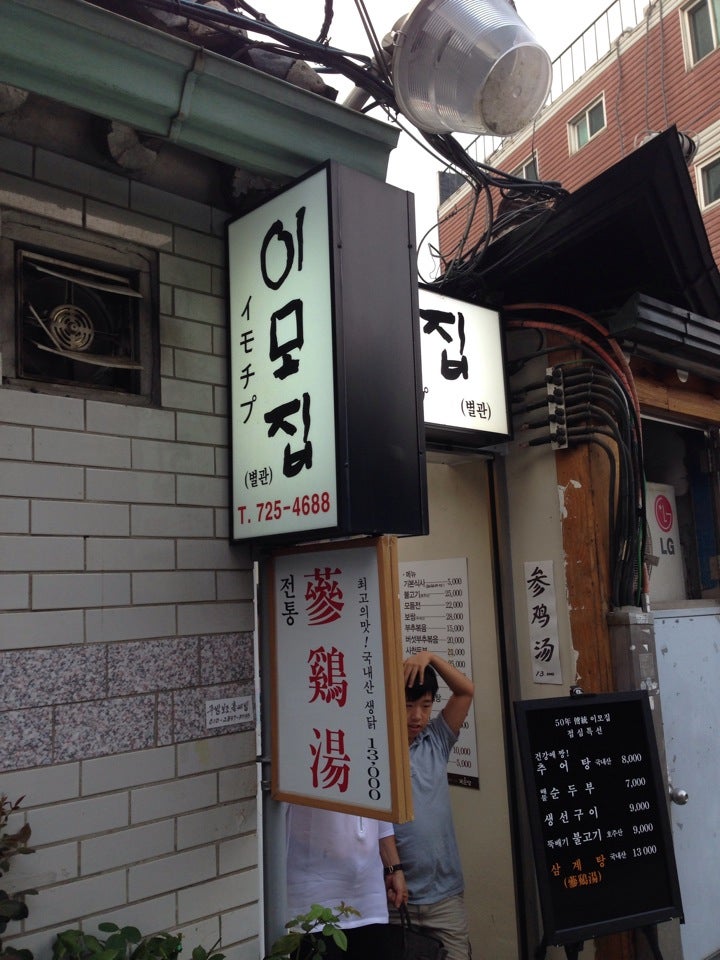 Description :
When you arrive, the staff will give you the choice between either sitting in a small room where there are a few wooden tables with chairs or the possibility of being served at a base table in a more traditional way, it is i.e. on the ground. Indeed, the restaurant is composed of two rooms.
For our part, we have chosen a table with chairs but if the experience tempts you, do not hesitate to choose to sit on the ground in the second room.
As for the staff, they are very welcoming. Note if you have difficulty speaking Korean, you can place your order in English, the staff speaks quite good English.
The menu :
In this traditional restaurant, you have the choice of taking different traditional Korean dishes such as Bulgogi, Bossam, Pajeon and many more.
Bulgogi
Bulgogi (불고기; literally "meat on fire", also known as " Korean barbecue "): marinated and then grilled meat, usually beef or pork. The preparations and cooking methods (for example grilling over embers, in a pan or in a pot-au-feu) vary according to the desired taste or texture.
Beef is often prepared with a base of soy sauce , sugar sesame oil or Korean pear juice… For pork, chilli paste ( gojujang ) and ginger dominate in the marinade. Among the ways to consume bulgogi : wrapped with rice and a side dish, for example, kimchi , in a salad leaf or kaetnip (sesame leaves marinated with chili powder, quite salty). Soybean paste mixed with kochujang , fresh sesame leaves, whole raw garlic, or other ingredients can be added to this salad wrap .
Bossam
Bossam (보쌈, 褓-) is a pork dish in Korean cuisine. It usually consists of pork shoulder that is boiled in spices and thinly sliced.[1] The meat is served with side dishes such as spicy radish salad, sliced raw garlic, ssamjang (wrap sauce), saeu-jeot (salted shrimp), kimchi, and ssam (wrap) vegetables such as lettuce, kkaennip (perilla leaves), and inner leaves of a napa cabbage.
Bossam is a popular dish in South Korea, often served as anju (i.e. food accompanying alcoholic drinks). To eat, the meat and side dishes are wrapped together in ssam vegetables, hence the literal meaning of bossam: "wrapped" or "packaged".
Pajeon
Pajeon (파전, Korean pronunciation: [pʰa.dʑʌn]) is a variety of jeon with scallion as its prominent ingredient, as pa (파) means scallion. It is a Korean dish made from a batter of eggs, wheat flour, rice flour, scallions, and often other ingredients depending on the variety. Beef, pork, kimchi, shellfish, and other seafood are mostly used. If one of these ingredients, such as squid, dominates the jeon, the name will reflect that; ojing'eo jeon (오징어전) is 'squid jeon.
Pajeon is usually recognizable by the highly visible scallions. It is similar to a Chinese scallion pancake in appearance but is less dense in texture and not made from a dough.
More info about Imojib (이모집)
12:00 – 22:00
I don't have the prices for samgyetang and japchae anymore, but for a bulgogi it's 28000 won and for an assortment of pajeon (모듬전) the price is 25000 won.
10-3, Insadong 14-gil, Jongno-gu, Seoul.