In Hitachinaka, about two hours from Tokyo on the east coast of Japan, you will find the gigantic Hitachi Seaside Park , a site dedicated to the beauty of flowers. Very regularly, the park changes appearance, especially during the change of season during the flowering of the different plants. No matter the time of year, the walk is as impressive as it is relaxing and poetic over 200 hectares.
Initially, this immense land served as a military base for the Japanese. Today, it has become a paradise on Earth for our greatest pleasure. If you love flowers and romance, you'll feel better than anywhere else at Hitachi Park! Indeed, it is certainly one of the most densely flower-covered places in the world. In this romantic atmosphere, your sight and your sense of smell can only be stimulated.
millions of flowers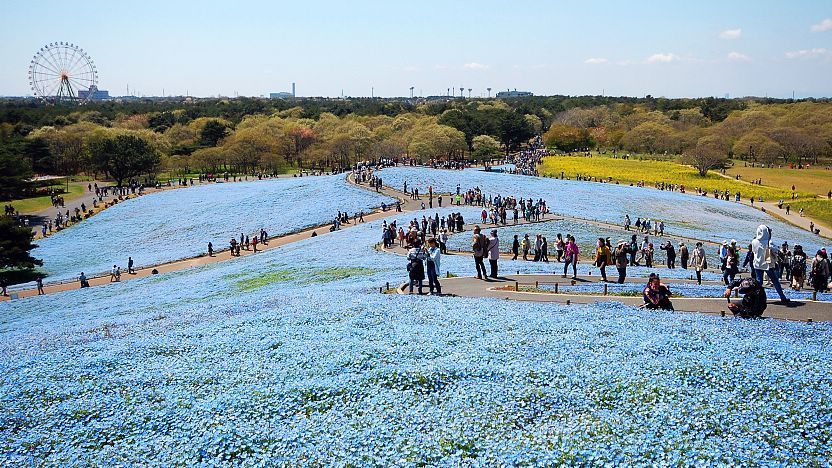 People who visit Hitachi Park for the first time are often tempted to return there a second time, but in a different season, to discover the other faces of the site.
In summer, you will find pink zinnias and sunflowers.
In autumn it is the red kochia "bassia scoparia" which multiply.
The park is best known for its beds of nemophiles . To walk through these 4.5 million little blue flowers, spring is the time to visit Hitachi. This impressive decor gives an impression of confusion between the sky and the ground. In addition to nemophiles, find 170 varieties of tulips during the month of April as well as a million yellow narcissus from the end of March until mid-May.
The park offers a calendar on its site to help visitors choose when they want to come.
A place of relaxation
To optimize your visit to the park and observe as many landscapes as possible, know that it offers eleven kilometers of cycle paths. Moreover, bicycles are for rent at the entrance. A small train also rides in the park and allows you to go around more quickly and above all not to miss anything. You can also visit Hitachi Park more simply on foot, taking your time and enjoying the environment around you. Also, to entertain you with family or friends, there is a Ferris wheel that offers an extraordinary panorama over this flowery terrain. Play areas have also been created specifically to entertain children during your breaks.