Lake Natron is at first glance the calmest lake on the African continent. With an area of ​​1,040 km² for only three meters deep, the color of this lake amazes every curious person who comes to contemplate it. But sometimes appearances are deceiving. Indeed, this lake is both one of the most beautiful found on our planet, but also one of the most dangerous. Zoom in on this incredible natural site that is unlike any other.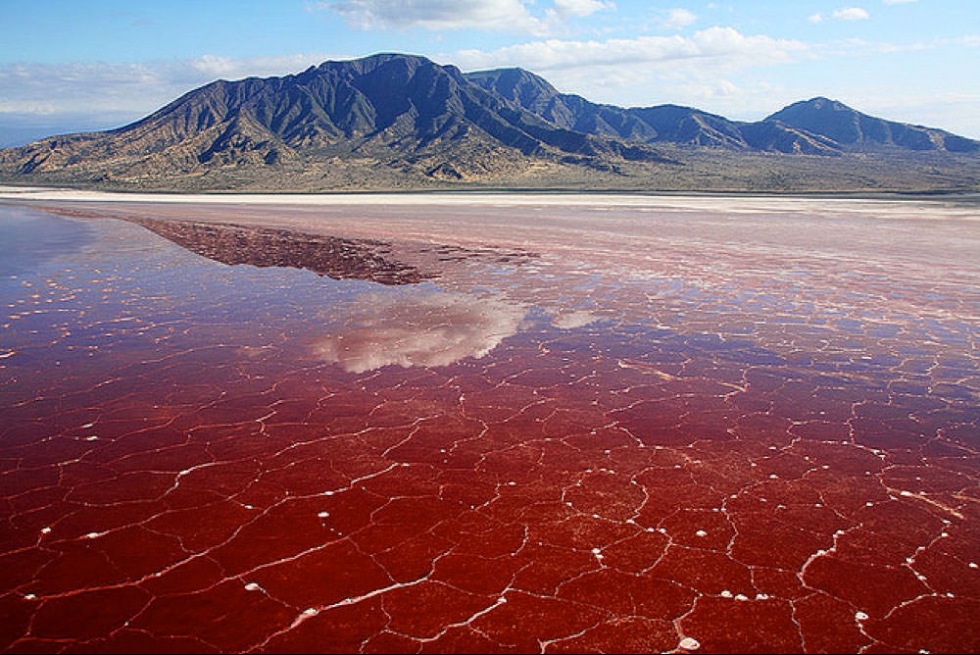 All about this unique lake
Only lesser flamingos, one species of fish and some algae live in this extraordinary environment. Indeed, they are the only living species that survive when in contact with Lake Natron. As its name suggests, this lake is loaded with Natron, a mineral very close to salt. It is therefore one of the few salt lakes on Earth. As for the Dead Sea, the water is evacuated only by evaporation. Tanzania being a country with very high temperatures, the lake dries up during the hottest season. It is during this period that salt-hungry microorganisms develop and give the lake its red color .. Additionally, the waters of this lake are highly alkaline , making swimming impossible for both humans and animals. This is why it is not uncommon to find charred animals on the shores of Lake Natron.
It is in this surreal environment that several million lesser flamingos come every year to give birth to their babies . This place is a landmark for these birds that come here to breed en masse. It is also the micro-organisms that develop in the lake that give these birds their pink color.
As you have certainly understood, this destination is not suitable for swimming and lazing around. On the other hand, it is a place where nature once again shows us how diverse and beautiful it is. Unfortunately, this place is threatened because of some humans who want to exploit the lake for its carbon and sodium reserves.
An interesting point of interest for tourists
If you are planning a trip to Tanzania, do not miss this unique place in the world. In our opinion, it is to be seen at least once in a lifetime! To observe the phenomenon of the red lake, prefer to go there between January and February . But this natural site remains incredible even the rest of the year!
Lake Natron and its surroundings are also famous for hikers and trekkers . Indeed, the location of the lake and its surroundings make it possible to practice walking in pleasant conditions. It is also on foot that you can access the most beautiful panoramas to observe the lake. By taking a little height, if you are at the right time, you will be able to observe the red lake and its powerful color, as well as the impressive quantity of flamingos. If you have a little time, you can also go to a waterfall called Ngare Sero . This allows you to swim and cool off in the middle of the excursion.
With a bit of luck, you might come across some wildlife on the way to Lake Natron. All you have to do is open your eyes wide to hope to see zebras, giraffes or even rhinos…