With our attractions guide, soak up Cuba's rich history, culture and visit the beautiful beaches of this Caribbean paradise.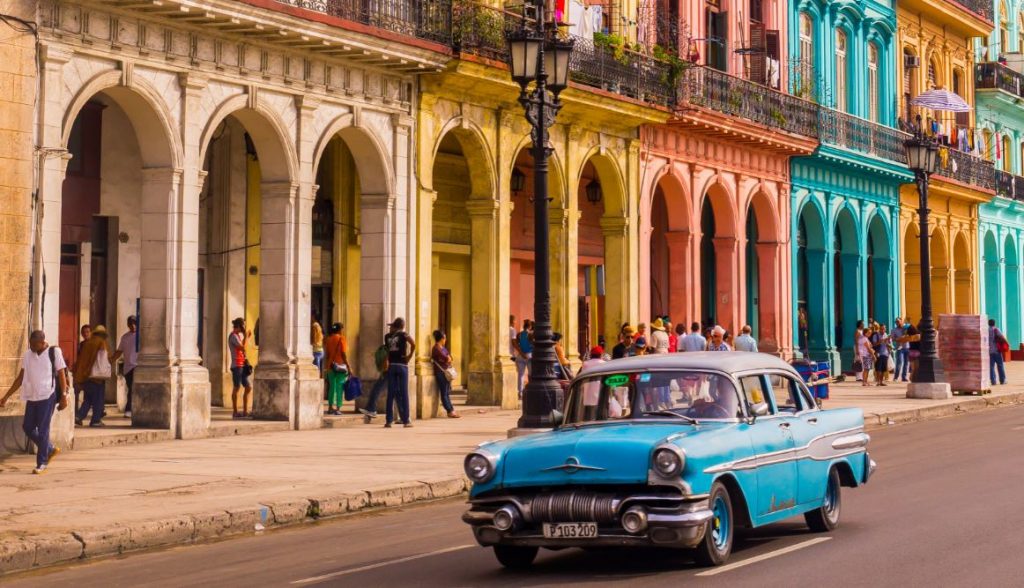 1. The modern city, Havana
Beyond Habana Vieja (Old Havana), this bustling and colorful metropolis home to two million people is notable for its neighborhoods whose distinctive architecture exhibits various stages of decay. Radiating inland from the coast and harbor like a Spanish fan, the city moves from compact 19th century neighborhoods to more spacious 20th century municipalities and post-revolutionary suburbs inhabited by the working class. Functional residential buildings give way to noble and upscale neighborhoods, adorned with Beaux Arts, Art Deco and Modernist style mansions. Meanwhile, concrete office buildings, government buildings, and hotels from the 1950s give the city a retro vibe.
2. Trinidad
Founded by Diego Velaquez in 1514, Trinidad was declared a UNESCO World Heritage Site in 1988. During the 17th and 18th centuries, the city was a hotspot for the slave trade and a hub for the production of sugar. Merchants and wealthy landowners erected beautiful houses and mansions here. Cobblestone streets lined with pastel-hued houses have barely changed since colonial times. Trinidad seems like a city frozen in time. Located on a hill, it is refreshed by almost constant breezes, unlike most Cuban cities.
3. The Zapata Peninsula
Protected in a huge biosphere reserve, the Zapata Peninsula is covered in swamps and forests teeming with wildlife. In addition, the coast is lined with sandy beaches and coral reefs that attract divers. Much of the local population works as Carboneros, earning just enough to live on from charcoal. The area is known for Bahia de Cochinos, site of the Bay of Pigs invasion. Known locally as "La Victoria", the event is commemorated in two museums.
4. The Guaniguanico mountain range
The pine-clad mountains, which begin far west of Havana and stretch along the north of the Pinar del Rio province, are a haven for nature lovers of protected national parks home to wildlife. endangered. The mountains, which develop towards the wilder west, are enhanced by spectacular rock formations called mogotes, towers of limestone, which overlook lush valleys where tobacco plants thrive in the rich red soils in the mild climate. Centered on a village that is in itself a National Historic Monument, the Valley of Vinales represents the quintessence of rural Cuba. Under the mogotes, huge caverns offer a range of possibilities for caving enthusiasts.
5. Jardines del Rey
Emerging from the Atlantic along the northern shore of the provinces of Ciego de Avila and Camaguey, this 450 km long archipelago, known as the King's Gardens, contains hundreds of islands. Three of the main cays are connected to the mainland by roads on dykes, but only Cayo Coco and Cayo Guillermo have tourist infrastructures. Lined with white sand beaches that merge into clear warm turquoise waters, these twin islands are very popular with all-inclusive vacationers. Flamingos roam the coastal lagoons while other birds inhabit a nature reserve.
6. Camaguey
One of the cradles of Cuban culture, the "City of the tinajones" is located in the heart of cattle country. It has been laid out with irregular streets, drawn in a winding labyrinth, to thwart pirates. The historic center is full of large, well-preserved colonial squares that offer cobbled streets, ancient churches and convents. Dwellings with red-tiled roofs dating from the 17th and 18th centuries, whose latticed windows are adorned with wood, have spacious interior courtyards decorated with huge jars called tinajones, the hallmark of the city.
7. Holguin
This sprawling industrial city, recognized as the "city of squares", radiates around a compact colonial core designed as a network where it is easy to find one's bearings. It includes many historic squares, including the Parque Calixto Garcia, named after the general who liberated the city from the Spaniards in 1872. With its abundance of small museums, Holguín has a unique cultural life. Tourists usually bypass the city to visit the Mirador de Mayabe tourist complex which has breathtaking views of the city or the resort of Guardalavaca, which offers many ecological and archaeological attractions in addition to spectacular scuba diving sites.
8. Santiago de Cuba
The second largest city in the country has a very special flavor since it is the most African of Cuba's cities and the most musical place on the whole island. Circumscribed by mountains, Santiago was founded in 1511 on the hilly eastern shore of a deep flask-shaped bay. Its sloping colonial-style downtown features remarkable historic buildings, while its fascinating past as Cuba's first capital recognizes its importance as a hotbed of revolution. Fidel Castro studied there as a young man and later launched the Revolution there with an attack on the Moncada barracks. Every July during Carnival, Santiago explodes into a colorful frenzy.
9. Baracoa
Nestled in a wide bay surrounded by mountains, Baracoa is located in the extreme northeast of Cuba. This ancient city was founded in 1511 as the first settlement on the island. When Governor Diego Velazquez moved to Santiago, a long period of isolation ensued. Locals claim that Bahia de Miel was the site of Christopher Columbus' first landing in Cuba in 1492 and that the flattened mountain he described is none other than El Yunque which rises dramatically behind Baracoa. Lined with venerable wooden houses in a vernacular style, the sleeping town is laid out in a tight network. A favorite destination for independent travellers, Baracoa is now buzzing with tourists.
(Photo courtesy of jorge6880/Flickr)
10. Old Havana, Havana
With nearly 1,000 buildings of historical significance, this landlocked neighborhood is arguably the most comprehensive and largest colonial complex in the Americas. Like a populated museum, full of life in its bustling streets, Old Havana boasts an astonishing wealth of castles, cathedrals, convents, palaces and other important buildings that have marked five centuries of history. A progressive restoration program now in its third decade has transformed the finest buildings into museums, hotels, restaurants, shops and trendy bars. Easily accessible on foot, the cobbled squares as well as the narrow and shaded streets of Habana Vieja exhale this colonial charm so particular to the pearl of the Caribbean.