Jeonju is 1h30 from Seoul by train, in the province of Jeollanam-do. It is a city known to tourists as it is home to a beautiful village of traditional Korean houses. Often, old villages look like sleeping beauties, all calm and serene. Not so in Jeonju! It is a very dynamic place where you can easily combine visiting tourist sites with cultural activities, not to mention its many excellent addresses for budding gourmets.
Although very touristy, Jeonju is charming with its hanok village bordered to the east by pretty mountains, incredible cultural richness, gastronomy, and particularly lively nightlife. It will appeal to all those who want to discover a more "provincial" Korea without going too far from Seoul or deviating from the beaten track.
The summary below will guide you through this extensive presentation of Jeonju. To complete this tourist guide of Jeonju, you will also find a map and directions to help you navigate the city.
Contents:
Jeonju Hanok Village Pungnammun Gate Gyeonggijeon and the Royal Portrait Museum Jeondong Catholic Cathedral Jeonju Hyangggyo Omokdae and Imokdae Jaman Mural Village Foodie Jeonju
The bibimbap, this essential dish
Where to eat a bibimbap in Jeonju?
Gyodong Dawon Tea House
Nambu Market Jeonju the cultural
Jeonju International Sori Festival
Hanji making workshops How to get to Jeonju? Map of Jeonju and its sights
Jeonju Hanok Village:
It's quite unique to see a collection of more than 700 traditional houses still inhabited within a decidedly modern city like Jeonju. The village is where cultural and tourist activities are concentrated. Many hanoks have been transformed into tea rooms or guest houses, some hosting craft workshops or hanbok shops, the traditional Korean garment.
One of the best-known traditional houses, and certainly one of the oldest, is called Hakindang. It is preserved as Folklore Property No. 8 and is now a guest house, consisting of a harmonious set of pavilions surrounded by a beautiful pond. If you pass by, you may be lucky enough, like me, to find the doors open and take an admiring look.
In Jeonju, the streets are wide, and it is pleasant to walk there. Sometimes you need to deviate a little from the main path to discover pretty houses with gardens on the narrower streets. Here, slow life takes on its full meaning: time seems suspended, we slow down, and we take the time to stroll. If you decide to sleep in a hanok, you will wake up in absolute calm, which contrasts with the daytime activity. You can even hear the rooster crow!
In Korean: 전주한옥마을 (Jeonju hanok maeul) Address: 29 Eojin-gil, Wansan-gu Transportation: From Jeonju station, take express bus 5-1 or 79 and get off at "Jeondong station".
Pungnammun Gate: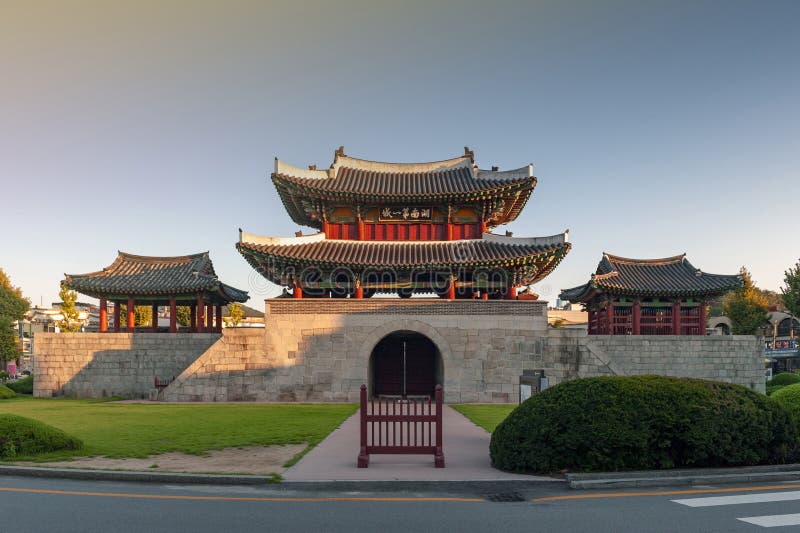 Jeonju's South Gate is called Pungnammun (National Treasure No. 308), and it is the only one in the city still standing today (after being destroyed by fire in 1767 and rebuilt in 1768). It is the only remnant of Jeonju Fortress, demolished in 1907 by Japanese colonial forces.
Its architecture is quite unique, with its columns spanning the first and second floors of a wooden superstructure. You can't visit the inside, but you can freely walk around it. In the evening, it is beautifully lit.
In Korean: 전주 풍남문 (Jeonju Pungnammun) Address: 1 Pungnammun 3-gil, Wansan-gu Open all year round.
Gyeonggijeon and the Royal Portrait Museum: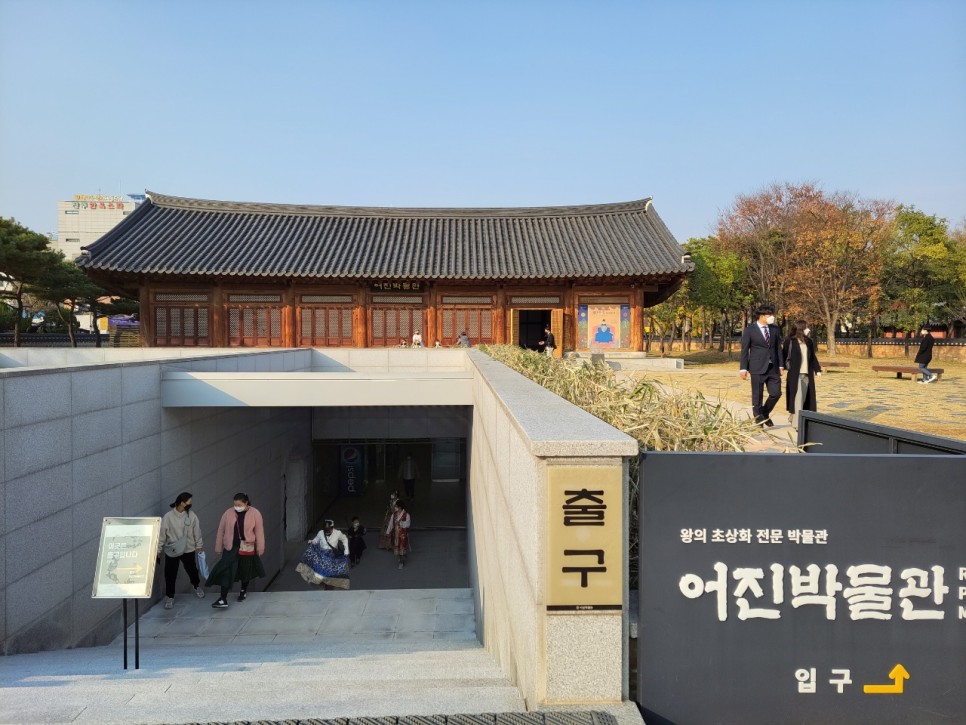 The Gyeonggijeon shrine dedicated to the Yi clan of Jeonju is located in a huge shaded park, which is very pleasant to walk through. Many places are good for selfies, and many Koreans in hanbok pose. In addition to the park and its countless buildings, don't forget to visit the Royal Portrait Museum, which houses the portrait of King Taejo, the founder of the Joseon dynasty.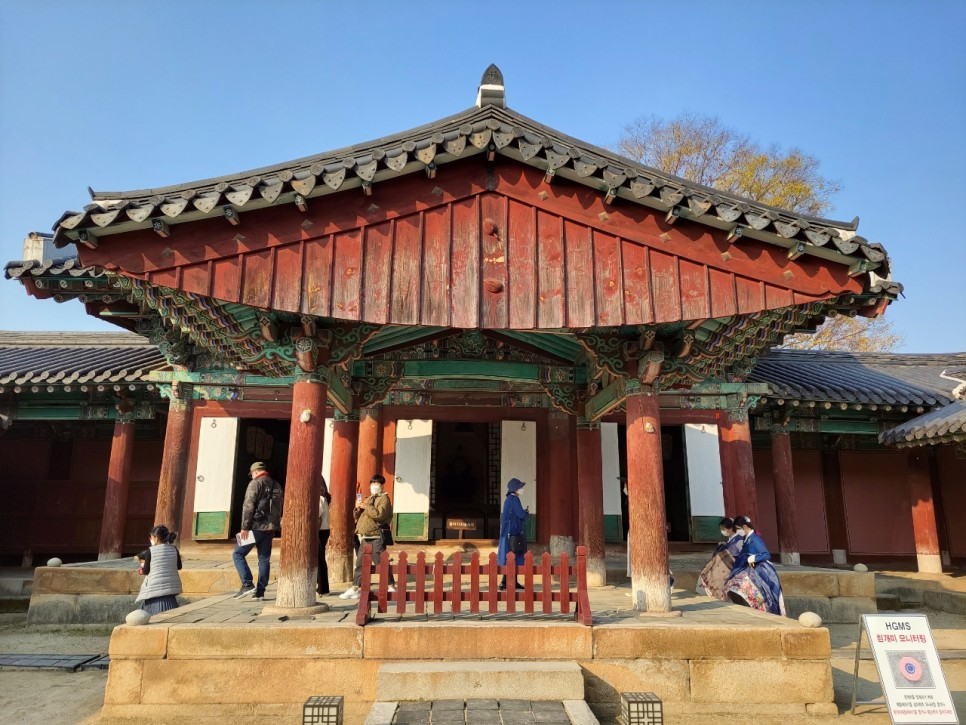 We owe the practice of royal portraits (eojin in Korean) to Confucianism: according to this philosophy, a portrait was equivalent to a spiritual representation of the person painted on the painting. Objects of worship and symbols of the divine authority of kings, they were often made in full size, with a wealth of detail on the clothes. Painting a royal portrait was a huge honor for court artists, and those who were allowed to do so were chosen very rigorously.
The portrait of King Taejo
To find out more, you can consult the article I dedicated to this essential visit: Gyeonggijeon and the Museum of Royal Portraits in Jeonju.
In Korean: 경기전 (Gyeonggijeon) Address: 44 Taejo-ro, Wansan-gu Entrance fee: 3,000 won (approx. 2.00 USD)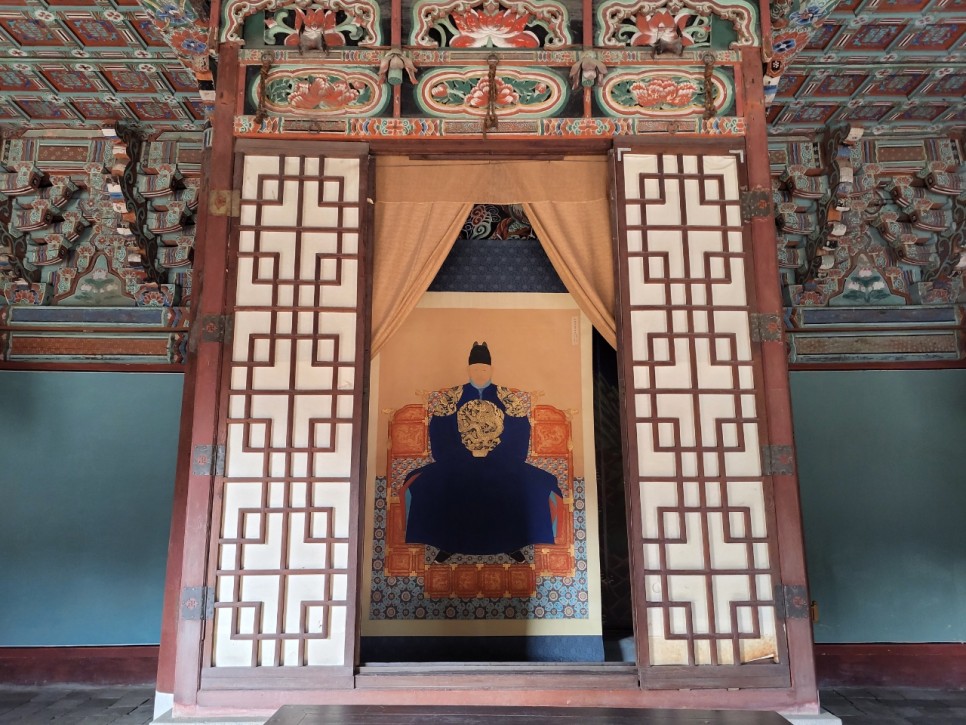 Jeondong Catholic Cathedral:
Jeondong Cathedral (National Historic Site No. 288) is across from Gyeonggijeon. Its Romanesque and Byzantine style and its red bricks contrast with the other buildings of the Hanok village of Jeonju. The twelve-windowed central bell tower, with its domed twin towers on either side of the central spire, is particularly beautiful.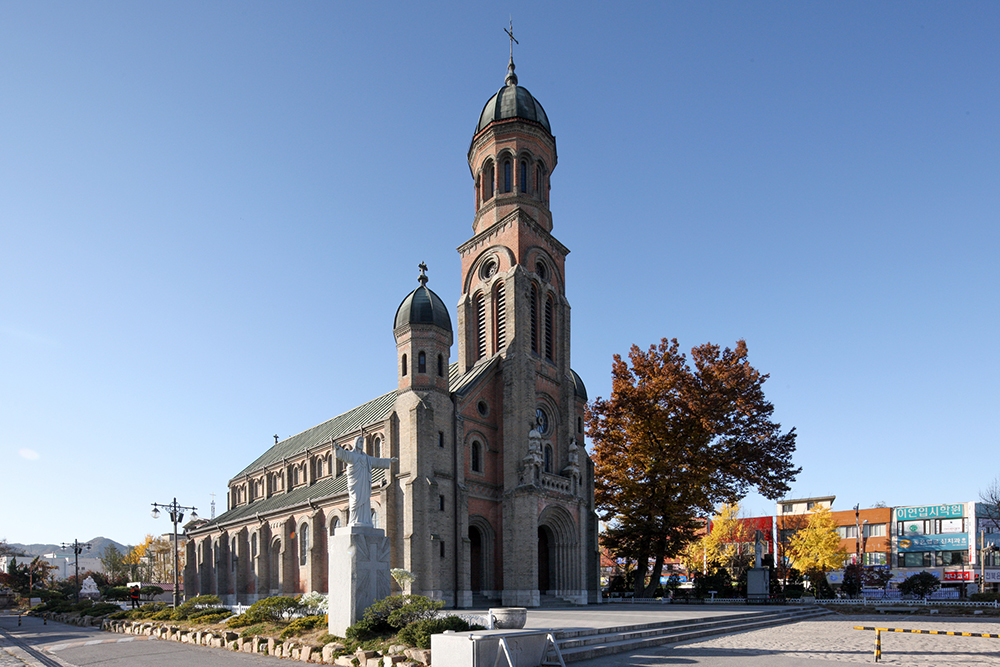 This historically significant church was built on the site where, in 1791, two early Korean Christians, Yun Ji-chung and Gwon Sang-yeon, were the country's first Catholic martyrs. Designed by Father Poisnel, a French churchman, it was completed in 1914.
In Korean: 전동성당 (Jeondong Seongdang) Address: 51 Taejo-ro, Wansan-gu Open year-round. Free admission.
Jeonju Hyangggyo: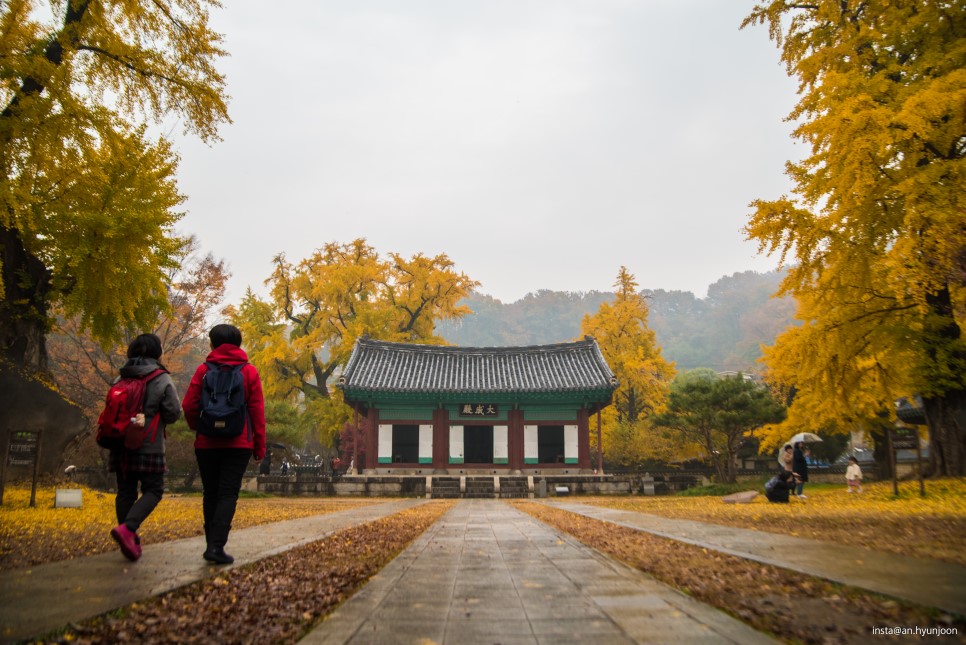 Among all the traditional buildings in Jeonju City, the most elegant is said to be this Confucian school, especially in the fall. And it's not just me who would say that! With its five ginkgo trees that are over 400 years old and its peaceful atmosphere, I was carried away by the memory of the scholars of the Joseon Dynasty who studied here.
Jeonju Hyangggyo was a public institute of secondary education during the Joseon Dynasty. There are two distinct spaces: the Daeseongjeon shrine in the center was used for rituals, and Myeongnyundang Hall was used for study. Today, it is a place where they seek to educate children in traditional values and ethics in general. Rites dedicated to Confucius are performed there twice a year, in spring and autumn.
It is such a beautiful and romantic place that it is often used as a film set.
In Korean: 전주향교 (Jeonju hyanggyo) Address: 139 Hyanggyo-gil, Wansan-gu Open 9 am-6 pm in summer, 10 am-5 pm in winter. Free admission.
Omokdae and Imokdae:
To visit the two historic pavilions Omokdae and Imokdae, you have to go east of the village. You must first climb a hill to reach Omokdae, where King Taejo is said to have rested after a victorious battle against the Japanese. Walk around the wooden walkway so as not to miss the very pretty viewpoints of the hanok village below.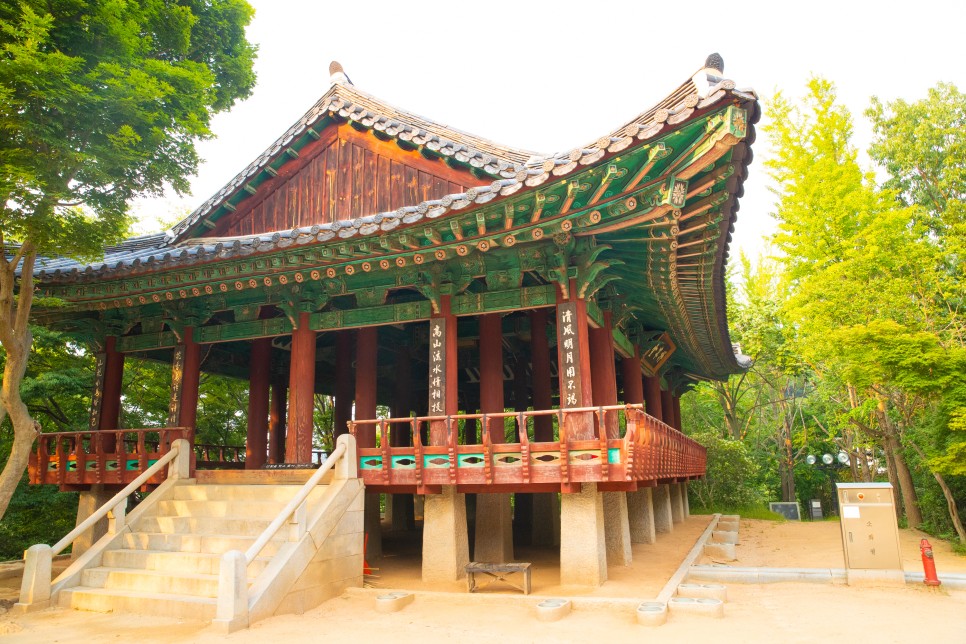 A bridge across the expressway then takes you to Imokdae on Mount Seungamsan. This place is said to have been a playground for King Mokjo, the great-great-grandfather of King Taejo. A 15th-century ballad tells that as a child, Mokjo played war here with his friends.
If you were to see only one of these monuments, prefer Omokdae, which is more scenic.
Omokdae Korean traditional pavilion in Jeonju
In Korean: 오목대 (Omokdae), 이목대 (Imokdae) Address: 55 Girin-daero, Wansan-gu Open year-round. Free admission.
Jaman Mural Village: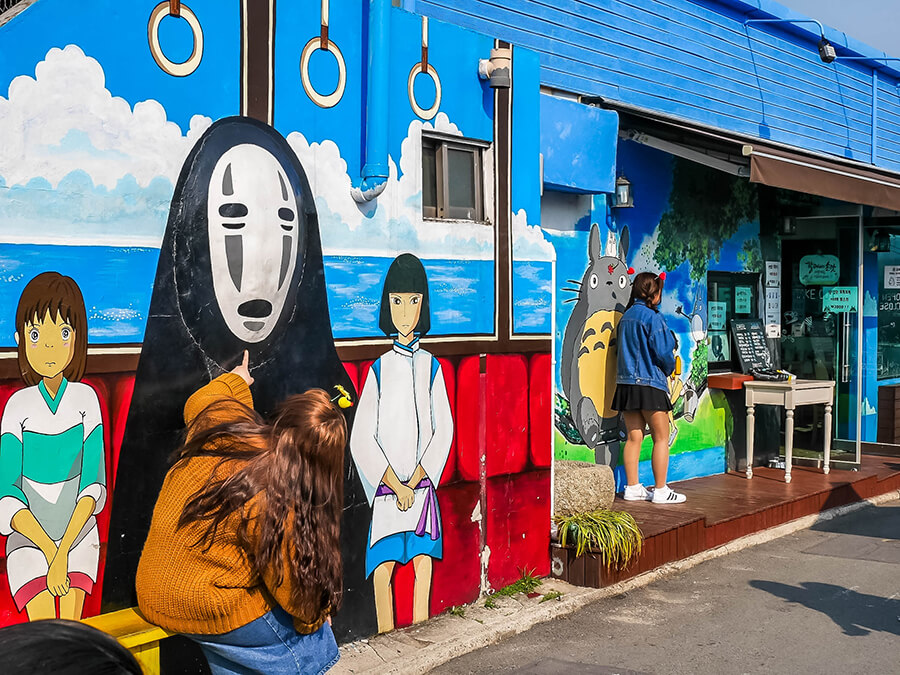 Not far from the two pavilions Omokdae and Imokdae, there is an old area of Jeonju, a little abandoned, which has been revitalized by the realization of murals. Many depict characters from Studio Ghibli animated films (Totoro, Howl's Moving Castle, etc.) or are representations linked to popular culture.
These very colorful representations give freshness to this place and make the walk a very pleasant moment, even though we are in a disadvantaged neighborhood.
In Korean: 자만벽화마을 (Jaman byeokhwa maeul) Address: 1-10, Jamandong 1-gil, Wansan-gu Open year-round. Free admission.
Foodie Jeonju:
Jeonju is known as the "city of taste" due to three elements: the cultivation of rice in the plain of Honam, the cultivation of wild vegetables in the surrounding mountains, and fishing in the waters of the Yellow Sea.
UNESCO has included Jeonju in its network of "creative cities" because the city has made enormous efforts to maintain a centuries-old culinary tradition: exchanges with other Cities of Gastronomy, participation in international forums, support for local chefs, etc. In short, it is a city where you can eat divinely well.
The bibimbap, this essential dish:
Bibimbap, which means "mixed rice," is a classic dish from the Korean culinary repertoire. It is made of rice topped with a variety of vegetables and meat, to be mixed with red chili paste (gochujang). A good balanced bibimbap should have at least the five basic colors (yellow, white, red, black, and green) and the five basic flavors (sweet, salty, salty, spicy, and bitter). It is usually served in a heated stone bowl, which makes the rice crackle, but it can also be enjoyed cold.
Jeonju's version uses bean sprouts (kongnamul), and the rice is cooked in beef bone broth. The filling is also more elaborate, pushing the flavors to the extreme. If we add acorn jelly (hwangpo muk) and beef tartare (yukhwe), then we have a very chic dish… and very expensive!
There are, of course, other specialties to try, such as cow hoof soup (ujok tang), bean sprout rice soup (kongnamul gukbap), or jajangmyeon noodles with water (mul jajangmyeon). Let yourself go and try them all!
Where to eat bibimbap in Jeonju:
Hanguk-jip at 119 Eojin-gil: This restaurant has been serving the traditional version since 1952.
Gyodong Croquette, at 126 Gyeonggijeon-gil: This street restaurant serves fried buns or baguettes filled with bibimbap for 3,000 won (approx. €2.2). Inventive!
Gyodong Dawon Tea House: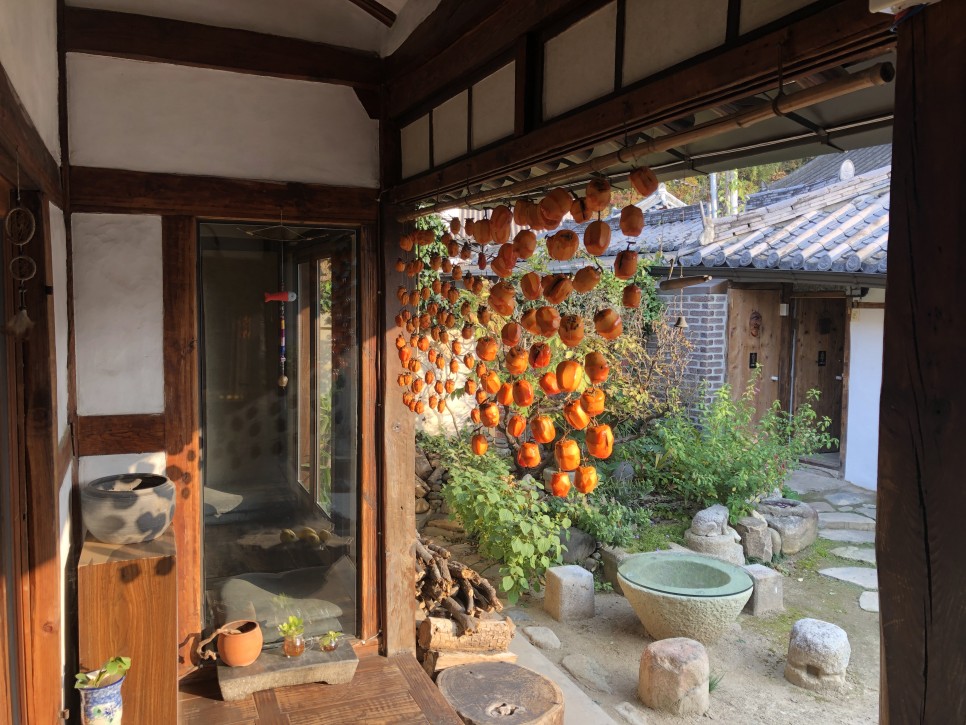 There are several very nice teahouses in Jeonju, but this one is my favorite. We are here in a traditional wooden house with a wide opening towards the garden through which we enter. The place is quiet and conducive to meditation and high-quality tea.
If there were no more places, try your luck at Daho, at 12-3 Taejo-ro.
In Korean: 교동다원 (Gyodong dawon) Address: 65-5 Eunhaeng-ro, Gyo-dong, Wansan-gu Open every day except Tuesday, from 11 am to 10:30 pm.
Nambu Market: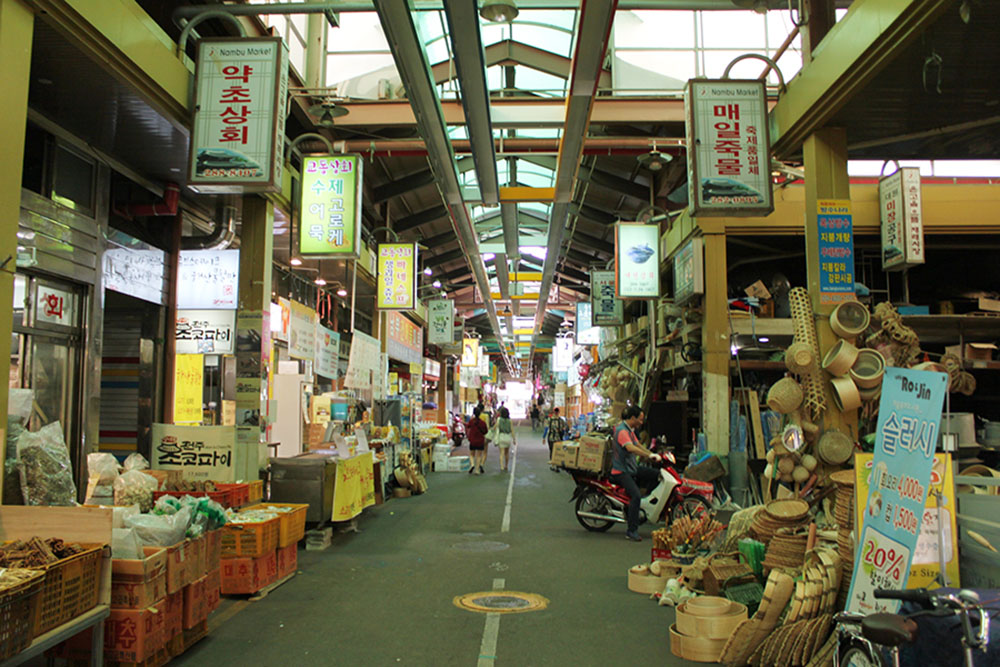 There is a saying that no wedding can take place without going to the Nambu market! That's because in Nambu, you can literally find everything, from furniture to
clothes, and, of course, food! This incredible market is well-known for its nightlife: the crowd rushes through the narrow aisles, doesn't hesitate to wait long minutes to access street food dishes to take away; it's vibrant and exhilarating. It's a must-visit in the early evening before heading back to Seoul.
In Korean: 전주 남부시장 (Jeonju Nambu sijang) Address: 2-242 Jeonong 3-ga, Wansan-gu, Open year-round. Free admission.
Jeonju, the cultural hub:
Jeonju International Sori Festival:
Every year, at the beginning of October, this traditional music event enchants music lovers. From pansori, the Korean sung story, to world music, it's an opportunity to make great musical discoveries. 'Sori' means both 'sound' and 'voice' in Korean. The festival dates back to the early 2000s and lasts a few days.
In Korean: 전주 세계소리축제 Address: 1F Conference Hall, Sori Arts Center of Jeollabuk-do, Sori-ro 31, Deockjin-gu, Jeonju-si Website: www.sorifestival.com
Hanji making workshops: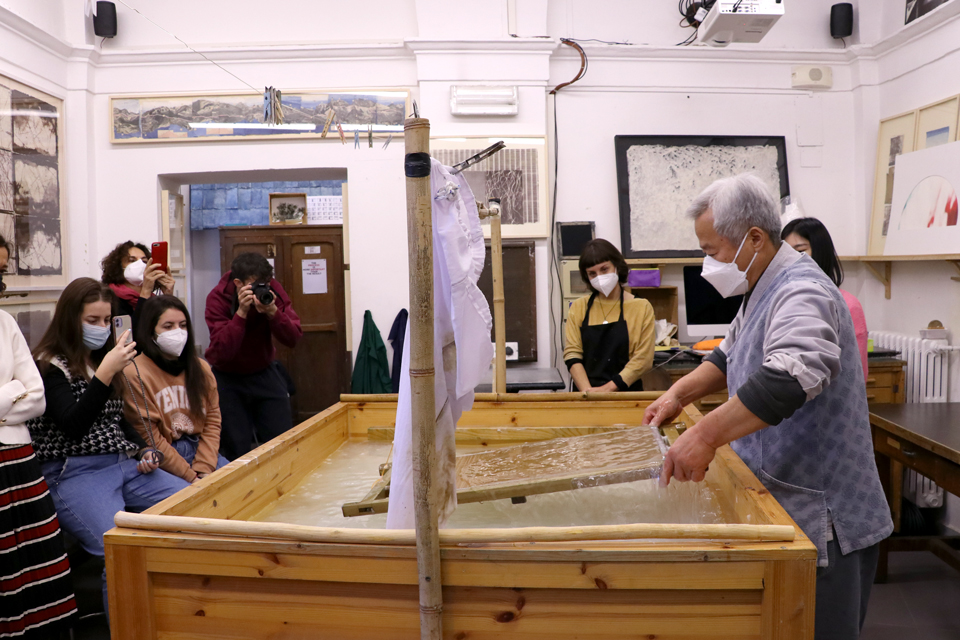 Hanji is the name given to traditional Korean paper. Made from long mulberry fibers, it is as fine as Japanese paper, and Jeonju has made it one of its tourist attractions. To boast of its sturdiness and durability, a proverb says that Korean paper lasts 1000 years, while silk only lasts 500 years. It is used in various artistic fields, including painting, calligraphy, crafts, and architecture.
If you particularly like Korean paper, a visit to the hanji museum in Deokjin-gu district is a must. It exhibits more than 3,000 objects, and you can learn about all the manufacturing steps. But this museum is relatively far from the hanok village, so I invite you to go to the Fan Cultural Center instead, where you can make your own hanji fan. A beautiful souvenir to bring back from your stay!
In Korean: 전주부채문화관 (Jeonju buchae munhwagwan) Address: 93 Gyeonggijeon-gil, Wansangu Open year-round. Free admission.
How to get to Jeonju?
Reaching Jeonju by train from Seoul: KTX bullet trains depart from Seoul or Yongsan stations, with 6 daily trips. You can reach Jeonju in about 1h50, for an amount of 34,600 won (about 25 USD). Ordinary trains depart from Yongsan station, and while they are cheaper (13,800 won, approx. 10 USD), they will take you 2h40 to travel. Once there, take a taxi from Jeonju station to the village, counting around 6,000 to 8,000 won (approx. 4.5 to 6 USD).
Reaching Jeonju by bus from Seoul: There is a special shuttle that allows you to reach Jeonju by bus from Seoul. Read our article which explains everything in detail: The shuttle bus to the Jeonju hanok village. If you want to use a local bus, you can catch one at the Express Bus Terminal or Nambu Terminal in Seoul. In both cases, count 2h50 for the journey.
Getting around Jeonju: Walking is recommended as everything can be done on foot. But you can rent Segways, scooters, or electric bikes, starting from 8,000 won (6 USD) for half a day.
Finally, I give you the link to the website of the city of Jeonju (in English): it will provide you with additional helpful information.
I hope this comprehensive guide helps you plan a day trip to beautiful Jeonju. It is a city that is definitely worth visiting in South Korea. Enjoy your trip!