When we talk about Iceland, we immediately imagine the Northern Lights, vertiginous mountains, majestic waterfalls, endless greenery. If Iceland has become the fashionable destination, it is because the country is full of surprising things. There is no shortage of activities, so you need to visit this country for several days to fully enjoy them.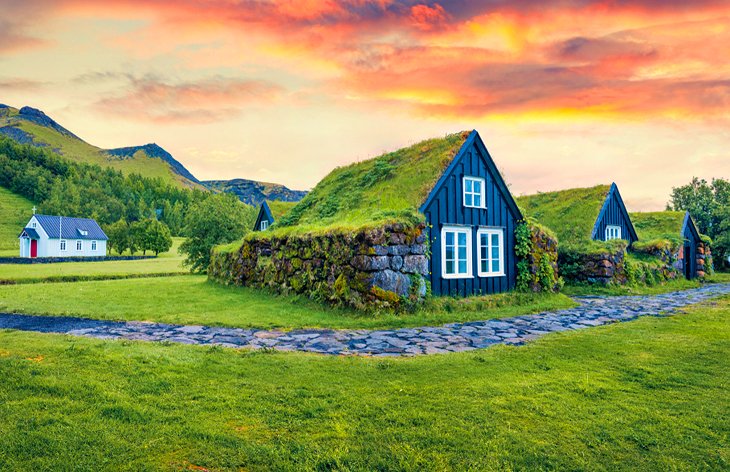 Summary
1) Myvatn hot springs
2) Skogafoss Waterfall
3) The Hallgrimskirche church in Reykjavik
4) Geyser eruptions
5) Dettifoss Falls
6) Stay in a traditional grass covered house
7) Go scuba diving in Silfra
8) Marvel at the icebergs at Jökulsárlón
9) The Northern Lights
10) Behind Seljalandsfoss Waterfall
1) Myvatn hot springs
Mývatn ("the lake of flies") is located in the north of Iceland in the vicinity of the Krafla volcano. The place is home to much less frequented hot springs. It's a great place to go if you're traveling off the beaten track in Iceland looking for authenticity. In addition, it will be much cheaper than the "Blue Lagoon" (the Blue Lagoon) which is certainly the most famous hot spring in Iceland, but far too frequented by tourists and therefore much more expensive (minimum 35 euros per person ). And there are countless other hot springs to see in Iceland.
2) Skogafoss Waterfall
There are so many beautiful waterfalls in Iceland that it will be difficult to make the choice of visits. But we recommend the Skogafoss waterfall, a wonder of nature. Do not hesitate to camp there to admire the magnificent view at sunset.
3) The Hallgrimskirche church in Reykjavik
The Hallgrímskirkja is a Lutheran church located in the southeast of downtown Reykjavik. Its original and famous architect is Guðjón Samúelsson. Built from 1945 to 1986, it is made of concrete and its spire measures 75 m . It was the tallest building in Iceland until the construction of the Smáratorg tower which opened in 2008. You can climb to the top of the tower by the stairs or, for the less adventurous or those unable to take the steps, by an elevator.
4) Geyser eruptions
A must in Iceland, the geysers are incredible to see. Geysir is the Icelandic geyser that gave its name to all the others, because yes there are plenty of others around and one of them shoots water 10 meters high every 6 minutes! Avoid throwing pebbles into it, as this fills the hole in the geyser.
5) Dettifoss Falls
The fall of Dettifoss is the most powerful in Europe. You can admire this magnificent and powerful waterfall 45 meters high in the canyon of Jökulsá á Fjöllum, between Selfoss and Hafragilsfoss falls, somewhat isolated in the desert. There reigns the incredible din of mother nature! To go there is to realize how small we are in the face of this universe.
6) Stay in a traditional grass covered house
It is possible to sleep in these atypical houses covered with grass. Fljotsdalur Youth Hostel is popular with visitors, but there are plenty of others! And if you're lucky, you might be able to spot the Northern Lights. Turf is an environmentally friendly building material and is found in abundance in the country. This is how many houses have been converted into guest rooms.
7) Go scuba diving in Silfra
Scuba diving in Iceland? Eh yes ! The Silfra fissure is known to be the only place on earth where it is possible to swim between two tectonic plates. Silfra is also famous for concealing the purest and most transparent waters in the world: visibility under water exceeds 100 meters! No detour, this is the place to go!
8) Marvel at the icebergs at Jökulsárlón
In Jökulsárlón there is a lake where hundreds of icebergs float! In addition, a magical spectacle awaits you, as you can admire one of the most beautiful sunsets over this lake. Put this place on your list!
9) The Northern Lights
If Iceland is also known, it is for its Northern Lights. Who has never heard of it? We all dream of seeing it, but for that we have to watch the weather, because it is very variable. But if the sky is clear, you can hunt for the Northern Lights or simply admire a magnificent starry sky like you've never seen before! In any case, a unique show awaits you.
10) Behind Seljalandsfoss Waterfall
Seljalandsfoss is a waterfall in southern Iceland measuring 65 meters in height. Its particularity is the possibility of passing behind which offers a new point of view and makes it more impressive. A unique feeling will invade you during this getaway, that of the grandeur of the world. Being behind the waterfall is not common so grab your tickets and head to Iceland!