We know the American state of Nevada for Las Vegas, its famous bling-bling city, but also for its impressive arid landscapes. On the other hand, few foreigners know the Fly Geyser which nevertheless deserves a look! This gem, well hidden from tourists, is located in the Black Rock Desert and seems unreal to its few visitors.
A spectacular site
The Fly Geyser, also called Fly Ranch Geyser, is not just a natural phenomenon. In 1964, this impressive geyser appeared because of a drilling carried out fifty years earlier, in 1916 . This drilling not having been carried out correctly, a source of hot and very mineralized water escaped from it. It is the limestone deposit of these waters that form the multicolored geyserite cone that we can observe there. At present, the cone is still growing as the geyser is still active. The water that comes out can reach a height of one to two meters .
Access to this geyser is regulated, as it is located on private property. A few years ago, this site was even forbidden to tourists. This is perhaps why this site is much less known by foreigners than other places in the surroundings. In order to protect this unique place, the former owner chose to surround it with fences. But the good news is that it may soon be more accessible to the curious. Indeed, the Fly Ranch, site on which the Fly Geyser is located, was bought by the famous Burning Man festival . The organizers of this festival acquired it for the sum of 6.5 million dollars. The Fly Ranch is at the center of a new project that differs from what we are used to seeing with Burning Man.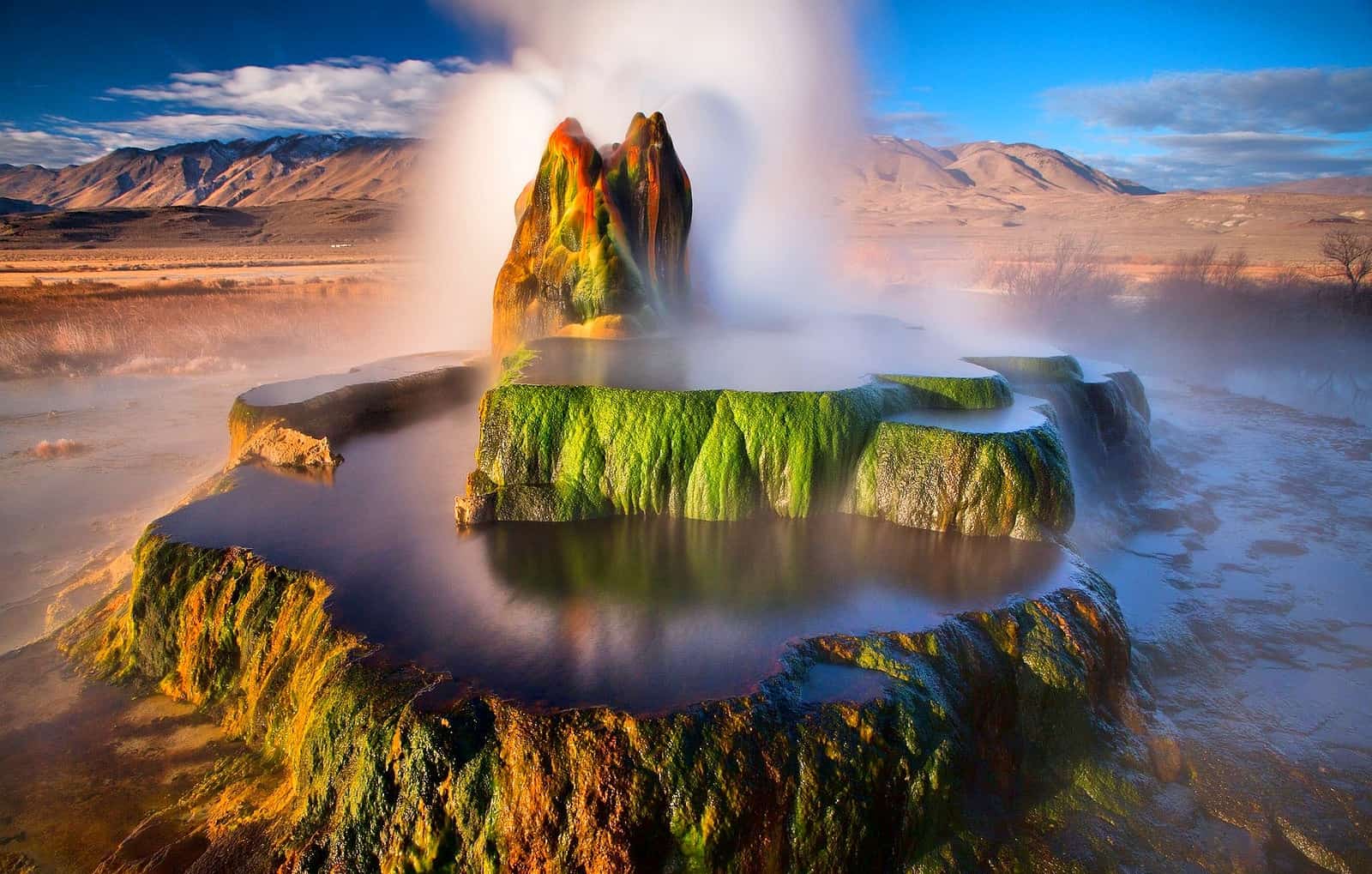 This time, they want to create a gathering place for "burners" so that they can apply the Ten Principles that characterize the festival all year round. Specifically, these principles are Radical Inclusion, Giving, Decommodification, Radical Empowerment, Radical Self-Expression, Common Effort, Civic Responsibility, Leave No Trace, Participation, and Immediacy. . Thanks to this project launched in 2016, but which should still take some time to materialize, geology enthusiasts and simply curious people should be able to access the Fly Geyser more easily, all in a unique atmosphere…
The Fly Geyser in pictures
As you can see, human error and nature can sometimes combine to create magical places like this. The Fly Geyser in Nevada totally deserves more recognition along with the national parks that surround it. Obviously, if tourism were to develop more around it, it would be necessary to ensure that this is done in an eco-responsible way in order to preserve this recent jewel.