Want to visit Busan, and wondering what to do in South Korea's second city ? Or you are in Seoul, and you are simply wondering: should you go to Busan? Whether you are already convinced or still hesitant, here are twenty-five suggestions for visits to do in this endearing city.
From sandy beaches to popular markets, temples, parks and cultural spaces, there is something for everyone. A clarification: my ranking does not reflect any order of preference. It's up to you to choose the visits that interest you.
Enjoy your visit to Busan!
Busan, Korea's second city: dynamic and endearing
Busan or Busan 3 ( Hangul : 부산 ; Hanja :釜山 ; RR : Busan , /pu.sʰa̠n/ ) , officially Busan Metropolitan City ( Hangul : 부산 광역시 ; Hanja : 釜山 廣域市 ; RR _ : Busan gwangyeoksi ), meaning "mountain-cauldron" , is a port cityvery important in South Korea , which has more than 3,700,000 inhabitants. Historically known as Fousan , it is the second most populous city in South Korea after Seoul .
It is the economic, cultural and educational center of southeastern Korea, with its largest port in the country and the ninth largest in the world, about 190 km from the Japanese islands of Kyūshū and Honshū . The "Southeast Economic Zone" (including Ulsan and South Gyeongsang ) is now the largest industrial zone in South Korea.
Busan is divided into fifteen major administrative districts and a single county. The complete metropolitan area, including the adjacent cities of Gimhae and Yangsan , has a population of approximately 4.6 million . The most densely built-up areas of the city are located in a number of narrow valleys between the Nakdong and Suyeong rivers, with mountains separating most districts. The Nakdong is Korea's longest river, and Busan's Haeundae Beach is also the country's largest.
Pusan ​​is a center of international conventions; in 2005 it hosted the Asia-Pacific Economic Cooperation (APEC). It is also a sports tournament center in Korea, having hosted the 2002 Asian Games and the 2002 FIFA World Cup . Busan is also home to the largest department store in the world, the Shinsegae Centum City .
With approximately 3.5 million inhabitants, Busan is South Korea's second largest city, after Seoul . Its urban area had 8,050,434 inhabitants in 2018 .
Jagalchi (ko) Market ( 자갈치시장 ) (near the busy port) is an area with narrow streets and many stalls, known for its fish market .
A relatively large part of Pusan's population is of Russian origin , having arrived during the Soviet-Japanese War (1945) and World War II , following colonization (1905—1945) by Imperial Japan , A district known as "Foreign Shops Street" has many Russian businesses, trade is mainly in Korean and Russian . The area was first called "Foreigners Street" because many businesses settled there after the Partition of Korea in 1945, during the 1940s and 1950sto supply US troops in the area.
The Pusan-Jinhae Free Zone , one of only two of its kind in South Korea (the other is located in the port of Incheon ), was created to perpetuate Pusan's status as an international business center. It now attracts ships from all walks of life and aspires to become a regional financial center. In addition, Pusan ​​is considered by the American Association of Port Authorities (AAPA) as the third seaport in the world both in terms of the importance of its traffic and its efficiency [ ref. desired] .
Pusan ​​is also a very important scientific center in Korea, with many research institutes focusing on marine biology and technology. The Korea Hydrography and Oceanography Agency, the Korea Institute of Ocean Science and Technology or the Korea Institute of Maritime Development are all located there .
Human presence is attested in Pusan ​​since the end of the Palaeolithic . Neolithic remains attest to the development of a culture centered around Pusan, in areas close to the sea or rivers. The Bronze Age comes quite late, but many tombs date back to the Iron Age in Pusan ​. In particular, the tombs of the district of Bokcheon attest to the prosperity of the Confederation of Gaya .
During the Joseon period (1392-1910), the geographical location of Pusan, then called Dongnae, gave it growing importance as a military place, then as a commercial and diplomatic point of contact with Japan .
During the colonization of Korea by Japan , during the first half of the 20th century , the colonists transformed Pusan, as well as Incheon and Ulsan , into major ports.
The city played an important role during the Korean War (1950-1953). The fighting off Pusan ​​prevented a North Korean army landing, allowing that city to be one of the few areas to remain under South Korean control at all times. The " Busan Perimeter " and its port allow UN military reinforcements , mainly from the United States , to land in large numbers and set out to reconquer the peninsula.
Culture
The Busan Museum presents the traditional culture of the Pusan ​​region through artifacts and works of art.
The Busan Municipal Art Museum , opened in 1998, is dedicated in particular to modern and contemporary art, especially Korean. An appendix is ​​devoted to the work of Lee Ufan .
A museum of contemporary art, known as MOCA (Museum of Contemporary Art), also opened in 2018 on Eulsuk Island, in the estuary of the Nakdong River , with a green wall created by Patrick Blanc .
The Bokcheon Museum  is an archeology museum opened in 1996. It exhibits relics from the Gaya period, discovered in tombs in the surrounding Bokcheon district .
The Busan Modern History Museum  is a museum established in 2003 and dedicated to the modern history of Busan. It was installed in a building built in 1929 by Japan and thus constituting itself a memory of the occupation of the country .
The Provisional Capital Memorial Hall  , opened in 1984 in a building constructed in 1926, the former residence of Busan Governor and then President Syngman Rhee , features the Korean War period in Pusan ​​and the role of Syngman Rhee.
The National Maritime Museum , created in 2012, exhibits evidence of the country's maritime history .
1. Haeundae Beach
Haeundae Beach ( Hangul : Han 해운대해수욕장; Hanja : 海雲臺; Revised Romanization of Korean : Hae'undae haesuyokjang) is a beach located in Busan , South Korea , often considered one of the most famous and beautiful beaches in Korea . Haeundae Beach, which is 1.5 km long, is located in the eastern part of Busan in Haeundae District . It is accessible from Haeundae Station on Line 2, and it takes approximately 40 minutes to reach the beach by subway from Busan Station in the historic area of ​​the city, and less than an hour from Gimhae International Airport.
The beach is open year-round, and various festivals are held there throughout the year. A popular beach event, "Polar Bear Club", during which participants bath in near freezing water, has been held annually since 1988 in January. The beach also features a number of e-sports events designed to promote Blizzard games including StarCraft.
Haeundae is closely associated with cinema, as it partly hosts the Busan International Film Festival, and was featured prominently in the 2009 disaster film Tidal Wave.
Haeundae Beach is often considered, along with Gwangalli Beach, Gyeongpo Beach (Gangneung), and Hyeopjae Beach (Jeju City), one of the best in South Korea. Due to its length, beauty, and easy access from downtown Busan, the beach hosts numerous festivals. Haeundae is also closely associated with cinema, as it partly hosts the Busan International Film Festival , and was featured prominently in the 2009 disaster film Tidal Wave .
The beach is popular with Korean tourists, although it has recently seen an influx of foreign tourists, from China, Japan and Western countries. The beach and its surroundings are especially crowded during the summer months of July and August. Haeundae's attractions include Dongbaekseom, at the western end of the beach, which is a popular fishing area. Oryukdo, a group of small islets to the east of the beach, is also considered a symbol of Busan. The neighborhood surrounding Haeundae is home to the majority of Busan's expat population.
There are many beach-related cultural events in Haeundae. Along with Geumjeongsan and Dalmajigogae, Haeundae is one of the most popular places in Busan to watch the New Year sunrise, a popular tradition in Korea. In addition, the "Polar Bear Club", a popular beach event during which participants bathe in nearly 0°C water , has been held annually since 1988 in January in front of the Chosun Beach Hotel.
Haeundae Beach is located in the eastern part of Busan in the Haeundae -gu area, a 40-minute subway ride from Busan Old Town Station to Haeundae Station and an hour from Gimhae International Airport .
2. Jagalchi Fish Market
Jagalchi Fish Market is a fish market in the neighborhood of Nampo-dong in Jung-gu, and Chungmu-dong, Seo-gu, Busan, South Korea. The market is located on the edge of Nampo Port (남포항), Busan. It is considered to be the largest fish market in South Korea.
The name is said to have originated from jagal (자갈 gravel in Korean) because the market used to be surrounded by gravel. This is one of the ten landmarks of Busan, so many tourists visit there to shop.
The market is known for the "Busan wives". They are known for their strong will determination to provide financial support for their family and pay for their children's education.[6] Another name for these women is jagalchi ajumma. It references back to when these women would peddle the street selling goods after the Korean War. The market hosts the Busan Jagalchi Festival in autumn. The festival's slogan is "Oiso! Boiso! Saiso!" ("Come! See! Buy!"). Individuals can participate in singing, dancing, catching fish, and eating fresh fish.
Various good are found in this market, which spans 3 kilometers. Near the Yeongdo Grand Bridge can be found dehydrated anchovies, sea laver, and various shellfish. Across from the city hall, shops sell herbal medicine and animal-based remedies.
A fish and seafood market on the ground floor, restaurants to taste them on the first floor. Atmosphere guaranteed at Jagalchi, the most typical seafood market in South Korea. The products are very fresh, since they are caught the same morning. Let's not forget that Busan is a port city, so it's the ideal place to discover the products of the marine world!
Jagalchi is located in the Nampo-dong area , where BIFF Square , Gukje Market and Yongdusan Park are also located . Essential therefore.
3. Haedong Yonggung Temple
Haedong Yonggung Temple (Hangul: 해동 용궁사, Hanja :海東龍宮寺) is a Buddhist temple in Gijang-gun, Busan, South Korea. The temple was built in 1376 by the teacher known as Naong during the Goryeo Dynasty, and was originally known as Bomun Temple (보문사). It was destroyed during the Japanese invasions of Korea (1592–98) but was rebuilt in the 1930s, and was renamed Haedong Yonggung Temple in 1974. The temple complex is a large one and one of few in Korea to be set on the seaside. As such, combined with its proximity to Haeundae Beach and the east side of Busan, the temple is popular with sightseers, particularly during Buddha's Birthday celebrations when the complex is decorated with paper lanterns.
Getting there
Take Subway Line 2 at Seomyeon and get off at Haeundae Station , Exit 7. Then take bus No. 100 or No. 181 to the Yonggungsa Gungnip Susang'wa Hagwon stop , then walk 1 km.
Journey time from Busan station: approximately 1h35.
4. Gamcheon Culture Village
Gamcheon Culture Village (Hangul: 감천문화마을) is a town in Gamcheon-dong District South Korea .
Gamcheon Culture Village is known for its steep streets, winding lanes and brightly colored houses, which have been restored and upgraded in recent years to attract tourism. In order for the village to be reborn as a cultural center, the Saha district received funds from various government offices for urban regeneration. After painting its walls with a fresh coat of paint and placing artwork throughout the area, the village received its new name. Renovation efforts culminated with the success of the Empty House Residence Preservation Project. The village has been rehabilitated as the most colorful and artistic place in Busan .
Gamcheon Village was built during the 1920's and 30's when the Busan city administration decided to relocate its poor Korean population into an area secluded from the port, yet close enough to provide labor. In the midst of post-war recovery in 1955, around 800 families moved to the village, contributing to the growth of an ascetic religious community known as Taegeukdo, a branch of Jeungsanism. A long-time resident noted the village's development throughout the decades: "Gamcheon was only one district in 1950, now it's nine. In the '70s there were only houses made of wood. In the late '80s and early '90s, families started to get bigger so they built two-level houses." Nonetheless, the village faced persisting poverty and poor living conditions.
In 2009, the Ministry of Culture, Sports, and Tourism carried out a public art-themed renovation effort to convert the village to a cultural hub. It called for art students, professional artists, and residents to maintain, repair, and "decorate" the village with art. The renovation efforts reached their peak with the success of the "Empty House Residency Preservation Project." With improvements to infrastructure, fresh paint and other home improvements, the establishment of spaces for retail and museums, and the addition of several dozens of art installations, the village has been reborn as Busan's most colorful and artistic spot.[6] Some examples of the colorful art installations include bird sculptures, Murakami-like playful installations, scenes from the Little Prince, and painted schools of fish that guide bearings through the alleyways.
The village has turned into one of the most featured tourist attractions in Busan. Since the public art renovation project in 2009, tourism in Gamcheon has increased considerably—the village saw approximately 1.4 million visitors in 2015. Village residents have met this influx of traffic with mixed attitudes. While some residents have participated in the renovation and tourism efforts, others have opted to move away despite difficulties with selling their homes. It is estimated that 300 local houses were empty as of 2015; Part of the development efforts in the Village include converting these abandoned houses into art galleries, museums, and shops.
Pretty colorful village on the outskirts of Busan, whose small houses are leaned against a mountain, Gamcheon has long been the refuge of the poorest. It was only in the 90s that it benefited from a vast renovation project: artists painted the walls, others installed works of art. Today, the village attracts many tourists, who appreciate its picturesque side and the pretty views of the coastline.
Before setting off to take on the steep alleys, remember to pick up the paid map of Gamcheon at the tourist information center, and bring good walking shoes. You will go around the village in about an hour.
Getting there
From Busan Station, take bus No. 87 and get off at Kkachi Saegil Ipgu . Walk about 10 minutes.
Travel time from Busan station: 30 minutes.
5. Seomyeon District
Seomyeon District:
It is located in the center of Busan, which is famous for the frequent influx of tourists and visitors to get acquainted with the reality of local life in the city and the way the residents live and touring its markets, in addition to eating the best Korean folk food.
The very central district of Seomyeon is at the crossroads of metro lines 1 and 2, which makes it an ideal place to stay. It is also the mecca of commerce in Busan, with its countless restaurants and shops. Very lively during the day, it is especially necessary to come there in the evening, to feast on excellent street food , sold in the stalls of Seomyeon Food Alley .
Getting there
Take subway line 1, and get off at Seomyeon station .
Travel time from Busan station: 10 minutes.
6. Beomeosa Temple
Beomeosa ( Hangul , 범어사 ; Hanja ,梵魚寺; meaning, 'Nirvana Fish Temple') is a Buddhist temple of the Jogye Order in Cheongnyong-dong, Geumjeong-gu , Busan , South Korea . Built on the slopes of Geumjeongsan, it is one of the best-known urban temples in the country.
Beomeosa Temple is located on Mount Geumjeongsan, Busan , and was opened in 678 as one of the ten important temples of the Avatamsaka school . According to the Revised Academic Geography for the Eastern Country, a golden fish that descended from the sky and frolicked in a well on this peak. Thus, the mountain was named "Geumjeongsan" (金井山; literally 'Golden Well Mountain'), and the temple that is built on top of it was named "Beomeosa" (梵魚寺; literally 'Spirit Fish Temple').
As established by King Munmu's decree, Beomeosa Temple began on 360 gyeol of land and had 360 bedrooms. However, it was almost burned to the ground during the Japanese invasion (1592-1597). Later in 1613, monks like Myojeon and Haemin renovated some of its Dharma rooms and dormitory. The Main Buddha Hall and the One Pillar Gate are known to have been built at that time.
Beomeosa Temple is considered one of the three major temples in southeastern Korea, along with Haeinsa Temple and Tongdosa Temple. Its strong Seon Buddhist spirit has earned it the title of Seon Great Headquarters of Buddhism Temple. Seon Master Gyeongheo, an eminent monk of modern times, opened a Seon center in Beomeosa in 1900. Inspired by Gyeongheo, Seongwol, then the abbot of Beomeosa, taught the Seon tradition by establishing Seon centers and Seon assemblies in the six hermitages of Beomeosa in the span of 10 years as follows: Geumgangam in 1899; Anyangam in 1900; Gyemyeongam in 1902; Wonhyoam in 1906; Ansimnyō in 1909; and Daesongam in 1910.
Eminent monks who have lived at the temple include Grandmasters Uisang, Pyohun, Nangbaek, Myeonghak, Gyeongheo, Yongseong, Manhae, and Dongsan. Even today, Beomeosa Temple teaches serious Buddhist practice. In 2012, the temple was designated as Geumjeong Chongnim, one of the eight comprehensive monastic training complexes for the Jogye Order of Korean Buddhism, and its first spiritual patriarch is Master Jiyu.
Getting there
Take metro line 1, get off at Beomeosa station , exit n°5 or 7. Then walk 5 minutes to bus n°90 terminal, and get off at Beomeosa Maepyoso stop .
Journey time from Busan station: approximately 1 hour 15 minutes.
7. Igidae Park
The Igidae Park area offers a scenic trail from near Oryukdo along the coast, about 5 kilometers of uphill and downhill hiking, but the scenery is worth it. For those who wish to extend the hike a few hundred kilometers, the trail extends to Gangwon Province.
A nice park, suspension bridges, narrow paths, beautiful views and friendly walkers. You need good shoes so as not to suffer from stones and 3 hours in front of you!
Please note that the site is difficult to access by public transport…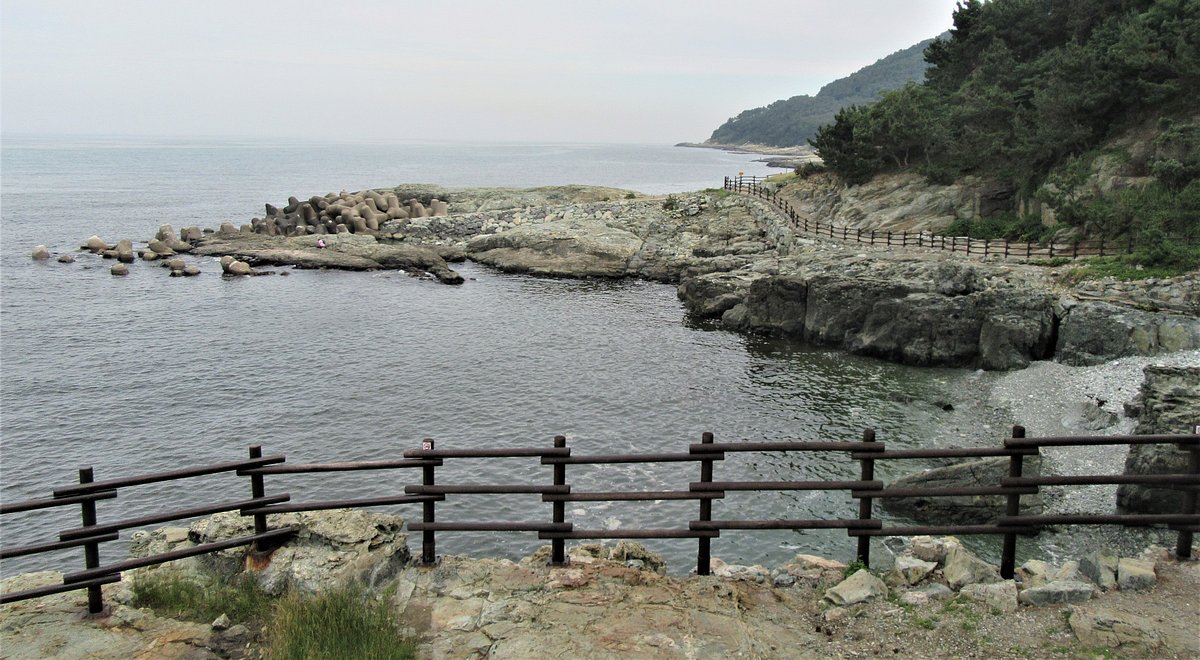 8. Gwangalli Beach
Gwangalli Beach ( Korean : 광안리 해수욕장 ) is a beach in Busan, South Korea . It is located in Suyeong-gu, Busan Metropolitan City, west of Haeundae Beach. It is located inside a cave crossed by the Gwangan Bridge and covers 82,000 square meters in a length of 1.4 kilometers and a width of 25 to 110 meters, in a crescent-shaped curve of fine sand. Next door are some alleys with restaurants, coffee shops, and nightclubs. Due to its popularity, city officials are pushing for improved water quality at beaches.
The beach is near the Busan Yachting center used for the 1988 Seoul Olympics sailing competitions .
How to get there
1. Take Subway Line 2 at Seomyeon and get off at Gwangan , Exit 5. Then walk 15 to 20 minutes for 1 km.
2. Take bus No. 41 from Busan Station and get off at Seoho Byeonwon stop . Then walk 5 minutes.
Travel time from Busan station: between 45 and 50 minutes.
9. Busan Modern History Museum
The Busan Modern History Museum (Korean: 부산근대역사관; Hanja: 釜山近代歷史館) is a museum in Busan, South Korea.
The building was originally constructed during the Japanese occupation of Korea for the Oriental Development Company an organisation used to support Japanese colonization of Korea. Following the liberation of Korea in 1945 it was later used as the United States Information Service and was the site of the Busan American Cultural Service building arson during student protests in 1982.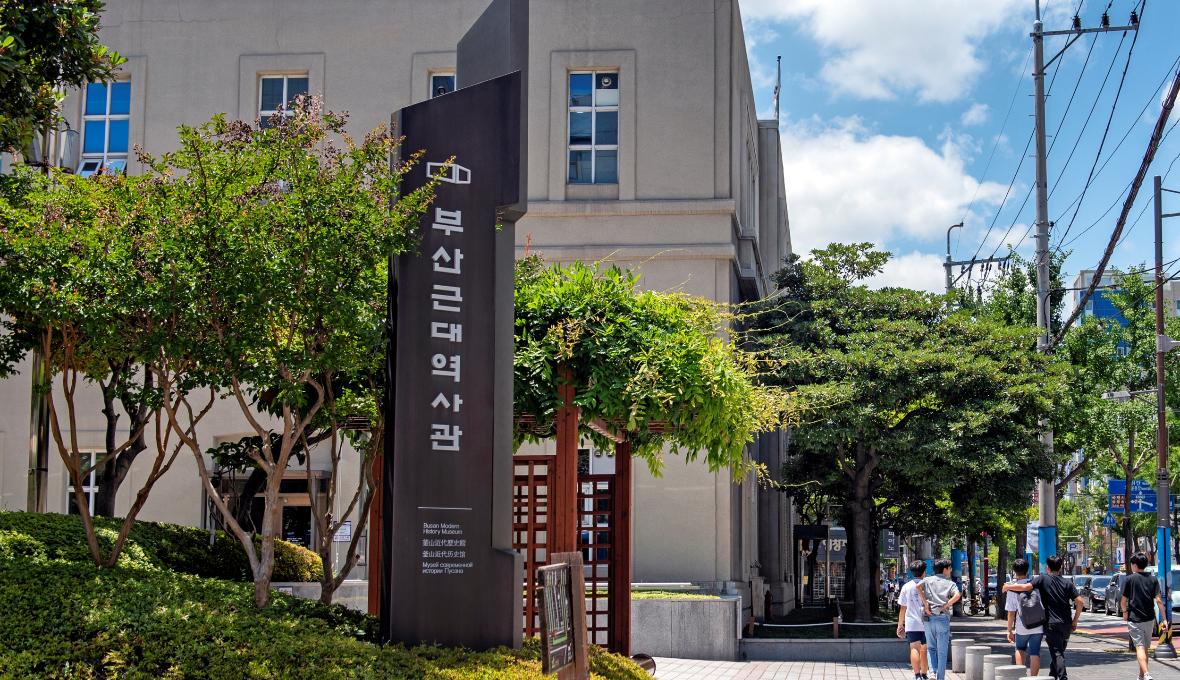 If you want to know the history of Busan, this free museum, housed in an old building from the Japanese colonial era, will shed an informative and interesting light on the city and its port activity. Watch the filmed documentary before entering the rooms dedicated to the collections, which display many relics from modern history.
The museum is small, you will go around it in less than an hour. A cultural visit not to be missed, if you are around Yongdusan Park and Gukje Market .
Getting there
Take bus no. 81 from Busan station, get off at Gukje Shijang , and walk about 3 minutes, retracing your steps for less than 200 meters.
Travel time from Busan station: 15 minutes.
10. Gukje Market
Gukje Market or Nampodong International Market is a market in Sinchang-dong, Jung District, Busan, South Korea.It opens from 9:30am to 7:30pm.
you can find in this market many thousands of stalls selling clothes, crockery, books: it is a real fair for new or second-hand products. you will go from surprise to surprise.
Getting there
Take bus No. 81 from Busan Station, get off at Gukje Shijang , and walk about 5 minutes.
Duration from Busan station: 20 minutes.
11. United Nations Memorial Cemetery
The United Nations Memorial Cemetery in Korea (UNMCK; Korean: 재한유엔기념공원; RR: Jaehahn yuen ginyeomgongwon),[10] located at Tanggok in the Nam District, City of Busan, Republic of Korea, is a burial ground for United Nations Command (UNC) casualties of the Korean War.[nb 3] It contains 2,300 graves and is the only United Nations cemetery in the world. Laid out over 14 hectares (35 acres), the graves are set out in 22 sites designated by the nationalities of the buried servicemembers.
Temporary battlefield cemeteries and remains recovery
The Korean War began when North Korean People's Army forces attacked south in June 1950. As the fighting progressed, temporary military cemeteries for battle casualties were established by United Nations forces near the towns of Taejon (July 9, 1950), Kwan-ui (Kwan-ni),[13] Kum-chon,and Sindong.When the North Korean forces pushed towards Busan, these cemeteries had to be abandoned.Later, as the Battle of Pusan Perimeter developed, temporary cemeteries were established at Masan, Miryang, and Taegu, with a Busan cemetery being established on July 11, 1950.As the fighting pushed into North Korea, temporary cemeteries were established in or near the towns of Kaesong,Sukehon, Wonsan, Pupchong (Pukchong County),[13] Yudarn-ni and Koto-ri.[16] Some eleven division-level cemeteries were established in the first two months of fighting[and later five UN military cemeteries were established in North Korea.
A corporal from the 114th Graves Registration Co. fills out a Form 52B, giving information regarding a deceased American soldier at the U.N. Cemetery at Taegu. Nearby are a cross, a triangular unidentified soldier marker, and small bottle containing Form 1042 which is buried with the casualty. (US Army Photo, January 23, 1951)
At the beginning of the war, the nearest U.S. Army mortuary affairs unit was the 108th Graves Registration Platoon in Yokohama, Japan, which was searching for the remains of missing World War II American airmen.The only other American active duty graves registration unit was at Ft. Bragg, North Carolina.The 108th was reconfigured as the 114th Graves Registration Company and deployed to establish temporary cemeteries at Hungnam, Pyongyang, and Suchon as the fighting continued.Supporting the 2nd Infantry Division was the Graves Registration Section of the 2nd Quartermaster Company, which collected the remains of Allied and American soldiers to be further processed by the 148th Graves Registration Company. When UN forces launched the Inchon Invasion in September 1950, a platoon from the 565th Graves Registration Company accompanied them.Other mortuary affairs units included the 293rd Graves Registration Company, activated in April 1951.It was difficult to recover remains and conduct burials in Korea, due to the rugged geography and harsh climate, and the threat of unexploded ordnance and booby-traps.
How to get there
1. Take bus No. 134 from Busan station and get off at Yuen kongwon stop . Walk 500 meters.
2. Take Subway Line 2 to Seomyeon and get off at Daeyeon Station , Exit 3. Walk straight for 20 to 25 minutes (1.3 km).
Travel time from Busan station: 45 minutes.
12. Busan Cinema Center
Busan Cinema Center ( also called Dureraum , which means "delighted to see movies all together", in Korean) is the official and exclusive venue of the Busan International Film Festival (BIFF), located in Centum City , Busan in South Korea .
The complex cost nearly 150 million USD ( 167.85 billion won ) and opened onSeptember 29, 2011 after 3 years of work . In July 2013, he obtained the Guinness World Record for the longest cantilevered roof . The center was designed by Austrian architectural firm Coop Himmelb(l)au and built by Hanjin Heavy Industries.
The center comprises three buildings (Cine Mountain, Biff Hill, and Double Cone), Biff Theater (an outdoor theater) with the Small Roof, and Dureraum Square with the Big Roof. The Busan Cinema Center, built on a 32,137 m² plot, occupies 54,335 m² of performance, dining, entertainment, and administrative space.
The center has two steel roofs. The Big Roof is 163 m long x 60 m wide with an 85 m cantilever portion and weighs 6,376 (metric) tons. The Small Roof covering the outdoor theater BIFF Theater has a span of 70 m and an area of 66 m x 100 to 120 m and weighs 1,236 (metric) tons.
The Big Roof is the longest cantilever roof certified by Guinness World Records.[2] The ceilings of the Big and Small Roofs are clad with 23,910 and 18,690 LED lights respectively
Getting there
Take Subway Line 1 to Seomyeon , then transfer to Subway Line 2, and get off at Centum City ( Senteom Siti ) stop. Take Exit 12 and then walk about 15 minutes towards Suyeonggang River and Centum Marina Park.
Journey time from Busan station: approximately 1 hour.
13. Taejongdae Park
Taejongdae ( 태종대 , name in Korean) is a nature park in the city of Busan , South Korea . Located at the southeast end of Yeongdo-gu Island, the site features magnificent cliffs. This is a tourist spot in Busan, so there are many visitors. There is also an amusement park , a lighthouse, an observatory and a cruise ship terminal. Taejongdae is designated as the 28th place to see in Busan.
Since Taejongdae is located at the end of an island, it can be reached by various bus lines from downtown Busan.
To get there
1. Take metro line 1, get off at Jungang station , exit no. Then take bus No. 30 or No. 8 and get off at Taejongdae . Walk 5 minutes.
2. You can also take bus No. 101 from Busan Station and get off at Taejongdae stop .
3. If you don't want to walk in the park, the small Danubi train (3,000 won per person, approx. 2.25 USD ) stops at the observatory, the lighthouse and the temple. Take a ticket, and wait for your number to be called before boarding the train.
Travel time from Busan station: between 35 and 40 minutes.
14. Shinsegae Hundred City
Shinsegae department store opened on October 24, 1930 under the Mitsukoshi franchise . After South Korea's independence , it was renamed Donghwa Department Store. In 1963, the store was bought by the Samsung group , and changed its name to Shinsegae ("new world" in Korean). In 1967, it was the first Korean department store to introduce sales. In 1969, South Korea's first credit cards were created. In 1991, the Shinsegae group became independent and officially separated from the Samsung group in 1997.
It is the first Korean retail company to obtain an A3 financial rating from Moody's in 2007. The group currently has 11 department stores in South Korea. The store opened in 2009 in Busan is, according to the Guinness Book of Records , the largest department store in the world with a surface area of ​​294,000 m 2.
The main branch of Shinsegae is the oldest department store in Korea. It was opened in 1930 as the Gyeongseong branch of Mitsukoshi, a Japanese department store franchise; Korea was occupied by the Japanese Empire at the time. The store was acquired in 1945 by the late founder of Samsung group, Lee Byung-chull, and renamed Donghwa Department Store. After the Korean War (1950–1953) began, it was used for several years as a post exchange by the American army. In 1963, the store was given the name Shinsegae. The old building is currently used as a luxury shopping venue.
In 2021, Shinsegae bought the then-named SK Wyverns of the KBO League from SK and renamed then the SSG Landers. They bought them for 135.2 billion won, (100 billion for the team itself, and 35.2 billion for the team's facilities and properties) equivalent to $112.8 million.
Recorded for a time in the Guinness World Records as the largest shopping center in the world, this gigantic complex is a city within a city! The products sold are not within the reach of all budgets, but the place is ideal in case of bad weather: in addition to shops and restaurants, there is a children's playground, an ice rink, a golf course, a art gallery, a bookstore, a cinema on three floors, a food court in the basement, and above all, SpaLand Centum City . A huge spa, not to be missed if you want to experience Korean hot baths, for the almost modest sum of 15,000 won for 4 hours (approx. 11.25 USD), all included of course.
To get there
Take subway line 1 to Seomyeon , then line 2. Get off at Centum City ( Senteom Siti ), exit 12. Walk 5 minutes.
15. Namsan N Seoul Tower
N Seoul Tower ( 엔서울타워) is a telecommunications tower in Seoul , capital of South Korea .
Built in 1975 and opened to the public in 1980 , the tower measures 236.7 m , and 479.7 m from sea level. It is located on top of a hill overlooking the entire city. It can be reached on foot or by cable car.
First called Seoul Tower, it took the name N Seoul Tower at the request of the builder CJ Corporation . At the top a panoramic restaurant, at its feet is the teddy bear museum , which traces the history of Korea in different paintings with teddy bears instead of figurines.
Namsam Tower was built in 1969 at a cost of about 2.5 million US dollars, and eleven years later it was opened to the public in 1980 . Whereas Seoul Tower was completed on December 3, 1971 , which was designed by Jang Jong Ryul Architects without providing the facility's interiors. On August 1975 , the third floor of the observatory and museum rooftop, an open hall and a souvenir shop were established, in addition to providing other facilities.
However, despite the completion of the tower's construction, the observatory was closed to the public until October 15, 1980 . Since then, the tower has been a landmark of the city of Seoul. The height of the tower ranges from 236.7 m (777 ft) from the base to 479.7 m (1,574 ft) above sea level. The name of the tower was changed from Seoul Tower to N Seoul Tower in 2005 , where the name "N" stands for "new" and "Namsan" means "nature". The cost of renovating and redesigning the tower was approximately KRW 15 billion .
When the original owner of N Seoul Tower merged with CJ Corporation, the tower's name was changed to N Seoul Tower (official name CJ Seoul Tower). It is also known as Namsan Tower or Seoul Tower. It is also the first public radio wave tower in Korea that carries transmitting antennas from several channels such as KBS, MBC, SBS TV, FM, PBC, TBS, CBS and BBS FM. The Seoul Tower, which was chosen to rate world travel experts and reader preferences, is among the world's 500 most visited attractions.
Others Attractions
Lighting of the Tower
The N Seoul Tower is illuminated in blue from sunset to 23:00 (22:00 in winter) on days where the air quality in Seoul is 45 or less. During the spring of 2012, the Tower was lit up for 52 days, which is four days more than in 2011.The tower uses the latest LED technology to offer visitors a digital, cultural art experience through 'light art.' The N Seoul Tower puts on many different shows, including the "Reeds of Light" and "Shower of Light."See also How to learn Korean effectively?
An exception to this is Earth Day. On Earth Day, lights were held nationwide to promote awareness of energy conservation. At 8 p.m KST. on that day, lights at N Seoul Tower on Namsan disappear into darkness.
Love Padlocks
In a poll of nearly 2,000 foreign visitors conducted by the Seoul Metropolitan Government in November 2011, 16 percent stated that hanging named padlocks on the Tower fence as a symbol of love was their favorite activity in Seoul.
This attraction is situated on the 2nd floor of the N Plaza, at the Roof Terrace. The "Locks of Love" is a popular location for people to hang locks that symbolize eternal love, and has been depicted in many Korean television shows, dramas, and movies for this reason.
'Love padlocks' is a common couple activity consists of the purchasing of a padlock and key, where initials, messages and symbols can be personally inscribed onto the surface of the lock with markers and pens. Securing the padlocks on the fences filled with locks of previous participants, the key is often thrown away as a symbol of everlasting love.This is similar to the love locks in Paris, France, on the Pont Neuf bridge.
Wishing Pond and Observatory
The N Tower also holds many other attractions including the digital observatory and the Wishing Pond. The Wishing Pond can be found on the second floor of the tower, where people throw coins into the pond while making a wish. The coins are collected and donated to help develop schools in China and Southeast Asia, especially in underdeveloped areas.
The observatory, renovated in 2011, is on the third floor. The observatory not only offers the 360° view of the city, but also exhibits 600 years of Korean history through 36 LCD screens. The fifth floor houses a French restaurant known as N Grill.
Getting there
From Busan Station, take bus 17, 26, 27, 61, 87 1003 or 1004. Get off at Busan Depateu stop . Walk 5 minutes.
Travel time from Busan Station: Approximately 20 minutes.
16. BIFF Square
Busan's modern movie district was originally little more than a pair of cinemas that were built following Korea's liberation from Japanese colonial rule over half a century ago. However, major renovations took place ahead of the first Busan International Film Festival (BIFF), and the newly transformed district was named BIFF Square on August 14, 1996.
Having been remade into a cultural tourist attraction promoting the advancement of Korea's film industry, BIFF Square has contributed to Busan's newfound status as an international cultural tourist city. The 428 meter-long street stretching from the Buyeong Theater in Nampo-dong to the overpass in Chungmu-dong was divided into "Star Street" and "Festival Street," and on the eve of the festival each year the "BIFF Square Ground Opening" is held on the street. During the ceremony, events such as the hand printing of famous movie celebrities and Nunggot Jeomdeung (snow-flower lighting) take place. A district such as BIFF Square, crowded with first-run theaters in a city is rare not only in Asia but Europe as well, and for this reason it holds great potential. In recent years, the square has grown into a more complex area, featuring not only movie theaters but also shops and leisure facilities, attracting growing numbers of young visitors and tourists.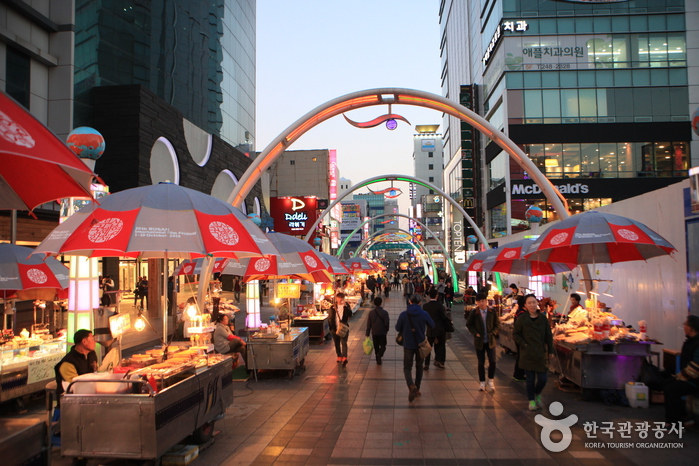 Getting there
From Busan Station, take bus 17, 26, 27, 61, 87 1003 or 1004. Get off at Busan Depateu stop . Walk 5 minutes.
Travel time from Busan Station: Approximately 20 minutes.
17. SEA LIFE Busan Aquarium
Fun and educational, it offers interactive activities, and even a mermaid show. You can touch some marine animals there, and marvel at the large pool where sharks, rays and turtles live.
The entrance price is between 16 and 20 USD.
Getting there
Take the subway line, get off at Seomyeon . Then take line 2 and get off at Haeundae , exit n°5. Walk about 10 minutes.
Travel time from Busan station: 1 hour.
18. Songjeong Beach
Songjeong Beach stretches for 1.2 kilometers with a width ranging from 30 to 60 meters. The white sandy beach is ideal for families with young children because of its shallow waters. The beach is very popular as a photography venue for pre-wedding photoshoots. The area around the beach offers many hoe (sliced raw fish) restaurants.
Jukdo Park is located north of the beach at the entrance to Songjeonghang Port. The white and red lighthouses of the harbor are a popular photo spot, as well as the view of the beach from Songiljeong Pavilion at the peak of Jukdo Park. The path leads through a grove of evergreens. Fishermen often line the breakwaters to the lighthouses.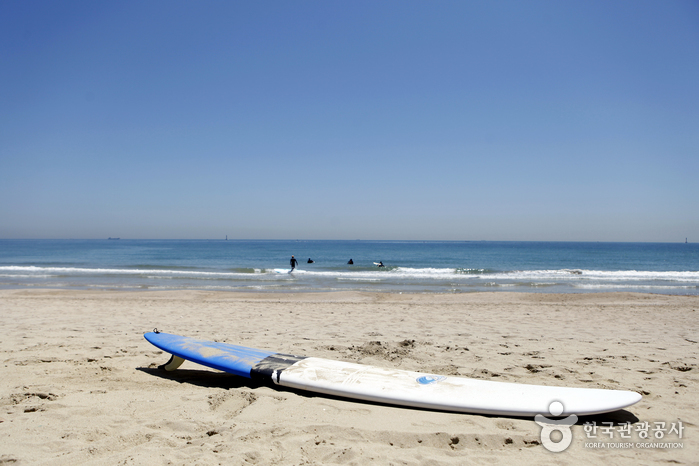 Getting there
Take bus No. 1001 or 1003 from Busan Station and get off at Songjeong Haesu Yongjang . Walk about 15 minutes (900 meters).
Travel time from Busan station: 1h25.
19. Geumjeong Fortress
Geumjeongsanseong (literally Geungjeong Mountain Fortress or Geumjeong Fortress) is the largest mountain fortress in the Republic of Korea today. It is located on Geumjeongsan in the Busan Metropolitan City.
Following the Japanese invasion of 1592 and the Manchu invasion in 1627 and again in 1637, awareness of the necessity of national defence was heightened, especially against attacks from the sea. As a result of this awareness, this fortress was built in the 29th year (1703) of the reign of King Sukjong. The inner and the outer walls were mainly built of natural stones, but weak portions were reinforced with artificially worked square stone blocks. The walls are about 17 kilometers in length and from 1.5 meters to 3 meters in height. The area surrounded by the fortress is about 8.2 square kilometers.
It is clear that fortresses had been already built on this site before 1700. Yi Chi-hong, a naval commander, left a record in 1667 in which he mentions traces of an old fortress on the site. The construction of the fortress began in 1701 at the recommendation of Jo Tae-dong, the Governor of Gyeongsang-do, and was completed in 1702. In 1707 the walls were built around the main structure of the fortress. This fortress fell to disuse because it was too large to maintain. After lying empty for a century, it was repaired in 1807, the seventh year of the reign of King Sunjo. Oh Han-won, the Dongnae Magistrate, took the responsibility for building the west gate in 1807, and the other gates the following year. There is a stele recording the building of the gates.
The fortress was destroyed during the Japanese occupation (1910-1945), but began to be restored in 1972. The East, West and South gates were restored by 1974 and the north gate was rebuilt in 1989. Today, thanks to the restoration efforts, much of the walls and the four gates still stand. Of the existing observation towers, the tower number 1 (제1망루) located on the south-west side was destroyed by the typhoon Rusa on the morning of September 1, 2002. The area around the South Gate is a popular resting place. The West Gate, even though it is the most impressive of the four, is the less frequented one due to its lack of accessibility.
To get there
1. Take subway line 1, get off at Dongnae station , exit no.3. Then take bus No. 77 and get off at Geumgang'won ipgu . Walk 500 meters to reach the cable car.
2. Take subway line 1, get off at Oncheonjang station , exit no. 5 and walk about 25 minutes. to the cable car.
Travel time from Busan station: 50 minutes.
20. Dadaepo Beach
Dadaepo beach is one of the most beautiful in Busan due to its natural environment (provided you look towards the sea, and not towards the bars of buildings on the beach). Surrounded by a pine forest, it offers a magnificent and very large beach of fine sand, as well as a pretty coastal path easily accessible thanks to a footbridge. It is a family beach, which will leave you with a very beautiful memory if you have the chance to attend a magnificent sunset.
Dadaepo is also a fountain and an incredible sound and light show in the evening. This is the highlight of the visit, so don't miss it if you go to Dadaepo!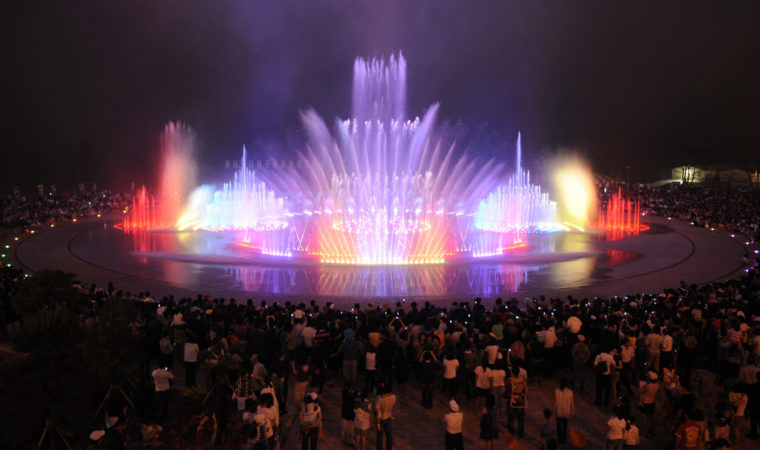 To get there
Take metro line 1, get off at the Dadaepo Beach terminus ( Dadaepo Haesu Yokjang ), exit no. Walk about 10 minutes.
Travel time from Busan station: 40 minutes.
21. Samgwangsa Temple
Founded in 1986, Samgwangsa Temple is the second temple of the Cheontae Order in Korean Buddhism. The temple nestled in the hillside of the Baegyangsan Mountain where the clear view of Busan city comes into sight. Among the many facilities, the temple has the main Daeungbojeon Hall, where the statues of Buddhas are placed, and a lecture meeting hall that can fit over 100,000 people at the same time. Samgwangsa Temple is known to blend contemporary and traditional aspects of Buddhism harmoniously, and as a result, the temple is noted to have played an active role in modernizing Korean Buddhism as well as promoting Buddhism internationally and integrating the religion with popular culture. The temple holds various cultural events, opening its doors to the public through club activities and performances.
This temple, set in a narrow valley, is one of the most visited places of Buddhist worship as the festivities for Buddha's birthday approach. Indeed, it is then adorned with thousands of colored lanterns, all illuminated in the evening. Even if you have lost your inner child, you will not be able to resist the beauty of this event. It's just magic.
Getting there
Take bus No. 81 from Busan Station, get off at Samgwangsa Ipgu , then walk about 10 minutes.
Travel time from Busan station: 45 minutes.
22. Busan Museum of Contemporary Art (MOCA Busan)
Busan Museum of Art opened on March 20, 1998, with the aim of providing a space to showcase the fantastic creativity of modern artwork and increase the artistic minds of the general public. The museum displays exhibitions in many genres, as well as running various educational programs. The museum consists of five floors, offering exhibition halls, archives, educational rooms, and an outdoor sculpture park. One of the museum's main events is a biennale art festival, taking place in even numbered years. Other events include planned exhibitions, invited international artists, and more.
Museum of Contemporary Art BUSAN(MOCA BUSAN) is a public art museum set up by Busan Metropolitan City. Located on Eulsukdo Island in the lower Nakdong River estuary, its building whose total floor area reaches 15,312m2 was completed in 2017 on a site of 29,900m2. Created in this three-story building are exhibit spaces (5,780m2) on the basement level and on its first and second floors. Added also to this building are a storage area, a seminar room, an experience room, a children's library, a reference room, a curatorial office, and other offices.
The museum aims to be an experimental space: the contemporary works presented use various media, such as LED light, sound and plants. The idea is to immerse the visitor in a place where art and nature coexist.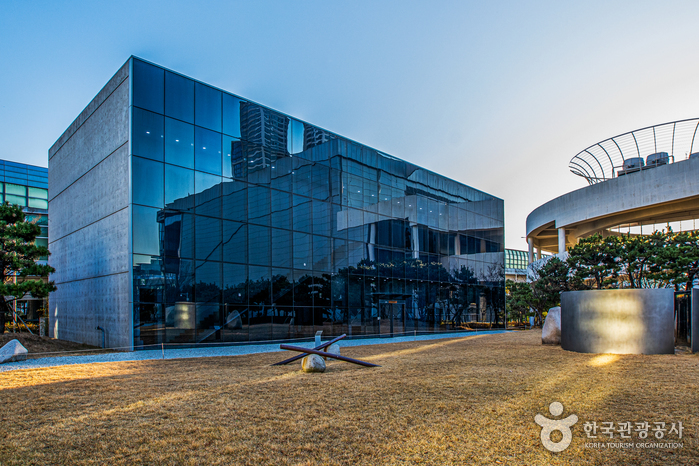 Getting there
Take bus No. 1001 from Busan Station. Get off at Sahagucheong ( Dangni yeok ) stop and take bus No. 58-2, 58-3 or 520, then get off at Busan Hyeondae Misulgwan .
Travel time from Busan station: 45 minutes.
23. Huinnyeoul Culture Village
Huinnyeoul Culture Village(흰여울문화마을) is a town of Yeongseon-dong, Yeongdo District, Busan, South Korea. Located on a high cliff, people can see the sea of Busan at a glance. It is called Korea's Santorini. It is also the background of a movie The Attorney.
The village has become one of Busan's most prominent tourist attractions. tourism has increased dramatically – the village welcomed over 1 million visitors in 2015. Village residents greeted this influx of traffic with mixed attitudes. While some residents have participated in the renovation and tourism efforts, others have chosen to move despite the difficulties in selling their homes.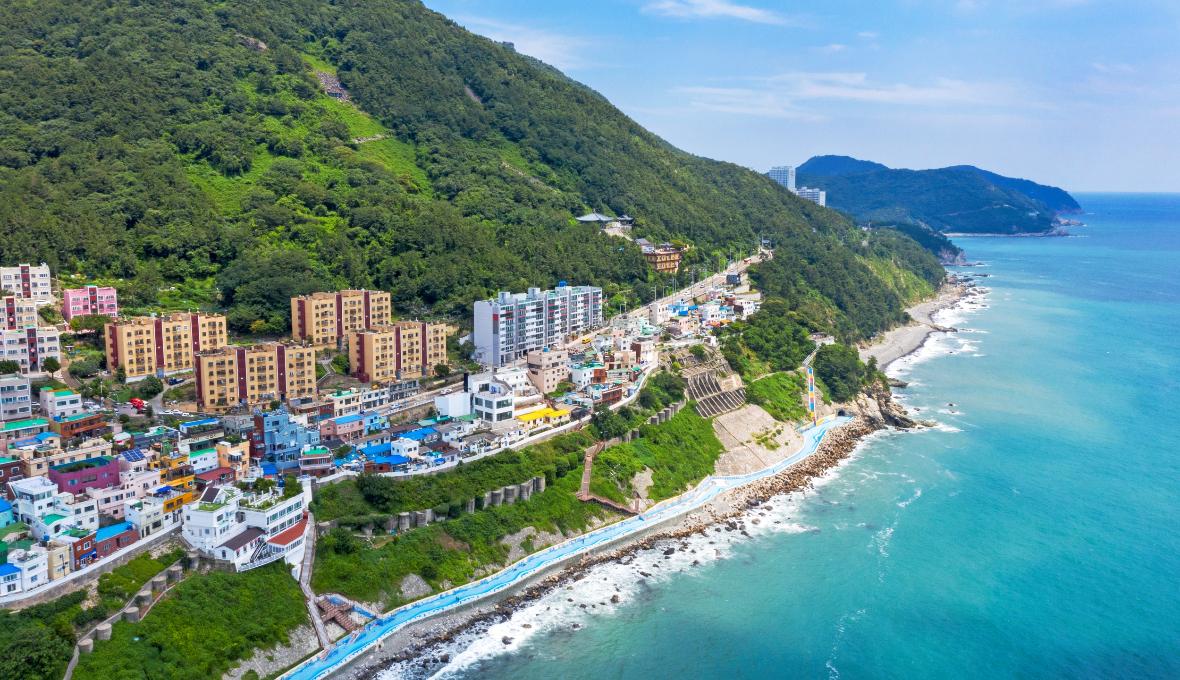 To get there
1. Take bus no. 82 or 85 from Busan Station (exit no. 10), and get off at Isongdo Gokgakji stop . Walk 5 minutes.
2. Or take bus No. 508 and get off at Yeongseon Apateu stop .
Travel time from Busan station: approximately 35 minutes
24. Songdo Ropeway
Songdo Sea Cable car was reborn as the brand of Busan Air Cruz in June 2017 through a restoration project to revive the old reputation of Songdo Beach, Korea's first public beach.
From Songlim Park east of Songdo Beach to Amnam Park west of Songdo Beach, you can enjoy the thrill of being in the middle of the sea, as well as Songdo Beach, Busan Yeongdo and Namhang Bridge, Songdo Coastal Dulle Road, and the surfacing cliffs.
In addition, it offers the best of its kind as a tourist cable car through various experience facilities and theme facilities, such as "Dino Adventure," the first cable car musician in Korea, "Songdo Spellmeyer World," and "VRSky Wing," Asia's first public passenger.
Getting there
Take bus No. 26 from Busan Station and get off at Annam Dongjumin Senteo stop . Walk along Songdo Haebyeon-ro Street and Songnim Park to the cable car (about 10 minutes walk).
Travel time from Busan station: 35 minutes.
25. The Bay 101
The Bay 101 is located in a culture and art complex in Haeundae area, attracting many visitors to the area thanks to the beautiful nightscape that it offers.
it is a fashionable place is located at the foot of the luxurious skyscrapers of Marine City. there are many cafes and restaurants that attract Busan's trendy youth.
Getting there
Take the line at Busan Station to Seomyeon Station . From there, take line 2, and get off at Dongbaek . It takes around 15 minutes to walk.
Travel time from Busan station: 1h10.