Are you planning to visit Busan and wondering what to do in South Korea's second city? Or perhaps you're in Seoul and contemplating whether you should make a trip to Busan. Whether you're already convinced or still undecided, here are twenty-five suggestions for places to visit in this charming city.
From stunning sandy beaches to bustling markets, temples, parks, and cultural spaces, Busan offers something for everyone. It's important to note that my ranking does not reflect any particular order of preference. The choice of attractions is entirely up to you.
Wishing you a fantastic visit to Busan!
Busan, Korea's second city: dynamic and endearing
Busan, also known as Busan 3 (부산), is a significant port city in South Korea with a population of over 3.7 million residents. Its name translates to "mountain-cauldron" in Korean. Historically referred to as Fousan, Busan is the second most populous city in South Korea, following Seoul.
Situated about 190 km away from the Japanese islands of Kyūshū and Honshū, Busan serves as a crucial economic, cultural, and educational hub in southeastern Korea. It boasts the country's largest port and the ninth largest in the world. The surrounding region, known as the "Southeast Economic Zone," which includes Ulsan and South Gyeongsang, is the largest industrial zone in South Korea.
Busan is divided into fifteen major administrative districts and a single county. The broader metropolitan area, encompassing the nearby cities of Gimhae and Yangsan, has a population of approximately 4.6 million inhabitants. The city's most densely populated areas are nestled in narrow valleys between the Nakdong and Suyeong rivers, with mountains separating various districts. The Nakdong River is the longest river in Korea, and Busan's Haeundae Beach is the largest beach in the country.
The city of Busan serves as a center for international conventions and hosted the Asia-Pacific Economic Cooperation (APEC) in 2005. It is also a prominent host for sports tournaments in Korea, having accommodated the 2002 Asian Games and the 2002 FIFA World Cup. Additionally, Busan is home to the world's largest department store, Shinsegae Centum City.
With a population of approximately 3.5 million residents, Busan is the second largest city in South Korea, following Seoul. Its urban area had a population of 8,050,434 inhabitants in 2018.
Jagalchi Market (자갈치시장), located near the bustling port, is a popular area characterized by narrow streets and numerous stalls. It is renowned for its fish market.
A notable portion of Busan's population has Russian origins, with many individuals having arrived during the Soviet-Japanese War (1945) and World War II, following the colonization period (1905-1945) by Imperial Japan. There is a district known as "Foreign Shops Street" where various Russian businesses can be found. Trade in this area primarily occurs in Korean and Russian languages. Initially called "Foreigners Street," the area attracted many businesses after the Partition of Korea in 1945, particularly in the 1940s and 1950s, to cater to the needs of the US troops stationed in the region.
The Pusan-Jinhae Free Zone, one of only two such zones in South Korea (the other being located in the port of Incheon), was established to solidify Busan's status as an international business center. It attracts a diverse range of ships and aims to become a regional financial hub. Notably, the American Association of Port Authorities (AAPA) recognizes Busan as the third most important seaport globally in terms of both its traffic volume and efficiency.
Busan is also a significant scientific center in Korea, housing numerous research institutes focused on marine biology and technology. Institutions such as the Korea Hydrography and Oceanography Agency, the Korea Institute of Ocean Science and Technology, and the Korea Institute of Maritime Development are all based in Busan.
Human presence in Busan dates back to the end of the Paleolithic period. Neolithic remains indicate the development of a culture centered around Busan, particularly in areas near the sea and rivers. The Bronze Age arrived relatively late, but there are numerous tombs from the Iron Age in Busan. The Bokcheon district's tombs, in particular, highlight the prosperity of the Gaya Confederation.
During the Joseon period (1392-1910), Busan, known as Dongnae at the time, gained increasing importance as a strategic military location and as a commercial and diplomatic point of contact with Japan.
During the Japanese colonization of Korea in the first half of the 20th century, Busan, along with Incheon and Ulsan, was transformed into a major port by the colonizers.
Busan played a crucial role during the Korean War (1950-1953). The defense of Busan prevented a North Korean army landing, making it one of the few areas that remained under South Korean control throughout the conflict. The "Busan Perimeter" and its port served as a crucial landing point for military reinforcements from the United Nations, primarily the United States, allowing them to launch a counteroffensive to retake the entire peninsula.
Culture
The Busan Museum showcases the traditional culture of the Busan region through a collection of artifacts and artworks. Visitors can explore the rich heritage and history of the area through the displayed items.
The Busan Municipal Art Museum, established in 1998, focuses on modern and contemporary art, with a particular emphasis on Korean art. The museum provides a platform to appreciate and engage with various artistic expressions of the region. Additionally, there is a dedicated section within the museum that highlights the works of Lee Ufan, a prominent Korean artist. Visitors can enjoy exploring the diverse range of artworks and gain insights into the contemporary art scene in Busan.
In addition to the Busan Museum and the Busan Municipal Art Museum, Busan is home to several other notable museums:
Museum of Contemporary Art (MOCA): Opened in 2018 on Eulsuk Island, located in the estuary of the Nakdong River, MOCA is dedicated to contemporary art. It features a distinctive green wall created by Patrick Blanc, adding to its unique architectural and artistic appeal.
Bokcheon Museum: Established in 1996, the Bokcheon Museum focuses on archaeology and exhibits relics from the Gaya period. The artifacts displayed are discovered in tombs within the surrounding Bokcheon district.
Busan Modern History Museum: Founded in 2003, this museum is dedicated to showcasing the modern history of Busan. It is housed in a building constructed in 1929 during the Japanese occupation, offering insights into that era.
Provisional Capital Memorial Hall: Opened in 1984, this museum is located in a building constructed in 1926, which was previously the residence of Busan Governor and later President Syngman Rhee. It provides exhibits on the Korean War period in Busan and highlights the role of Syngman Rhee.
National Maritime Museum: Established in 2012, the National Maritime Museum showcases the maritime history of South Korea. Visitors can explore various exhibits that depict the nation's rich maritime heritage.
These museums offer visitors a diverse range of cultural and historical experiences in Busan, allowing them to delve into different aspects of the city's past and present.
1. Haeundae Beach
Haeundae Beach (해운대해수욕장) is a renowned beach located in Busan, South Korea. It is often regarded as one of the most famous and beautiful beaches in the country. Stretching 1.5 km long, Haeundae Beach is situated in the eastern part of Busan within Haeundae District. It can be easily accessed from Haeundae Station on Line 2, and the journey takes approximately 40 minutes by subway from Busan Station in the historic area of the city, or less than an hour from Gimhae International Airport.
The beach is open year-round, and various festivals and events are held there throughout the year. One notable event is the "Polar Bear Club" where participants brave the near-freezing water for a chilly bath. This event has been held annually since 1988 in January. Additionally, Haeundae Beach hosts a variety of e-sports events aimed at promoting Blizzard games, including StarCraft.
Haeundae Beach has a close association with the film industry. It serves as one of the venues for the renowned Busan International Film Festival and has been prominently featured in the 2009 disaster film "Tidal Wave." The beach's picturesque scenery and vibrant atmosphere make it a popular destination for both locals and tourists seeking relaxation, entertainment, and cultural experiences in Busan.
Haeundae Beach is widely regarded as one of the best beaches in South Korea, along with Gwangalli Beach, Gyeongpo Beach in Gangneung, and Hyeopjae Beach in Jeju City. Its combination of length, natural beauty, and convenient location near downtown Busan make it a popular destination. The beach is known for hosting numerous festivals throughout the year, adding to its vibrant atmosphere.
Haeundae Beach has a strong connection to the world of cinema, as it serves as one of the venues for the prestigious Busan International Film Festival. Additionally, it was prominently featured in the 2009 disaster film "Tidal Wave," further enhancing its reputation.
While the beach is a favorite among Korean tourists, it has also seen an increase in foreign tourists from countries such as China, Japan, and Western countries. The popularity of Haeundae Beach leads to significant crowds, especially during the summer months of July and August.
Haeundae offers more than just its sandy shores. Visitors can explore attractions like Dongbaekseom, located at the western end of the beach, which is a popular fishing area. To the east of the beach, Oryukdo, a group of small islets, is considered a symbolic landmark of Busan. The neighborhood surrounding Haeundae is home to a significant expat population, contributing to its diverse and cosmopolitan atmosphere.
Haeundae Beach is indeed a hub for beach-related cultural events in Busan. It holds significant appeal for locals and tourists alike, offering a variety of unique experiences:
New Year Sunrise: Haeundae, along with Geumjeongsan and Dalmajigogae, is considered one of the most popular spots in Busan to witness the New Year sunrise. This tradition holds great cultural significance in Korea, and Haeundae Beach provides a picturesque setting for welcoming the first sunrise of the year.
Polar Bear Club: The Polar Bear Club is a well-known beach event held annually since 1988 in January, right in front of the Chosun Beach Hotel. Participants gather to brave the frigid waters, with temperatures reaching nearly 0°C. It's an adventurous and invigorating experience that has gained popularity over the years.
These events highlight the lively and festive atmosphere at Haeundae Beach, showcasing the beach's cultural significance beyond its natural beauty. Visitors have the opportunity to engage in local traditions, celebrate special occasions, and create memorable experiences in this vibrant coastal area.
Haeundae Beach is situated in the eastern part of Busan, specifically in the Haeundae-gu area. To reach Haeundae Beach from Busan Old Town Station, you can take a 40-minute subway ride to Haeundae Station. If you are traveling from Gimhae International Airport, it takes approximately an hour to reach Haeundae Beach by subway. The convenient transportation options make it easily accessible for visitors coming from different parts of Busan and even from the airport.
2. Jagalchi Fish Market
The Jagalchi Fish Market is a renowned fish market located in the neighborhoods of Nampo-dong in Jung-gu and Chungmu-dong in Seo-gu, Busan, South Korea. Situated on the edge of Nampo Port, it is considered the largest fish market in the country.
The name "Jagalchi" is said to have originated from the Korean word for gravel, "jagal," as the market used to be surrounded by gravel. It is recognized as one of the ten landmarks of Busan, attracting a significant number of tourists who visit the market for shopping and exploration.
One notable aspect of the market is the presence of the "Busan wives" or "Jagalchi ajumma." These women are known for their determination to provide financial support for their families and fund their children's education. The term "ajumma" refers to married women or middle-aged ladies. After the Korean War, these women would sell goods on the streets to make a living. They have become an emblematic symbol of the market and its resilience.
The market hosts the Busan Jagalchi Festival during the autumn season. The festival promotes the spirit of "Oiso! Boiso! Saiso!" which translates to "Come! See! Buy!" Visitors can engage in various activities during the festival, including singing, dancing, fish-catching, and enjoying freshly caught seafood.
The Jagalchi Fish Market is not only a commercial hub for seafood but also a cultural and vibrant attraction that showcases the livelihoods, traditions, and entrepreneurial spirit of the local community in Busan.
The Jagalchi Fish Market is a sprawling market that stretches over 3 kilometers. Near the Yeongdo Grand Bridge, visitors can find a variety of goods such as dehydrated anchovies, sea laver, and various shellfish. Across from the city hall, there are shops that specialize in selling herbal medicine and animal-based remedies.
The market is divided into two main sections: the ground floor is dedicated to the fish and seafood market, where an array of fresh catches are on display, and the first floor is occupied by restaurants where visitors can enjoy delicious seafood dishes. The atmosphere at Jagalchi is lively and vibrant, making it the quintessential seafood market in South Korea.
The market prides itself on offering exceptionally fresh products, as most of the seafood is caught on the same morning it is sold. Being located in the port city of Busan, Jagalchi is an ideal place to explore and experience the diverse range of marine products available.
Jagalchi is situated in the Nampo-dong area, which is also home to other notable attractions such as BIFF Square (Busan International Film Festival Square), Gukje Market (International Market), and Yongdusan Park. Given its central location and cultural significance, visiting Jagalchi is considered essential for anyone exploring Busan.
3. Haedong Yonggung Temple
Haedong Yonggung Temple, also known as Haedong Yonggungsa, is a significant Buddhist temple located in Gijang-gun, Busan, South Korea. It was originally established in 1376 during the Goryeo Dynasty by the renowned teacher Naong, and it was initially called Bomun Temple.
Throughout history, the temple faced destruction during the Japanese invasions of Korea in the late 16th century (1592-1598). However, it was reconstructed in the 1930s and later renamed Haedong Yonggung Temple in 1974. What makes this temple unique is that it is one of the few in Korea situated by the seaside, creating a picturesque setting.
Due to its beautiful coastal location and its proximity to Haeundae Beach and the eastern side of Busan, Haedong Yonggung Temple has become a popular destination for sightseers. One particularly noteworthy time to visit is during the celebrations of Buddha's Birthday, when the temple complex is adorned with vibrant paper lanterns, creating a visually stunning atmosphere.
The temple complex itself is extensive and offers visitors the opportunity to explore various halls, pagodas, and statues, while enjoying the tranquil ambiance and scenic views of the ocean. The combination of natural beauty, cultural significance, and festive celebrations makes Haedong Yonggung Temple a must-visit attraction for travelers in Busan.
Getting there

To reach Haedong Yonggung Temple from Busan Station, you can follow these directions:
Start by taking Subway Line 2 at Seomyeon Station (located near Busan Station).
Ride the subway heading towards Haeundae Station.
Get off at Haeundae Station and use Exit 7.
Once you exit the station, find the nearest bus stop.
Take either bus No. 100 or No. 181 from the Haeundae Station bus stop.
Ride the bus until you reach the Yonggungsa Gungnip Susang'wa Hagwon bus stop.
Alight at the Yonggungsa Gungnip Susang'wa Hagwon stop.
From there, you can continue on foot and walk approximately 1 kilometer to reach Haedong Yonggung Temple.
Please note that the journey time from Busan Station to Haedong Yonggung Temple is estimated to be around 1 hour and 35 minutes. This time may vary depending on traffic conditions and other factors.
4. Gamcheon Culture Village
Gamcheon Culture Village, located in Gamcheon-dong District, South Korea, is a town known for its unique and picturesque streetscape. The village is characterized by its steep streets, winding lanes, and brightly colored houses, which have been restored and upgraded to attract tourism.
In recent years, the Saha district, where Gamcheon Culture Village is located, received funds from various government offices for urban regeneration, aiming to transform the village into a cultural center. As part of the revitalization efforts, the village's walls were painted with vibrant colors, and artworks were installed throughout the area. These initiatives contributed to the village earning its new name and becoming renowned as the most colorful and artistic place in Busan.
One notable achievement of the renovation efforts is the Empty House Residence Preservation Project, which played a crucial role in transforming the village. Through these endeavors, Gamcheon Culture Village has emerged as a popular tourist destination, attracting visitors who appreciate its unique charm and artistic ambiance.
Gamcheon Village has a rich history that dates back to the 1920s and 30s when it was established as a relocation site for the poor Korean population by the Busan city administration. The village was strategically located away from the port but close enough to provide labor. In 1955, around 800 families moved to the village, and it became home to an ascetic religious community known as Taegeukdo, a branch of Jeungsanism.
Over the years, the village went through various stages of development. It expanded from one district in the 1950s to nine districts, and houses transitioned from wooden structures to two-level houses as families grew larger. Despite these changes, the village faced persistent poverty and poor living conditions.
In 2009, the Ministry of Culture, Sports, and Tourism initiated a public art-themed renovation project to transform the village into a cultural hub. This project involved the participation of art students, professional artists, and residents who worked together to maintain, repair, and decorate the village with art. The successful "Empty House Residency Preservation Project" played a significant role in revitalizing the village. Infrastructure improvements, fresh paint, home renovations, retail spaces, museums, and dozens of art installations were added, making Gamcheon Village Busan's most colorful and artistic spot.
The transformation of Gamcheon Village into a cultural destination has made it one of the most popular tourist attractions in Busan. Since the renovation project in 2009, tourism in the village has significantly increased, with approximately 1.4 million visitors recorded in 2015. The influx of visitors has been met with mixed attitudes from the village residents. While some residents actively participate in the renovation and embrace tourism, others have chosen to move away, facing difficulties in selling their homes. As of 2015, an estimated 300 houses in the village remained empty. Efforts are being made to repurpose these abandoned houses into art galleries, museums, and shops as part of the development of the village.
Gamcheon Village, located on the outskirts of Busan, is a charming and colorful village that has historically served as a refuge for the poorest population. It wasn't until the 1990s that the village underwent a significant renovation project. Artists painted the walls of the houses, and art installations were installed throughout the village. These efforts have transformed Gamcheon into a picturesque and vibrant destination.
When visiting Gamcheon, it is recommended to stop by the tourist information center and pick up a paid map of the village. This map will guide you through the steep alleys and ensure you don't miss any of the notable spots. Additionally, wearing comfortable walking shoes is advisable as you will be exploring the village on foot. The entire tour of the village takes approximately an hour.
During your visit, you will be treated to breathtaking views of the coastline and have the opportunity to appreciate the artistic and picturesque atmosphere of the village. Gamcheon has become a popular destination for tourists who are drawn to its unique charm and creative ambiance.
Getting there
From Busan Station, take bus No. 87 and get off at Kkachi Saegil Ipgu . Walk about 10 minutes.
Travel time from Busan station: 30 minutes.
5. Seomyeon District
Seomyeon District:
Gamcheon Village is located in the center of Busan, making it easily accessible for tourists and visitors who want to experience local life and explore the city. While the village itself offers a glimpse into the daily lives of residents, there are other attractions in Busan that are worth exploring as well, such as the local markets and trying the delicious Korean street food.
Seomyeon, a district in central Busan, is a popular area for tourists to stay due to its convenient location. It serves as a transportation hub with metro lines 1 and 2 intersecting there, making it easy to travel to other parts of the city. Seomyeon is also known for its vibrant commercial scene, offering a wide range of restaurants and shops to explore. During the day, the district is bustling with activity, but it truly comes alive in the evening when the Seomyeon Food Alley becomes a hub for street food lovers. Indulging in the excellent street food offerings from the stalls in this area is a must-do experience.
Visiting Seomyeon and trying the local street food will allow you to immerse yourself in the vibrant culinary culture of Busan and enjoy the authentic flavors of Korean cuisine.
Getting there
Take subway line 1, and get off at Seomyeon station .
Travel time from Busan station: 10 minutes.
6. Beomeosa Temple
Beomeosa Temple, also known as the "Nirvana Fish Temple," is a prominent Buddhist temple located in Cheongnyong-dong, Geumjeong-gu, Busan, South Korea. Situated on the slopes of Geumjeongsan Mountain, it is recognized as one of the most renowned urban temples in the country.
The temple has a rich history dating back to its establishment in the 7th century during the reign of Silla Dynasty. It was founded by the monk Ui Sang, who was inspired by the wish to create a temple where people could attain enlightenment and reach nirvana, symbolized by the fish (beom in Korean) swimming upstream against the current. Over the centuries, Beomeosa Temple has undergone multiple reconstructions and renovations, making it a blend of ancient and modern architectural styles.
The temple complex is known for its scenic beauty, nestled amidst the natural surroundings of Geumjeongsan Mountain. It features several structures, including the main hall (Daeungjeon), which enshrines a large Buddha statue, as well as various pagodas, gates, and hermitages. The temple is also home to a rich collection of cultural artifacts, including Buddhist scriptures, paintings, and statues.
Beomeosa Temple holds significant cultural and religious importance in South Korea. It attracts both locals and tourists seeking spiritual solace, cultural exploration, and scenic hiking opportunities in the nearby mountain trails. Visitors can experience the serene atmosphere of the temple, participate in Buddhist rituals and ceremonies, and enjoy the tranquil beauty of its surroundings.
As established by King Munmu's decree, Beomeosa Temple was built on 360 gyeol of land and had 360 bedrooms. However, it was nearly burned to the ground during the Japanese invasion (1592-1597). Later, in 1613, monks such as Myojeon and Haemin renovated some of its Dharma rooms and the dormitory. The Main Buddha Hall and the One Pillar Gate were also constructed during that period.
Beomeosa Temple is regarded as one of the three major temples in southeastern Korea, along with Haeinsa Temple and Tongdosa Temple. Its strong Seon Buddhist spirit has earned it the title of Seon Great Headquarters of Buddhism Temple. In 1900, Seon Master Gyeongheo, a renowned monk of modern times, established a Seon center in Beomeosa. Inspired by Gyeongheo, Seongwol, who was then the abbot of Beomeosa, propagated the Seon tradition by establishing Seon centers and Seon assemblies in the six hermitages of Beomeosa over a span of 10 years. The hermitages are as follows: Geumgangam in 1899, Anyangam in 1900, Gyemyeongam in 1902, Wonhyoam in 1906, Ansimnyō in 1909, and Daesongam in 1910.
Eminent monks who have resided at the temple include Grandmasters Uisang, Pyohun, Nangbaek, Myeonghak, Gyeongheo, Yongseong, Manhae, and Dongsan. Even today, Beomeosa Temple continues to promote serious Buddhist practice. In 2012, the temple was designated as Geumjeong Chongnim, one of the eight comprehensive monastic training complexes for the Jogye Order of Korean Buddhism, and its first spiritual patriarch is Master Jiyu.
Getting there
Take metro line 1, get off at Beomeosa station , exit n°5 or 7. Then walk 5 minutes to bus n°90 terminal, and get off at Beomeosa Maepyoso stop .
Journey time from Busan station: approximately 1 hour 15 minutes.
7. Igidae Park
The Igidae Park area features a picturesque trail that runs along the coast, starting near Oryukdo. The trail spans approximately 5 kilometers and includes both uphill and downhill sections, but the breathtaking scenery makes it well worth the effort. For those seeking a longer hike, the trail continues for several hundred kilometers all the way to Gangwon Province.
The park offers a pleasant environment with suspension bridges, narrow paths, stunning vistas, and fellow hikers who are friendly and welcoming. It's important to wear good shoes to prevent discomfort from uneven terrain and stones along the way. Be prepared for a roughly 3-hour hike.
Please be aware that accessing the site via public transportation can be challenging.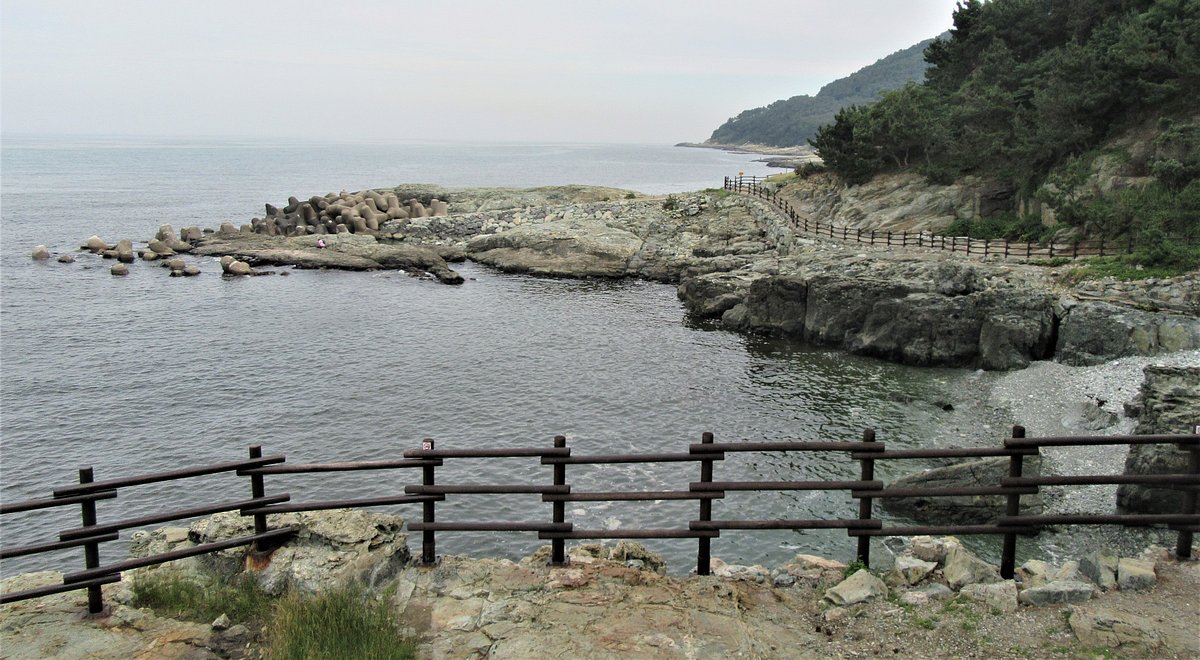 8. Gwangalli Beach
Gwangalli Beach (Korean: 광안리 해수욕장) is a popular beach located in Suyeong-gu, Busan, South Korea. Situated to the west of Haeundae Beach, it is known for its unique feature of being nestled inside a cave that is traversed by the iconic Gwangan Bridge. The beach spans 82,000 square meters and stretches for 1.4 kilometers in length, with a width ranging from 25 to 110 meters. Its crescent-shaped curve boasts fine sand, making it a picturesque destination.
Adjacent to the beach, visitors can find alleys filled with an array of restaurants, coffee shops, and nightclubs, providing a vibrant and lively atmosphere. Due to its popularity and significance as a tourist attraction, local authorities are actively working towards improving the water quality at Gwangalli Beach.
Furthermore, the beach is located in close proximity to the Busan Yachting Center, which was utilized for the sailing competitions during the 1988 Seoul Olympics. This adds to the historical and sports-related significance of the area.
How to get there
1. Take Subway Line 2 at Seomyeon and get off at Gwangan , Exit 5. Then walk 15 to 20 minutes for 1 km.
2. Take bus No. 41 from Busan Station and get off at Seoho Byeonwon stop . Then walk 5 minutes.
Travel time from Busan station: between 45 and 50 minutes.
9. Busan Modern History Museum
The Busan Modern History Museum (Korean: 부산근대역사관; Hanja: 釜山近代歷史館) is a museum located in Busan, South Korea.
The building that houses the museum was originally constructed during the Japanese occupation of Korea for the Oriental Development Company, an organization that supported the Japanese colonization of Korea. After Korea's liberation in 1945, the building was repurposed and used as the United States Information Service. It served as the site of the Busan American Cultural Service building arson, which took place during student protests in 1982.
The museum itself focuses on the modern history of Busan, showcasing exhibitions and artifacts related to the city's development, cultural changes, and significant events. It provides visitors with insights into the historical and cultural context of Busan, offering a valuable educational experience.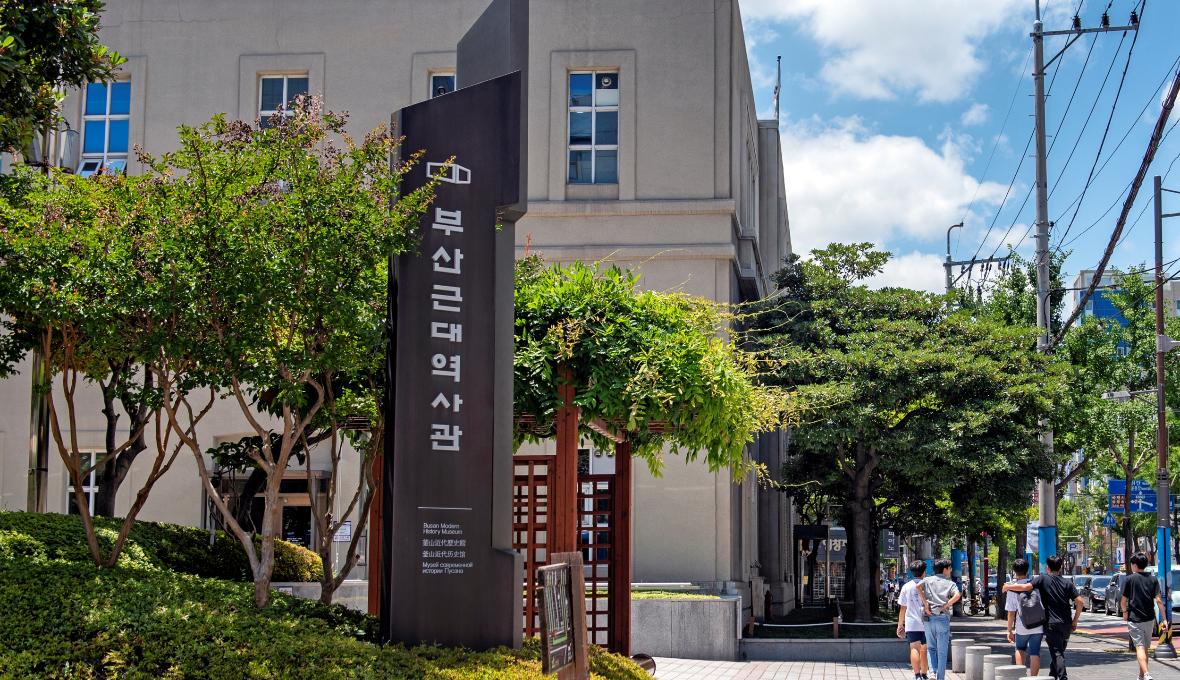 For those interested in delving into the history of Busan, the Busan Modern History Museum is a must-visit. Housed in a building from the Japanese colonial era, this free museum provides a wealth of informative and intriguing insights into the city and its port activity. Before exploring the collection rooms, visitors can watch a filmed documentary that sets the historical context.
Although the museum is small in size, it offers a concise yet comprehensive overview of Busan's modern history. Within its walls, visitors will encounter numerous relics and artifacts that showcase key aspects of the city's past. The entire visit can be completed in less than an hour, making it a convenient stop for those exploring Yongdusan Park and Gukje Market in the vicinity.
Overall, this cultural excursion offers a valuable opportunity to immerse oneself in the history of Busan and gain a deeper understanding of its development and significance as a port city.
Getting there
Take bus no. 81 from Busan station, get off at Gukje Shijang , and walk about 3 minutes, retracing your steps for less than 200 meters.
Travel time from Busan station: 15 minutes.
10. Gukje Market
Gukje Market or Nampodong International Market is a market in Sinchang-dong, Jung District, Busan, South Korea.It opens from 9:30am to 7:30pm.
At the bustling Gukje Market in Busan, South Korea, visitors can immerse themselves in a vibrant and lively shopping experience. With its multitude of stalls, the market offers a vast array of products, including clothes, crockery, and books. It is a treasure trove of new and second-hand items, creating a lively fair-like atmosphere.
As you navigate through the market, you will encounter countless surprises at every turn. The sheer variety of goods on offer, coupled with the bustling energy of the market, creates a sense of excitement and discovery. Whether you're in search of unique fashion finds, vintage collectibles, or interesting books, Gukje Market has something to cater to every taste and interest.
Exploring the market is an adventure in itself, as you wander through its maze-like alleys, interacting with vendors and fellow shoppers. The vibrant atmosphere and the constant hustle and bustle make Gukje Market a truly immersive and memorable experience. Prepare to be delighted and amazed as you uncover hidden gems and unexpected treasures in this bustling market.
Getting there
Take bus No. 81 from Busan Station, get off at Gukje Shijang , and walk about 5 minutes.
Duration from Busan station: 20 minutes.
11. United Nations Memorial Cemetery
The United Nations Memorial Cemetery in Korea (UNMCK; Korean: 재한유엔기념공원; RR: Jaehahn yuen ginyeomgongwon) is a significant memorial site located in Tanggok, Nam District, Busan, Republic of Korea. It serves as a burial ground for the casualties of the Korean War under the United Nations Command (UNC). With 2,300 graves, it stands as the sole United Nations cemetery worldwide.
Spread across an expansive area of 14 hectares (35 acres), the cemetery is thoughtfully organized into 22 designated sites, each corresponding to the nationalities of the interred servicemembers. This arrangement pays homage to the diverse backgrounds and contributions of those who fought and sacrificed their lives during the Korean War.
The United Nations Memorial Cemetery holds great historical and cultural significance, symbolizing international cooperation and the commitment to peace. Visitors to the site can reflect on the sacrifices made by soldiers from various nations who came together under the United Nations banner to support South Korea during the conflict.
The serene and solemn atmosphere of the cemetery provides a respectful setting for remembrance and contemplation. It stands as a testament to the lasting memory and gratitude for the individuals who gave their lives in the pursuit of peace on the Korean Peninsula.
Temporary battlefield cemeteries and remains recovery
The Korean War commenced with an attack by the North Korean People's Army on South Korea in June 1950. As the conflict unfolded, temporary military cemeteries were established by United Nations forces near towns such as Taejon, Kwan-ui (Kwan-ni), Kum-chon, and Sindong to accommodate the casualties of battles. However, as the North Korean forces advanced towards Busan, these cemeteries had to be abandoned.
During the Battle of Pusan Perimeter, new temporary cemeteries were established in Masan, Miryang, Taegu, and Busan on July 11, 1950. As the fighting extended into North Korea, additional temporary cemeteries were set up in or near towns like Kaesong, Sukehon, Wonsan, Pupchong (Pukchong County), Yudarn-ni, and Koto-ri. Within the first two months of the conflict, around eleven division-level cemeteries were established, and later, five United Nations military cemeteries were created in North Korea.
Initially, the closest U.S. Army mortuary affairs unit, the 108th Graves Registration Platoon in Yokohama, Japan, was tasked with locating the remains of missing American airmen from World War II. The only other active duty graves registration unit was based in Fort Bragg, North Carolina. The 108th was reorganized into the 114th Graves Registration Company and deployed to establish temporary cemeteries in Hungnam, Pyongyang, and Suchon as the war continued. Supporting the 2nd Infantry Division, the Graves Registration Section of the 2nd Quartermaster Company collected the remains of Allied and American soldiers for further processing by the 148th Graves Registration Company. During the Inchon Invasion in September 1950, a platoon from the 565th Graves Registration Company accompanied the UN forces. The 293rd Graves Registration Company, activated in April 1951, was another unit involved in mortuary affairs.
Recovering remains and conducting burials in Korea proved challenging due to the difficult terrain, harsh climate, and the presence of unexploded ordnance and booby-traps. Despite these obstacles, efforts were made to honor and properly handle the fallen soldiers throughout the course of the war.
How to get there
1. Take bus No. 134 from Busan station and get off at Yuen kongwon stop . Walk 500 meters.
2. Take Subway Line 2 to Seomyeon and get off at Daeyeon Station , Exit 3. Walk straight for 20 to 25 minutes (1.3 km).
Travel time from Busan station: 45 minutes.
12. Busan Cinema Center
The Busan Cinema Center, also known as Dureraum in Korean, is the designated venue for the Busan International Film Festival (BIFF) and is situated in Centum City, Busan, South Korea.
Constructed over a period of three years, the complex cost approximately 150 million USD (167.85 billion won) and was inaugurated on September 29, 2011. In July 2013, it achieved the Guinness World Record for having the longest cantilevered roof. The architectural design was conceptualized by the Austrian firm Coop Himmelb(l)au, while the construction was carried out by Hanjin Heavy Industries.
The Busan Cinema Center consists of three main buildings: Cine Mountain, Biff Hill, and Double Cone. It also features the Biff Theater, an outdoor theater with the Small Roof, and Dureraum Square with the Big Roof. Spanning a total area of 54,335 m², the center encompasses performance spaces, dining areas, entertainment facilities, and administrative spaces within its 32,137 m² plot.
The center boasts two steel roofs. The Big Roof measures 163 m in length and 60 m in width, with an 85 m cantilevered section, weighing 6,376 metric tons. The Small Roof, which covers the outdoor theater known as BIFF Theater, spans 70 m and has an area of 66 m x 100 to 120 m, weighing 1,236 metric tons.
The Big Roof has been officially recognized by the Guinness World Records as the longest cantilever roof. Both the Big and Small Roofs are adorned with LED lights, with the Big Roof featuring 23,910 LED lights and the Small Roof adorned with 18,690 LED lights. These lighting installations enhance the visual appeal of the cinema center.
The Busan Cinema Center stands as an iconic and state-of-the-art venue, providing an exceptional setting for film screenings, events, and cultural activities during the renowned Busan International Film Festival.
Getting there
Take Subway Line 1 to Seomyeon , then transfer to Subway Line 2, and get off at Centum City ( Senteom Siti ) stop. Take Exit 12 and then walk about 15 minutes towards Suyeonggang River and Centum Marina Park.
Journey time from Busan station: approximately 1 hour.
13. Taejongdae Park
Taejongdae, known as 태종대 in Korean, is a picturesque nature park situated in the city of Busan, South Korea. It is located at the southeastern tip of Yeongdo-gu Island and is renowned for its stunning cliffs and coastal scenery. As a popular tourist destination in Busan, Taejongdae attracts a large number of visitors.
The park offers various attractions and facilities for visitors to enjoy. It features an amusement park, a lighthouse, an observatory, and a cruise ship terminal. These amenities provide opportunities for entertainment, sightseeing, and enjoying the surrounding natural beauty.
Taejongdae holds the distinction of being the 28th designated must-see place in Busan. Its location at the end of the island offers panoramic views of the sea and the rugged cliffs, creating a memorable experience for visitors.
To access Taejongdae, there are several bus lines available from downtown Busan that can transport visitors to the park. This convenient transportation option allows tourists to easily reach and explore the natural wonders of Taejongdae.
To get there
1. Take metro line 1, get off at Jungang station , exit no. Then take bus No. 30 or No. 8 and get off at Taejongdae . Walk 5 minutes.
2. You can also take bus No. 101 from Busan Station and get off at Taejongdae stop .
3. If you don't want to walk in the park, the small Danubi train (3,000 won per person, approx. 2.25 USD ) stops at the observatory, the lighthouse and the temple. Take a ticket, and wait for your number to be called before boarding the train.
Travel time from Busan station: between 35 and 40 minutes.
14. Shinsegae Hundred City
Shinsegae department store has a rich history that dates back to its opening on October 24, 1930, operating under the Mitsukoshi franchise at that time. Following South Korea's independence, the store was renamed Donghwa Department Store. In 1963, it was acquired by the Samsung Group and underwent another name change, becoming Shinsegae, which means "new world" in Korean.
In 1967, Shinsegae made history by becoming the first department store in South Korea to introduce sales promotions. Two years later, in 1969, it played a significant role in the country's financial sector by launching South Korea's first credit cards.
In 1991, the Shinsegae group achieved independence and officially separated from the Samsung Group in 1997, becoming a separate entity. The company has since grown and expanded its presence in the retail industry.
Shinsegae received recognition for its financial stability when it became the first Korean retail company to attain an A3 financial rating from Moody's in 2007, reflecting its strong financial standing.
Currently, Shinsegae operates 11 department stores throughout South Korea, offering a wide range of products and services to its customers.
Notably, the Busan location of Shinsegae, which opened in 2009, holds the distinction of being the largest department store in the world, with a massive surface area of 294,000 square meters. This achievement has been recognized by the Guinness Book of Records, solidifying Shinsegae's position as a global leader in the retail industry.
The main branch of Shinsegae is the oldest department store in Korea. It was opened in 1930 as the Gyeongseong branch of Mitsukoshi, a Japanese department store franchise. During that time, Korea was under the occupation of the Japanese Empire. In 1945, the store was acquired by the late founder of the Samsung Group, Lee Byung-chull, and renamed Donghwa Department Store. During the Korean War (1950–1953), it served as a post exchange for the American army for several years. In 1963, the store was given the name Shinsegae. The original building is currently utilized as a luxury shopping venue.
In 2021, Shinsegae acquired the SK Wyverns, a team from the KBO League, from SK and rebranded them as the SSG Landers. The acquisition cost 135.2 billion won, which breaks down to 100 billion won for the team itself and 35.2 billion won for the team's facilities and properties. This amount is equivalent to approximately $112.8 million.
At one point, this enormous complex held the title for the largest shopping center in the world, earning a place in the Guinness World Records. It is essentially a city within a city. While the products sold there may not be affordable for everyone, the complex offers a variety of amenities and is an excellent option during inclement weather. In addition to a wide range of shops and restaurants, visitors can enjoy a children's playground, an ice rink, a golf course, an art gallery, a bookstore, a three-floor cinema, and a food court located in the basement. One of the notable attractions is SpaLand Centum City, a massive spa that offers an opportunity to experience Korean hot baths. Admission to the spa costs a modest sum of 15,000 won for a 4-hour visit (approximately $11.25 USD), and this price includes all amenities.
To get there
Take subway line 1 to Seomyeon , then line 2. Get off at Centum City ( Senteom Siti ), exit 12. Walk 5 minutes.
15. Namsan N Seoul Tower
N Seoul Tower (엔서울타워) is a telecommunications tower located in the capital city of South Korea, Seoul.
The tower was constructed in 1975 and opened to the public in 1980. Standing at a height of 236.7 meters, it is situated on top of a hill, providing a panoramic view of the entire city. Its elevation from sea level is 479.7 meters. Visitors can reach the tower either by foot or by taking a cable car.
Originally known as Seoul Tower, it was later renamed N Seoul Tower at the request of the builder, CJ Corporation. The tower features a panoramic restaurant at its pinnacle, offering visitors stunning views while they dine. At the base of the tower, there is a teddy bear museum that presents the history of Korea through various paintings featuring teddy bears instead of human figurines.
Namsan Tower, also known as N Seoul Tower or Seoul Tower, was constructed in 1969 at a cost of approximately 2.5 million US dollars. However, it was only opened to the public in 1980, eleven years later. The tower's construction was completed on December 3, 1971, by Jang Jong Ryul Architects, but the facility's interiors were not initially provided. It was not until August 1975 that the observatory's third floor, museum rooftop, an open hall, and a souvenir shop were established, along with other facilities.
Despite the tower's construction being finished, the observatory remained closed to the public until October 15, 1980. Since then, N Seoul Tower has become a prominent landmark in the city of Seoul. It stands at a height ranging from 236.7 meters (777 feet) from the base to 479.7 meters (1,574 feet) above sea level. In 2005, the tower's name was changed from Seoul Tower to N Seoul Tower. The "N" in the name represents "new," while "Namsan" refers to the surrounding nature. The renovation and redesign of the tower cost approximately KRW 15 billion.
After the original owner of N Seoul Tower merged with CJ Corporation, the tower's name was officially changed to N Seoul Tower, also referred to as CJ Seoul Tower. It is noteworthy that N Seoul Tower is the first public radio wave tower in Korea, hosting transmitting antennas for various channels such as KBS, MBC, SBS TV, FM, PBC, TBS, CBS, and BBS FM. It has gained recognition as one of the world's top 500 most visited attractions, as rated by travel experts and readers alike.
Others Attractions
Lighting of the Tower
The N Seoul Tower is illuminated in blue from sunset until 23:00 (22:00 in winter) on days when the air quality in Seoul is 45 or less. In the spring of 2012, the tower was illuminated for a total of 52 days, which is four days more than in 2011. The tower utilizes the latest LED technology to provide visitors with a digital and culturally immersive art experience known as "light art." There are various shows presented at the tower, including "Reeds of Light" and "Shower of Light."
However, there is an exception to this regular illumination schedule on Earth Day. On Earth Day, lights are turned off nationwide to promote awareness of energy conservation. At 8 p.m. KST on that day, the lights at N Seoul Tower on Namsan are switched off, symbolizing a moment of darkness in support of the cause.
Love Padlocks
According to a poll conducted by the Seoul Metropolitan Government in November 2011, nearly 2,000 foreign visitors were surveyed, and 16 percent of them stated that their favorite activity in Seoul was hanging named padlocks on the fence of N Seoul Tower as a symbol of love.
The "Locks of Love" attraction is located on the 2nd floor of the N Plaza, specifically at the Roof Terrace. It has gained popularity as a spot where people can hang padlocks that symbolize eternal love. This activity has been depicted in numerous Korean television shows, dramas, and movies due to its romantic significance.
The concept of 'Love padlocks' is a common couple activity wherein a padlock and key are purchased. Couples can personally inscribe initials, messages, or symbols onto the surface of the lock using markers and pens. The padlocks are then secured on the fences, which are already filled with locks from previous participants. As a symbol of everlasting love, the key is often thrown away after locking the padlock. This tradition is reminiscent of the love locks found on the Pont Neuf bridge in Paris, France.
Wishing Pond and Observatory
In addition to the Locks of Love attraction, N Seoul Tower offers several other notable features. One of these is the digital observatory, located on the third floor of the tower. Renovated in 2011, the observatory provides visitors with a 360° panoramic view of the city. Alongside the breathtaking vistas, there are 36 LCD screens that showcase the history of Korea spanning 600 years, offering an immersive educational experience.
Another attraction within N Seoul Tower is the Wishing Pond, situated on the second floor. Here, visitors can participate in a tradition of throwing coins into the pond while making a wish. The coins collected from the pond are then donated to support the development of schools in underdeveloped areas of China and Southeast Asia.
Furthermore, on the fifth floor of the tower, there is a renowned French restaurant called N Grill. This dining establishment offers a culinary experience with a stunning view of Seoul as a backdrop, making it a popular choice for visitors looking to enjoy a meal with a panoramic cityscape.
N Seoul Tower provides visitors with a range of attractions and experiences, including the digital observatory for panoramic views and historical insights, the Wishing Pond for wish-making and charitable contributions, and the N Grill restaurant for fine dining with a picturesque view of the city.
Getting there
From Busan Station, take bus 17, 26, 27, 61, 87 1003 or 1004. Get off at Busan Depateu stop . Walk 5 minutes.
Travel time from Busan Station: Approximately 20 minutes.
16. BIFF Square
Busan's modern movie district initially consisted of just two cinemas that were built after Korea gained independence from Japanese colonial rule more than half a century ago. However, significant renovations took place prior to the inaugural Busan International Film Festival (BIFF), leading to the transformation of the district. On August 14, 1996, the revamped area was officially named BIFF Square.
Through its evolution into a cultural tourist attraction dedicated to the advancement of Korea's film industry, BIFF Square has played a crucial role in establishing Busan as an international cultural tourist city. The 428-meter-long street, stretching from the Buyeong Theater in Nampo-dong to the overpass in Chungmu-dong, was divided into two sections: "Star Street" and "Festival Street." Each year, on the eve of the festival, the "BIFF Square Ground Opening" ceremony is held on the street. During this event, activities like hand printing ceremonies featuring famous movie celebrities and Nunggot Jeomdeung (snow-flower lighting) take place.
The presence of a district like BIFF Square, characterized by a concentration of first-run theaters, is rare not only in Asia but also in Europe, making it an area with significant potential. In recent years, the square has expanded to include a more diverse range of establishments, such as shops and leisure facilities. This transformation has attracted a growing number of young visitors and tourists to the area, enhancing its status as a vibrant and dynamic destination.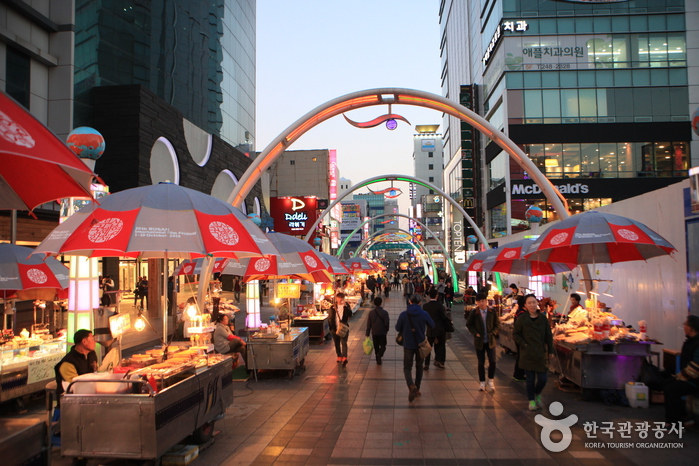 Getting there
From Busan Station, take bus 17, 26, 27, 61, 87 1003 or 1004. Get off at Busan Depateu stop . Walk 5 minutes.
Travel time from Busan Station: Approximately 20 minutes.
17. SEA LIFE Busan Aquarium
The aquarium provides a combination of fun and educational experiences, offering interactive activities and even a mermaid show. Visitors have the opportunity to touch certain marine animals and can be amazed by a large pool where sharks, rays, and turtles reside.
The entrance price for the aquarium ranges between 16 and 20 USD.
Getting there
Take the subway line, get off at Seomyeon . Then take line 2 and get off at Haeundae , exit n°5. Walk about 10 minutes.
Travel time from Busan station: 1 hour.
18. Songjeong Beach
Songjeong Beach is a picturesque beach that spans 1.2 kilometers in length and has a width ranging from 30 to 60 meters. With its white sandy shores and shallow waters, it is particularly well-suited for families with young children. Additionally, the beach is renowned for being a popular location for pre-wedding photoshoots due to its scenic beauty.
The area surrounding Songjeong Beach is known for its abundance of hoe (sliced raw fish) restaurants, offering visitors the opportunity to enjoy fresh seafood delicacies.
Located north of the beach, at the entrance to Songjeonghang Port, is Jukdo Park. This park features striking white and red lighthouses that serve as popular photo spots for visitors. The view of the beach from Songiljeong Pavilion, situated at the peak of Jukdo Park, is especially captivating. To reach the pavilion, visitors can follow a path that winds through a grove of evergreen trees. Along the breakwaters leading to the lighthouses, it is common to find fishermen engaged in their activities, adding to the coastal charm of the area.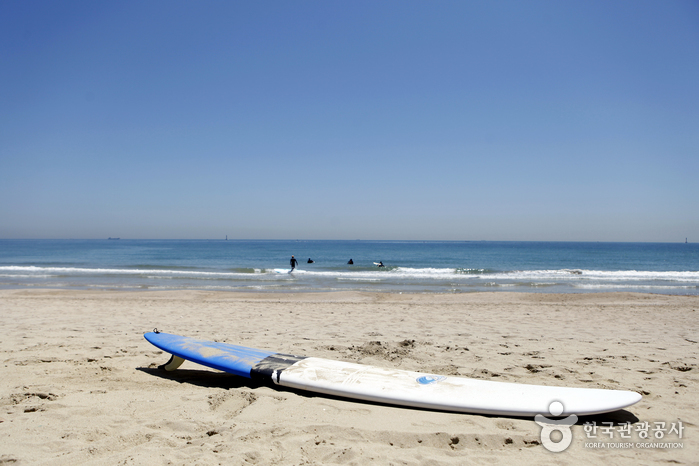 Getting there
Take bus No. 1001 or 1003 from Busan Station and get off at Songjeong Haesu Yongjang . Walk about 15 minutes (900 meters).
Travel time from Busan station: 1h25.
19. Geumjeong Fortress
Geumjeongsanseong, also known as Geumjeong Mountain Fortress or Geumjeong Fortress, holds the distinction of being the largest mountain fortress in the Republic of Korea. It is situated on Geumjeongsan in the Busan Metropolitan City.
The construction of Geumjeongsanseong was prompted by the heightened awareness of national defense following the Japanese invasion of 1592 and the subsequent Manchu invasions in 1627 and 1637, during which the importance of defending against sea attacks became apparent. In response, the fortress was built during the 29th year of King Sukjong's reign in 1703.
The fortress walls consist primarily of natural stones, with vulnerable sections reinforced using square stone blocks. These walls span approximately 17 kilometers in length and reach heights ranging from 1.5 meters to 3 meters. The area enclosed by the fortress measures around 8.2 square kilometers.
It is indeed true that fortresses had been constructed on the site before 1700. Historical records indicate that traces of an old fortress were mentioned by naval commander Yi Chi-hong in 1667. The construction of the current fortress began in 1701 based on the recommendation of Jo Tae-dong, the Governor of Gyeongsang-do, and was completed in 1702. By 1707, walls were added around the main structure of the fortress.
However, due to its large size, the fortress eventually fell into disuse and remained abandoned for about a century. It was then repaired in 1807 during the reign of King Sunjo. Oh Han-won, the Dongnae Magistrate, took responsibility for constructing the west gate in 1807, followed by the construction of the other gates the following year. There is a stele that commemorates the building of the gates.
During the Japanese occupation from 1910 to 1945, the fortress suffered destruction. However, restoration efforts began in 1972, and by 1974, the East, West, and South gates had been restored. The reconstruction of the north gate took place in 1989. As a result of these restoration efforts, much of the walls and the four gates still stand today.
It is worth noting that one of the observation towers, Tower Number 1 (제1망루), located on the southwest side, was destroyed by Typhoon Rusa on the morning of September 1, 2002. The area surrounding the South Gate has become a popular resting place for visitors. Although the West Gate is considered the most impressive of the four gates, it is less frequented due to its limited accessibility.
To get there
1. Take subway line 1, get off at Dongnae station , exit no.3. Then take bus No. 77 and get off at Geumgang'won ipgu . Walk 500 meters to reach the cable car.
2. Take subway line 1, get off at Oncheonjang station , exit no. 5 and walk about 25 minutes. to the cable car.
Travel time from Busan station: 50 minutes.
20. Dadaepo Beach
Dadaepo Beach is indeed regarded as one of the most stunning beaches in Busan, primarily due to its natural surroundings and picturesque environment. When facing the sea, visitors can appreciate the beach's beauty, while the view towards the buildings and bars along the shoreline may not be as captivating.
The beach is encompassed by a charming pine forest, adding to its natural appeal. It boasts a spacious expanse of fine sand, providing ample space for visitors to relax and enjoy the beach atmosphere. Additionally, a scenic coastal path is easily accessible via a footbridge, allowing visitors to take leisurely strolls along the coastline.
Dadaepo Beach is particularly popular among families, offering a family-friendly environment for everyone to enjoy. Witnessing the breathtaking sunset from this beach can leave visitors with lasting memories. It is an experience that showcases the beach's beauty and adds a touch of magic to the atmosphere.
Dadaepo is also a fountain and an incredible sound and light show in the evening. This is the highlight of the visit, so don't miss it if you go to Dadaepo!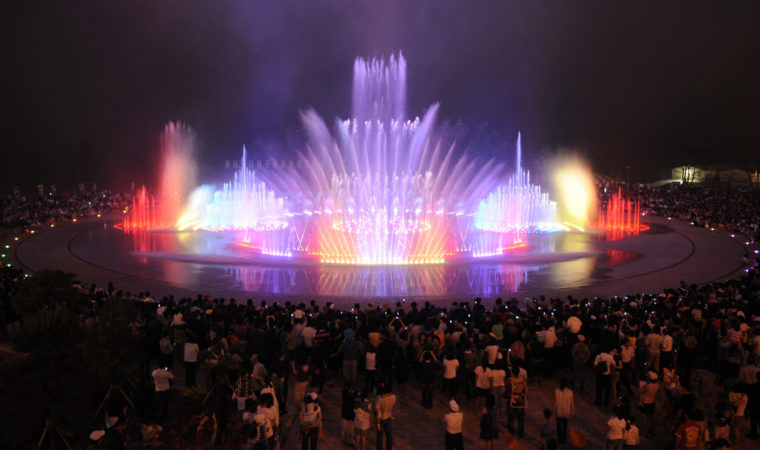 To get there
Take metro line 1, get off at the Dadaepo Beach terminus ( Dadaepo Haesu Yokjang ), exit no. Walk about 10 minutes.
Travel time from Busan station: 40 minutes.
21. Samgwangsa Temple
Samgwangsa Temple, founded in 1986, holds a significant place within Korean Buddhism as the second temple of the Cheontae Order. It is situated on the hillside of Baegyangsan Mountain, offering a stunning view of Busan city.
The temple features several notable facilities, including the main Daeungbojeon Hall, which houses statues of Buddhas, and a spacious lecture meeting hall capable of accommodating over 100,000 people simultaneously. What sets Samgwangsa Temple apart is its successful blend of contemporary and traditional elements of Buddhism, resulting in a harmonious coexistence. This unique approach has allowed the temple to play an active role in the modernization of Korean Buddhism, while also promoting the religion internationally and integrating it with popular culture.
In addition to its religious activities, Samgwangsa Temple hosts various cultural events and opens its doors to the public through club activities and performances. This openness and engagement with the wider community contribute to the temple's reputation as a dynamic and inclusive institution.
Samgwangsa Temple stands as a testament to the evolving nature of Buddhism in Korea, embracing both tradition and modernity, and serving as a center for spiritual practice, cultural exchange, and promotion of Buddhist teachings.
Set within a narrow valley, Samgwangsa Temple holds a special place as a highly visited destination for Buddhist worship, especially during the celebrations leading up to Buddha's birthday. During this time, the temple becomes adorned with thousands of colorful lanterns that beautifully illuminate the surroundings as evening falls. The sight of these illuminated lanterns creates a captivating and magical atmosphere that is difficult to resist, evoking a sense of wonder and enchantment.
The festivities and the radiant display of lanterns at Samgwangsa Temple have a unique ability to awaken the inner child within visitors. The sheer beauty and splendor of the event touch the hearts of both young and old, invoking a sense of joy and awe. It is a truly captivating experience that allows visitors to immerse themselves in the celebration and appreciate the profound significance of Buddha's birthday.
The enchanting display of lanterns at Samgwangsa Temple serves as a reminder of the enduring power and beauty of Buddhist traditions and celebrations. It is a testament to the devotion and reverence of the Buddhist community and offers a wonderful opportunity for visitors to witness and participate in a truly magical event.
Getting there
Take bus No. 81 from Busan Station, get off at Samgwangsa Ipgu , then walk about 10 minutes.
Travel time from Busan station: 45 minutes.
22. Busan Museum of Contemporary Art (MOCA Busan)
The Busan Museum of Art, established in 1998, serves as a platform for showcasing the creativity and innovation of modern artwork while promoting artistic appreciation among the general public. The museum is designed with five floors, housing exhibition halls, archives, educational rooms, and an outdoor sculpture park. Its diverse exhibitions cover a wide range of artistic genres, complemented by educational programs aimed at engaging and enriching visitors' artistic perspectives. Notably, the museum hosts a biennale art festival in even-numbered years, along with other planned exhibitions and international artist collaborations.
The Museum of Contemporary Art BUSAN (MOCA BUSAN), established by the Busan Metropolitan City, is located on Eulsukdo Island in the Nakdong River estuary. The building, completed in 2017, occupies a total floor area of 15,312 square meters on a site spanning 29,900 square meters. The three-story structure features exhibition spaces, including a basement level and the first and second floors, covering an area of 5,780 square meters. Additionally, the building incorporates storage areas, seminar rooms, experience rooms, a children's library, a reference room, curatorial offices, and other administrative spaces.
The primary objective of MOCA BUSAN is to create an experimental space where contemporary artworks employing various mediums, such as LED lights, sound, and plants, are showcased. The museum aims to immerse visitors in an environment where art and nature coexist, providing a unique and immersive artistic experience. By integrating nature and innovative artistic expressions, MOCA BUSAN seeks to push boundaries and challenge traditional notions of art, creating an engaging and thought-provoking atmosphere for visitors.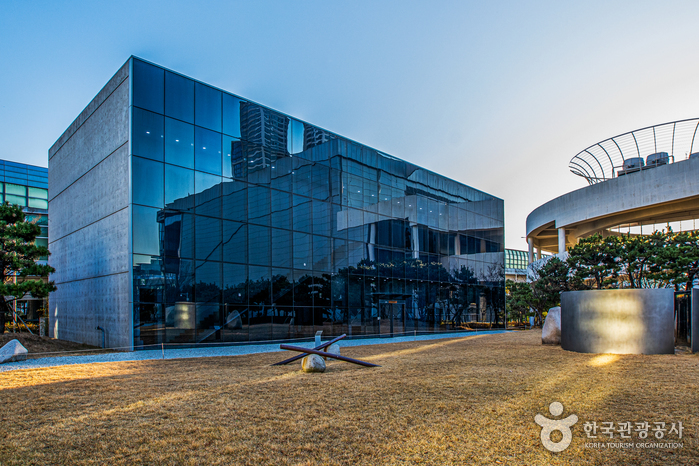 Getting there
Take bus No. 1001 from Busan Station. Get off at Sahagucheong ( Dangni yeok ) stop and take bus No. 58-2, 58-3 or 520, then get off at Busan Hyeondae Misulgwan .
Travel time from Busan station: 45 minutes.
23. Huinnyeoul Culture Village
Huinnyeoul Culture Village (흰여울문화마을) is located in Yeongseon-dong, Yeongdo District, Busan, South Korea. Situated on a high cliff, visitors can enjoy a panoramic view of the sea of Busan. Often referred to as Korea's Santorini, it gained fame as the backdrop for the movie 'The Attorney.'
The village has emerged as one of Busan's most popular tourist destinations, experiencing a significant surge in tourism. In 2015 alone, the village attracted over 1 million visitors. The influx of tourists has generated mixed reactions among the village residents. While some residents have actively participated in the renovation and embraced tourism, others have faced challenges in selling their homes and have chosen to relocate.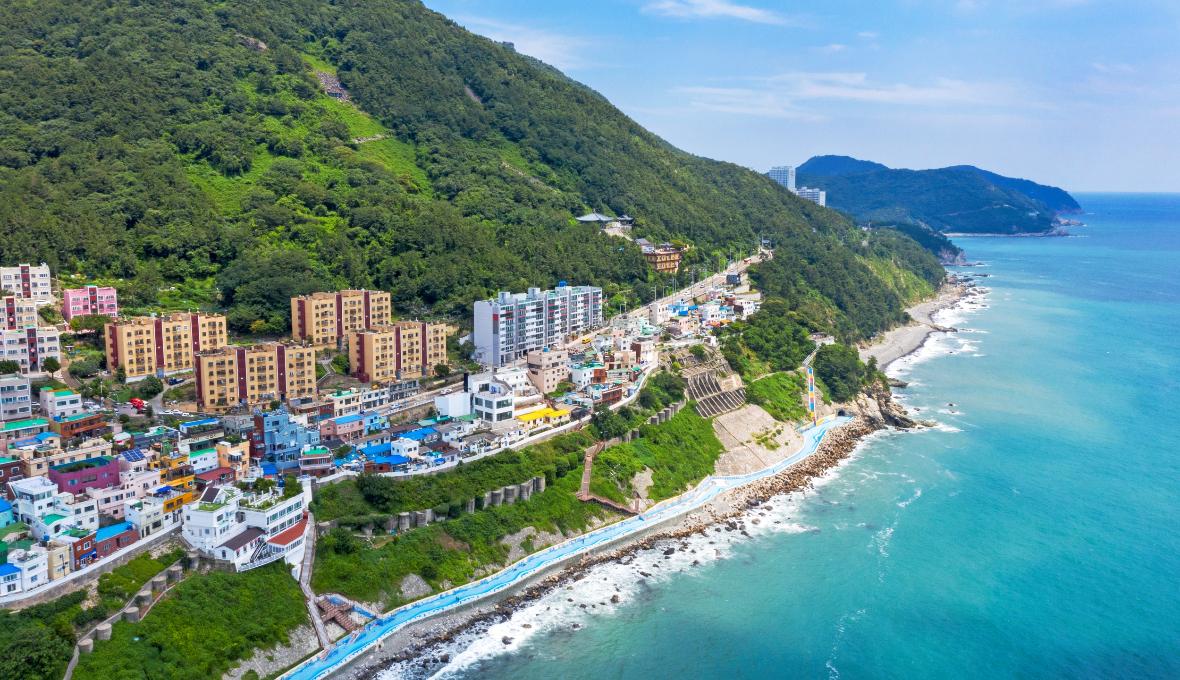 To get there
1. Take bus no. 82 or 85 from Busan Station (exit no. 10), and get off at Isongdo Gokgakji stop . Walk 5 minutes.
2. Or take bus No. 508 and get off at Yeongseon Apateu stop .
Travel time from Busan station: approximately 35 minutes
24. Songdo Ropeway
The Songdo Sea Cable car was transformed into the brand of Busan Air Cruz in June 2017 as part of a restoration project aimed at revitalizing the esteemed history of Songdo Beach, Korea's first public beach.
Spanning from Songlim Park on the east of Songdo Beach to Amnam Park on the west, the cable car provides an exhilarating experience of being amidst the sea. Along the journey, passengers can enjoy breathtaking views of Songdo Beach, Busan Yeongdo, Namhang Bridge, Songdo Coastal Dulle Road, and the majestic cliffs.
Furthermore, the cable car offers an array of immersive attractions and themed facilities, making it a premier tourist destination. Visitors can explore the "Dino Adventure," a unique cable car experience featuring dinosaurs, enjoy live music performances aboard the cable car with the first cable car musician in Korea at "Songdo Spellmeyer World," and indulge in the "VRSky Wing," Asia's first public passenger virtual reality attraction.
Getting there
Take bus No. 26 from Busan Station and get off at Annam Dongjumin Senteo stop . Walk along Songdo Haebyeon-ro Street and Songnim Park to the cable car (about 10 minutes walk).
Travel time from Busan station: 35 minutes.
25. The Bay 101
The Bay 101 is situated within a vibrant culture and art complex in the Haeundae area, drawing numerous visitors due to its stunning nighttime scenery.
Nestled at the base of the lavish skyscrapers of Marine City, The Bay 101 is a trendy and fashionable destination. The area is adorned with an array of cafes and restaurants that captivate the attention of Busan's stylish young crowd.
Getting there
Take the line at Busan Station to Seomyeon Station . From there, take line 2, and get off at Dongbaek . It takes around 15 minutes to walk.
Travel time from Busan station: 1h10.